April 2, 2023
The Curious Story of Missing Edition of The Listener
The Curious Story of Missing Edition of The Listener – Is the Sarco too much for New Zealand?
On 1 April, The Listener in New Zealand published a significant cover story on Exit Director, Professor Sean Davison and the Sarco machine.
Journalist Chris Cooke, spent many months working on the piece conducting extensive interviews with the key players.
Upon publication, and for reasons unknown, the edition is not listed on the home page of The Listener [editor's note – this is wrong].
Apparently, The Listener has no website but can be found on Facebook?
The NZ Herald edition of the article even comes with a 'CONTENT WARNING This story discusses assisted suicide and mental health issues'. Go figure!
New Zealand is no shining light of mature discussion on end of life choices, or free speech, despite its clean, green reputation.
It is the only country in the world that insisted redactions to the Peaceful Pill eHandbook when it was first published in 2006.
(Only Australia trumps the conservatism of New Zealand with an outright ban on the first edition of the PPeH by then Federal Attorney General, Philip Ruddock).
This moral panic can't help but make one more curious as to what the article contains: given it is hidden behind an especially solid paywall.
Images of the PDF files are below.
About the Listener
'The New Zealand Listener is New Zealand's highest-selling and best-read current affairs magazine. Each week the Listener brings you the latest commentary and insight from award-winning writers and columnists. An energising read, full of witty insight and award-winning investigative journalism, this is the magazine that has been setting New Zealand's agenda since 1939′ quote – unquote – from the Listener website.
Saga Update
On 2 April, Exit received the email below from the editor of The Listener.
Instead of explaining the mysterious omission from sale of the 1 April edition, The Listener took Exit's questioning as a serious afront.
Apparently, The Listener has no website but can be found on Facebook? Any google search directs one to Magzter (who are clearly licensed to sell The Listener so hey …).
Now things are really getting strange.
As a result of this email, the article has been removed. So don't bother trying to it online, let alone reading it.
Hi Phillip – a retraction would be very much appreciated. We had a change of ownership two years ago and lost our website in the process – we are currently rebuilding a new one and we're about to relaunch it shortly.
In the meantime, we don't promote e-editions, as they cannibalise both our print and online sales. Magzter is a third party site which I wasn't even previously aware of, and I have no idea even how to contact them myself. Until our website is relaunched we are publishing our stories digitally though a commercial relationship with the NZ Herald.
The NZ Listener is one of the last bastions of serious current affairs in New Zealand. It is vital to our ongoing viability, and our ability to continue to tell important stories such as yours (and pay fine journalists such as Chris Cooke what they deserve) that our readers pay for our content. On that note, could you please take down the pdf from your website immediately. It is a clear breach of copyright.
Many thanks!
KARYN SCHERER
Editor
NZ Listener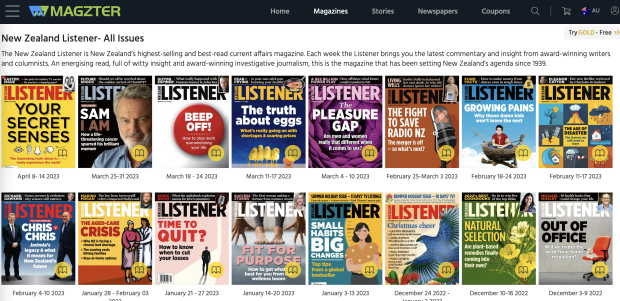 Strange April Fools Joke – there is no edition for the week of 1 April.
---