Professor Sean Davison is Exit's UK director. Sean joined Exit in November 2022.
Sean was previously Professor of Molecular Biology and DNA Forensics at the University of the Western Cape, Cape Town South Africa.
Sean Davison is the Founder of Dignity South Africa.
From 2016 to 2021, he was President of the World Federation of Right to Die Societies.
Background
Sean Davison is a New Zealand-born, South African scientist and author. Raised in Hokitika, by his Irish father and British mother, Sean obtained his PhD in microbiology from the University of Otago (New Zealand) in 1990.
In 1991, Sean moved to South Africa to take up post-doctoral research studies at the University of Cape Town where he established the molecular virology and a DNA forensics laboratories.
The DNA forensics lab has become notable for its work in identifying the remains of anti-apartheid activists, who were buried in mass graves by the apartheid-era police. Sean's lab also developed the DNA rape kit used in the identification of perpetrators in cases of gang rape.
Sean is married to Rayne, with whom he has three children.
Activism: New Zealand
In 2010, Sean was arrested in New Zealand and charged with the attempted murder of his terminally-ill mother, Dr Patricia Ferguson. He later wrote the book Before We Say Goodbye about the final three months leading up to Pat's death.
Unfortunately on receipt of a manuscript of the book, Sean's older sister Mary accused him of murdering their mother. She reported him to the police.
Sean was arrested and charged with the attempted murder of Pat in September 2010. A year later, Sean reluctantly took a plea deal to the charge of assisted suicide. He spent 5 months in home detention.
Prior to the judge's ruling, Archbishop Desmond Tutu wrote to the Judge, Christine French, pleading for a lenient sentence.
She acknowledged that Archbishop Tutu's request impressed her considerably and concluded that Sean's actions were driven by love and compassion.
Activism: South Africa
In September 2018, Sean was again arrested, this time in South Africa. He was charged with the murder of his quadriplegic friend Anrich Burger in 2013.
Following his arrest, Archbishop Desmond Tutu again expressed his support for Sean.
Anrich Burger was a quadriplegic as the result of a motor vehicle accident and had publicly stated that he was seeking an assisted suicide.
In November 2018, Sean was charged with a second murder: of Justin Varian (who had died in 2015).
Justin Varian was terminally ill with motor neurone disease. Justin, too, had publicly stated his desire to end his life because of his unbearable suffering.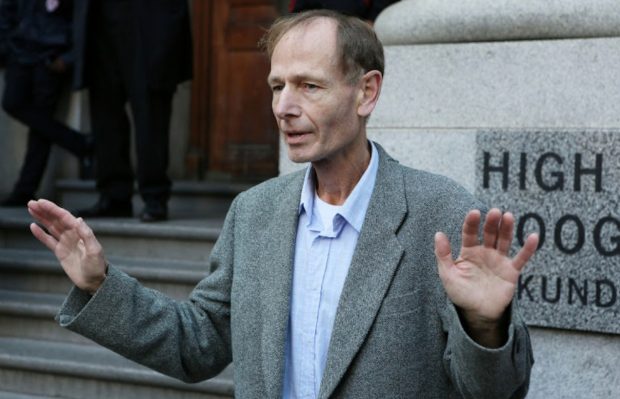 In April 2019 Davison was charged with a third murder, that of Richard Holland who had died in December 2015.
Richard Holland was a popular South African triathlete who had represented Sth Africa in the 2007 World Championships.
Richard had developed locked-in syndrome (and was only able to move a thumb and one eyelid) as a esult of the spinal injuries after being knocked off his bicycle.
In June 2019, Sean took a plea bargain with the court in South Africa and pleaded guilty to all three murder charges.
In exchange, he was sentenced to three years' house arrest at his home in Cape Town.
It was stated in court that none of the families of the men Davison assisted wanted him to go to prison. Two of the families made public statements supporting Sean's actions in helping their family member to die.
The only reported comment Sean made following the plea bargain was to say: "My children want a father not a martyr".
He completed home detention in June 2022. In December 2022, the family relocated to Europe.
The Price of Mercy
Sean's new memoir, The Price of Mercy, tracks his extraordinary journey through the years of his so-called 'triple murders'. This is a 'page-turner' of a book.