Exit Live Workshops 2023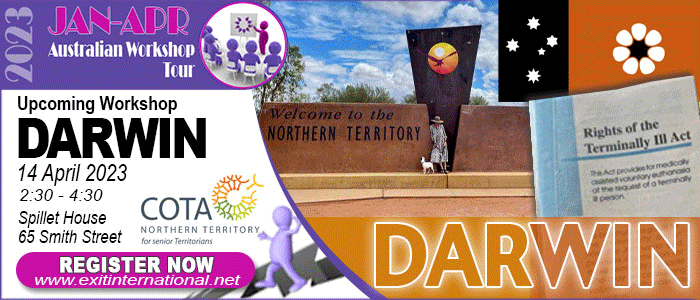 Exit's 2023 Workshop tour of Australia is currently underway.
Note – these are the final Exit workshops for 2023.
About Exit Workshops
free & exclusive for Exit Members
face-to-face events
back after C19
based on the Peaceful Pill eHandbook – Essentials Edition

generally last 4 hours inc. 30 minute afternoon/ morning tea break & Q/A
Exit 'Falling through the Gaps' Workshop Topics
The 2023 Essentials Workshops are based on the Essentials Edition of the Peaceful Pill Handbook.
Topics
What to do when the Law Fails You?
Physiology of a Peaceful Death – what works & why?
Exit's RPA Test (Reliability, Peacefulness, Accessibility): compare & contrast
3Ns: Nembutal, Nitrogen & Nitrite
VSED – voluntary stopping of eating & drinking
Swiss Services – Pros/ cons of Dying in Switzerland
Need to Know
Attendance at Exit Workshops is reserved for Exit Members > 50 years or who are seriously ill, or by special arrangement.
Not a Member? Join today
---
AUSTRALIA
(Click on purple dots for more information)
UNITED KINGDOM
(Click on purple dots for more information)
Exit Workshop Cities

Darwin
Date:
14 April 2023
2.30-4.30
Location:
Cota
65 Smith Street
Darwin, NT
Register

Sydney
Date:
22 April 2023
11.30 - 3.30pm
Location:
Rex Centre
Macleay St
Potts Point
Register

London
Date:
6 September 2023
10am - 2pm
Location:
Dragon Hall
17 Stukeley St
London WC2B 5LT
Register
---