January 1, 2022
About Assisted Suicide – a Definition
About Assisted Suicide – a Definition
Definitions
Anyone who makes plans for their own death can be said to be planning their 'suicide'. However, the term suicide, and even assisted suicide, have become controversial according to the Peaceful Pill Handbook – Essentials Edition.
Many in the right to die movement have changed their wording to more 'palatable' phrases such as voluntary assisted dying (VAD) or medical aid in dying (MAiD).
This shift has occurred at the same time that the word 'die' is also often replaced with phrases such as 'pass', 'pass away' and so on: as if to somehow soften the idea that we are all going to die.
For some right to die advocates, the change in wording has been an attempt to distance themselves – at least semantically – from the reputation that now stalks the term 'suicide'.
Nevertheless, ending one's life is nothing if not suicide.
Voluntary Assisted Dying (VAD) & Medical Aid in Dying (MAiD)
Assisted suicide is now better known as voluntary assisted dying. This is when a doctor prescribes (and sometimes administers) a lethal drug to a patient.
In most countries where VAD is legal, the patient will take a drink of Nembutal (or other lethal combination of drugs) that has been medically-prescribed.
In some cases, other means of administration are accepted, such as the delivery of the lethal drugs intravenously.
Voluntary Euthanasia
What, then, is voluntary euthanasia (VE)? The word 'euthanasia' comes from the Greek and means 'good death'. When a lethal drug is administered to a person by another, with the former's consent, it is referred to as voluntary euthanasia.
It was voluntary euthanasia that was legal for nine months in Australia in 1996-97 under the Rights of the Terminally Ill Act.
It is VE that is lawful in the Benelux countries of the Netherlands, Belgium and Luxembourg.
Suicide & Rational Suicide
So where does this leave the terms suicide and rational suicide?
The authors of this book have been active in the right to die movement for almost 30 years. During this time, we have witnessed many changes.
One noticeable shift has been the view of suicide as a societal ill.
A person who contemplates suicide has, by definition a (possibly undiagnosed) mental illness.
Today, suicide is rarely considered to be a good thing. This is regardless of a person's reasons for taking their own life.
It is not surprising, therefore, that suicide prevention is now big business. Governments around the world pour vast resources into campaigns, advocacy groups and mental health services to tackle the (perceived or real) problem of too many people killing themselves.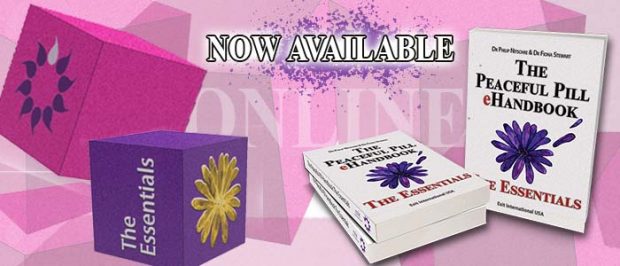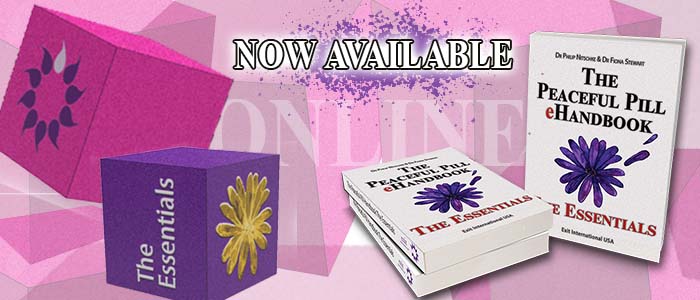 About Assisted Suicide – a Definition
The right to die movement has been caught up in this culture of universal prevention.
The current climate of suicide prevention leaves almost no space for discussion about the equally important phenomenon of 'rational' suicide: that is, when a person makes a considered, long-held decision to end their own life, either in the context of illness, advanced old age or some other important reason.
Interestingly, in the Dutch language, rational and irrational suicide each have their own terms that differentiates one from the other.
There is 'zelfdoding' for rational suicide and 'zelfmoord' for irrational suicide. Unfortunately, the English language has no comparative terms of delineation.
It is within the context of rational suicide that the Peaceful Pill Handbook – Essentials Edition is published. Exit believes firmly that every rational adult over a certain age should have access to the best information about how to take their own lives, should they wish to do so.
We do not believe that barriers should be placed in people's way, as long as the decision is a rational one.
In a landmark ruling, the notion of self-determination as a fundamental right of 'personality' was confirmed by the Constitutional Courts of both Austria and Germany in 2020.
It is to be hoped that countries follow this lead.
For more discussion, see the Peaceful Pill Handbook – Essentials Edition.