June 20, 2022
Activist will fight for law change in Tutu's honour
Activist will fight for law change in Tutu's honour
"It's been three years and I'm free," says Sean Davison, the right-to-die activist whose three-year house arrest ended on Monday morning, with him signing documents at the Cape Town high court reports the Sowetan.
"I have done my time but I did not commit a crime. I helped three men to die, three men who were suffering unbearably with no hope of recovery, desperate to die and incapable [of doing this]," Davison said on the steps of the court.
"For this the court found me to be a murderer. I am not a murderer," he said.
The time has come to change the law and to have a good law which is compassionate and kind Right-to-die champion Sean Davison
"The time has come to change the law and to have a good law, which is compassionate and kind, that does not confuse euthanasia with murder."
To avoid being locked up for murder away from his young children, Davison entered into a plea-bargain agreement with the court and was sentenced to eight years in prison fully suspended, three years of house arrest and 16 hours of community service a month, and a gag on talking to the media.
On the courtroom steps, Dieter Harck and his wife Lynn Grubb flanked the resolute Davison.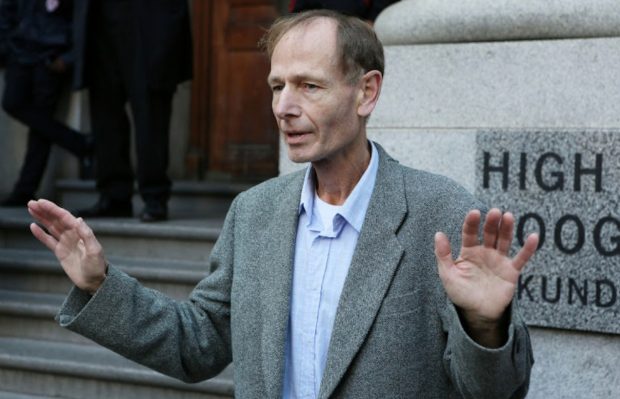 Harck is terminally ill with motor neuron disease and, supported by his wife and DignitySA, is fighting a legal battle for assisted dying.
On Monday Davison was contacted by a woman named "Emma" who appealed to him to help her die, and he publicly thanked her for accepting he cannot do this.
"I thank her for understanding I cannot help her. There are millions of South Africans who are holding out for a law change. It will happen," he said.
Davison said he was grateful for the support of the late Archbishop Emeritus Desmond Tutu, "who was instrumental in opening the eyes of the world to the issues [on assisted dying] and the need to change the law".
President Cyril Ramaphosa lauded the late Archbishop Desmond Tutu as "our moral compass and national conscience" as South Africa bode farewell at a state funeral on Saturday to a hero of the struggle against apartheid. Lauren Anthony reports.
Tutu supports right-to-die activist Sean Davison
Archbishop Emeritus Desmond Tutu has come out in support of right-to-die activist Sean Davison' who was arrested this week on charges of murder.
"It is in his honour that I will keep working to [fulfil] his wish," said Davison.
Tutu publicly supported Davison throughout his trials.
The University of Western Cape professor thanked his family, friends and the university, where he works in biotechnology, for their support.
Asked if he crossed a line by helping non-family members to die — years after he had assisted his doctor mother to die at her request — he said he did not.
"I helped my mother to die out of compassion. I helped the three men to die out of compassion. Why should my compassion for my mother be any different from these three men?"
'The Price of Mercy' by Sean Davison will be in SA stores from Monday after his three-year media gag ends.
Born in New Zealand, where Davison served five months' house arrest for his mother's death, he has no immediate plans to leave SA.
He said the SA authorities have his passport but "at this stage I don't plan to leave. SA is in my blood".
Davison said he was not angry with police and prison officials who were doing their job during his house arrest, even though his family had suffered with him, including through late-night checks on him.
"House arrest is a punishment, and it is meant to be. It felt like punishment and it is very hard on the family. My children lost a father, who could not step outside the gate to go to the shops or to the park," he said.
Despite icy Cape Town conditions, Davison plans to take his three children to the beach to celebrate his freedom with them.