May 7, 2023
Vermont makes aid-in-dying care available to nonresidents
Vermont makes aid-in-dying care available to nonresidents reports The Connetcicut Mirror.
With the stroke of a pen on Tuesday, Vermont Gov. Phil Scott removed the residency requirement for medical aid-in-dying care, making the state the first to do so legislatively.
Now an adult with a terminal illness living out-of-state will have the option of consulting with a Vermont-licensed physician about receiving a prescription for a drug that will hasten death. The process both must follow is laid out in a 2013 state law. The change is effective immediately.
Scott's office announced the signing of H.190 with little fanfare, but the nonprofit advocacy group Patient Choices Vermont has been preparing for this moment for months, according to president Betsy Walkerman.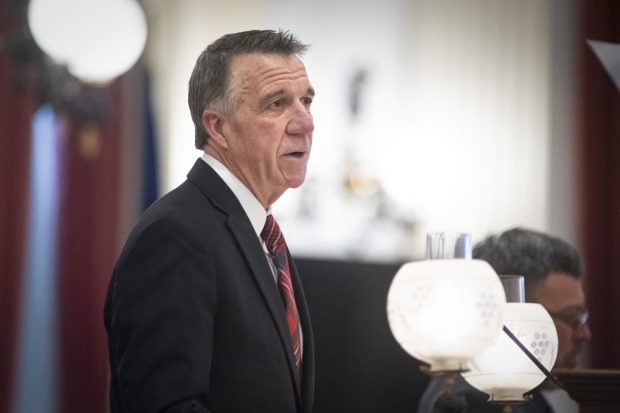 Governor Phil Scott
The group, in conjunction with an advisory panel of palliative-care providers and lawyers, has created a detailed informational page for nonresidents on its website, which includes guidelines for Vermont doctors. One main message: be ready to travel.
"It's very important that people understand that they have to be prepared to come to Vermont for all the steps in the process, including taking the medication," Walkerman said. "That means there are a lot of arrangements that they'll have to make."
Although the residency requirement for patients has been removed, the liability protections for doctors, patients and others who assist in the process still don't extend beyond Vermont state lines.
Patient Choices is also encouraging out-of-state residents to first discuss their end-of-life options with their in-state health care providers and request a referral to a physician in Vermont.
To be eligible for the prescription, a patient must be older than 18, capable of making an informed decision and self-administering the medication, and be diagnosed with an illness that is expected to result in death within six months.
Requests two weeks apart must be made verbally and in writing, and observed by two unrelated parties. The diagnosis and determination about ability to consent is made by the prescribing physician and reviewed by another physician.
In total, aid-in-dying care, also called "death with dignity" by advocates or "assisted suicide" by opponents, is legal in nine other states, as well as the District of Columbia. But Vermont is the first to explicitly remove a legal residency requirement statewide.
As part of the settlement of a lawsuit that challenged the constitutionality of Oregon's residency requirement, a district attorney in one county agreed not to enforce it, which anecdotally has also loosened restrictions statewide. Legislation in that state to remove the requirement entirely has not yet come to a floor vote.
Vermont makes aid-in-dying care available to nonresidents
In 1997, Oregon was the first state to allow patients with a terminal illness to seek medical assistance in dying. The states that followed largely used Oregon's template, which included a residency requirement.
Compassion & Choices, the national nonprofit advocacy group that filed the Oregon lawsuit, as well as one in Vermont on behalf of a Connecticut patient and Middlebury-based doctor Diana Barnard, hailed the change in Vermont law.
"We are grateful to Vermont lawmakers for recognizing that a state border shouldn't determine if you die peacefully or in agony," the group's CEO Kim Callinan said in a statement.
The small staff and volunteers at Vermont Patient Choices have been answering more inquiries from out-of-state residents as H.190 made its way through the House and then the Senate. In addition to the website, they are planning to reach out with resources and professional education to Vermont physicians who want to provide end-of-life care to those patients.
Barnard, who is also on the Vermont Patient Choices board of directors, said that understanding the scope of the need and how to meet it will be a multi-year process, much like what developed after the initial law went into effect.
Since 2013, the state Department of Health reports that 173 people have completed the process to receive a fatal prescription. The large majority of them faced terminal cancer and neurological disorders.
Barnard expects that most out-of-state patients seeking care will either have a connection to Vermont through family or friends or will be from neighboring states without a legal option for medical aid-in-dying.
Maine is the only nearby state where the option is currently available. Legislation to legalize the process has been introduced several times in Connecticut, Massachusetts, New York and Rhode Island.
Walkerman said that she hopes patients from neighboring states asking their doctors for referrals for care in Vermont will create momentum for passing parallel laws in those states.
For Barnard, that would be ideal so that patients are able to access the full range of end-of-life options where they live, working with health care providers with whom they have a longstanding relationship.
"At the same time, I feel compelled to meet the needs of patients as I can today and tomorrow because those people don't have time to wait for the law to pass in their own state," she said.
Vermont makes aid-in-dying care available to nonresidents