Back to Exit stories
Max Bell
Max died April 1996
The story of Max Bell told by Dr Philip Nitschke.
Max Bell drove his Holden Commodore taxi to Darwin in June 1996 to use the Rights of the Terminally Ill Act to die. Sixty-seven years old and suffering from stomach cancer, Max's surgery had left him with constant nausea and vomiting.
Max was a mere shadow of his former self. Earlier in life he had been a professional golfer, a boxer and later a body guard around the darker streets of Sydney. He had decided to spend his twilight years in Broken Hill.
On arrival into Darwin it was clear that Max paid a price for his six day drive. Desperately ill, I had him admitted to Royal Darwin Hospital, and there he languished for the next three weeks. In that period, I tried desperately to get 3 doctors to sign his paperwork to make him eligible to use the ROTI law.
None of them would break ranks with the AMA which was running an effective but unnecessary scare-mongering campaign. I rang every specialist in the Northern Territory. Marshall Perron even came to see Max in hospital. While the NT had the world's first law, it wasn't working.
At the end of three weeks, Max Bell signed himself out of hospital and drove back to Broken Hill. He was disgusted and angry at what he saw as the cowardice of the doctors. He was furious with me for not warning him that this could happen. His accusation, "you didn't do your homework, boy" was made and then he was gone.
A week later I joined Max in Broken Hill where I found him camped in his not yet sold house. With a few of his friends we bought him a bed and bits of crockery and I stayed with him in the house for the remaining three weeks of his life. As his health failed, he was finally moved to the palliative care bed at the Broken Hill Base Hospital. There, heavily sedated with morphine, Max died over a period of three days. He died precisely in the way he most dreaded, slowly and with the process out of his control.
In the final months of Max Bell's life, the ABC TV program 4 Corners came to Darwin and made a program called Road to Nowhere about Max's trip and his failed quest to use the ROTI law. Channel 7's Witness program followed, coming to Broken Hill and tracing the last few days of his life.
Max Bell was an important patient. While he never benefited from the law, the images contained in the TV coverage of Max's dying convinced the first specialist surgeon in Darwin to break ranks. Today, Max's cab lives on as my car and, like his memory, travels with me around Australia.
Max was recently the subject of a play called The Last Cab to Darwin – which won the Patrick White playright award in 2002. Unfortunately, the play has little association to the real Max Bell and certainly no association with myself since playwright Reg Cribb seems to have spoken to no one who knew Max well at all. In my opinion Cribb has denigrated the memory of Max and defamed me – in the name of "art."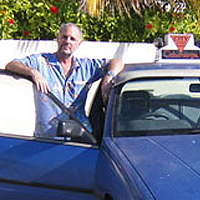 Philip Nitschke with Max Bell's cab
Back to Exit stories