Back to Exit stories
Cath Ringwood
Cath died in early July 2022
Cath Ringwood died last week at the age of 72, after living many years with the multiple diagnoses of leukemia and breast cancer.
We will miss her greatly.
Cath was a woman who never said no.
Any time she was asked if she wanted to step into the spotlight of being a euthanasia activist, she was always only too ready to help.
A former nurse and social worker (with a BA in Politics and Sociology), Cath was a bundle of energy with a healthy dose of eccentricity and scepticism thrown in.
Cath was funny, loving and self-deprecating. She was incredibly supportive of our work at Exit.
I first met Cath in 1997 when she volunteered to help with my Menzies Federal election campaign.
This was right after the good member for the Melbourne seat of Menzies, Kevin Andrews, had overturned the Northern Territory's Rights of the Terminally Ill Act.
I had stood against him in his safe liberal seat in Doncaster. While we didn't quite win, with did force the count to preferences.
Cath Ringwood was part of this important effort.
Prior to becoming a volunteer at Exit, in 2010 Cath wrote to the organisation around the time when she was diagnosed with breast cancer.
On Tue, 13 Apr 2010 20:14:41, wrote:
Dear Philip, Fiona and Lindy,
Thank you so much for the workshop yesterday. Although I have a copy of the Peaceful Pill Handbook which I have read, the opportunity at the workshop to discuss and ask questions has assisted me greatly in clarifying issues and formulating my personal plan of action. In particular I am glad I stayed for the gases discussion.
I am now less reluctant to consider this method.
This information has been a great reassurance and comfort to me and enables me to carry on my fight to survive with far greater cheerfulness and optimism. I have 2 cancers (CLL and Breast cancer) and my future (like many of us) is uncertain.
As a former RN Gr 1 (some of it in palliative care) I am very familiar with the gross inadequacies of the current assistance offered through slow euthanasia using the opiates.
The information you have compiled and bravely provided to us all has given me enormous comfort and empowerment.
Philip I am convinced that history will recognise the huge contribution your brave,pioneering efforts are making towards the alleviation of human suffering. In addition you are a wonderful role model to future medical graduates.
Your respectful and empowering stance is very needed in the medical profession and all helping professions.
Lindy knows this, but please remember that I am available to assist in any way I can in Melbourne with Exit's activities.
Best Wishes and thank you so much
Cath Ringwood
Exit enthusiastically and warmly embraced Cath as she became a driving force behind Victoria's Coffee & Chat groups.
When Fiona first met Cath all those years ago, she retells her initial conversation. On complimenting Cath on her leopard skin outfit and loud gold jewellery, Cath couldn't help, in acknowledging the compliment, to cheekily add 'I've had more than a bit of work done darling'.
Fiona loved it, Cath loved the exhibition of her post breast surgery, again youthful appearance.
Over the years, Cath spoke out about the need for right to die laws in Australia, but also about the more nitty gritty of issues including the use of gases.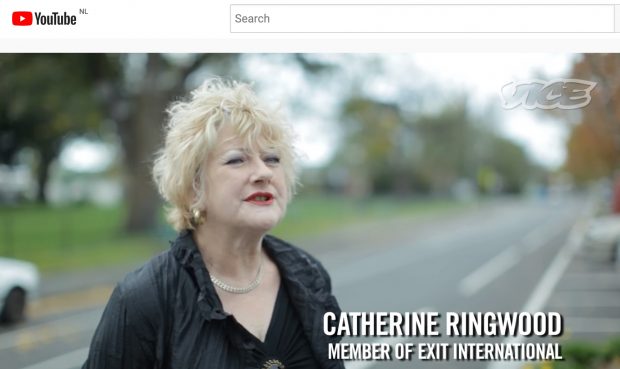 Cath appeared in the Vice International documentary titled 'Death in a Can' which has since been viewed over 1.3 milllion times on YouTube.
Here she was, a 63 year old woman wanting to know all about nitrogen gas and plastic bags.
She spoke with great insight. Cath's charismatic engagement is, no doubt, one of the reasons why the film has been viewed by so many.
Back to Exit stories