September 11, 2021
Sarco @ Suizid Let's Talk about it Exhibition
Sarco @ Suizid Let's Talk about it Exhibition at the Museum for Sepulkralkultur in Kassel, Germany opened on 10 September 2021.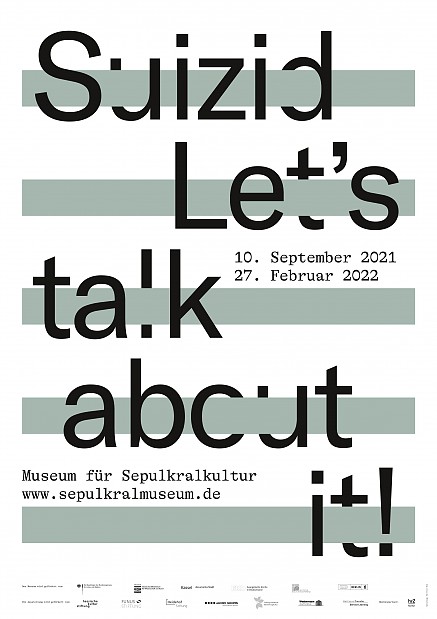 The Museum of Sepulchral Culture is a space dealing with the topics of dying, death, mourning and remembrance since 1992.
The new exhibition – 'Suizid let's talk about it' – is led by the director of the Museum for Sepulchral Culture, Dr. Dirk Pörschmann and Tatjana Ahle as well as the suicidologist Prof. Dr. Reinhard Lindner as scientific director of the University of Kassel, Institute for Social Work.
The exhibition is in cooperation with the University of Kassel and other national and international partners from the fields of art, culture and science, the exhibition "Suizid – Let's talk about it!" that can be experienced around the topics of suicide and suicidality.
Through the voices of those affected, epidemiological data and content-related research in the field of humanities and humanities, the museum is looking for a way with this project, a new language for approaching suicide and suicidality and the associated experience horizons of pain, grief and silence, but also to find humor.
A comprehensive accompanying publication which contains in-depth information on individual topics that are introduced in a polyphonic way through interviews, essays and artistic discussions is now available from the Museum and contains a chapter of Philip Nitschke in conversation on the topic of Sarco.
The publication serves the exhibition and the accompanying program as a supplementary platform for current research results and opens up an associative space for thought through artistic discussions.
Philip Nitschke at the Museum, 1 Sept 2021
SYMPOSIUM
On January 28, 2022, the opening symposium with the internationally renowned scientists Annette Erlangsen, PhD (DK), MD Mark J. Goldblatt (USA) and Prof. em. Dr. Phil. Thomas Macho (AT), artists and people who are involved in the subject of suicide in their (professional) everyday life.
In the spirit of "Let's talk about it!" And the combination of various disciplines and perspectives, the audience is invited to actively participate in the conversation.
EXHIBITION PARTNERS
An interdisciplinary scientific advisory board has been accompanying the project since 2019. In order to bring the topic into society, cooperations have been concluded with cultural and research institutions in Germany, Austria and New Zealand: among others with the International Research Center for Cultural Studies / Art University Linz in Vienna, the Artspace depot, New Zealand, the Hessen Kassel Museum Landscape and the Caricatura, Gallery for comical art Kassel.
PROMOTION
The project is financially supported by the Hessische Kulturstiftung, the Funus-Stiftung, the Heidehof Stiftung GmbH, the Ahorn Group, the Stiftung Deutsche Bestattungskultur, Westermann Gerüstbau and the Service Learning of the University of Kassel.
The involvement of our cooperation partners from the fields of suicide, cultural studies and fine arts or art education in press and public relations work enables the project to have an impact on society far beyond the museum context, with the aim of promoting broad public communication to promote suicide.
For images of Sarco on display at Kassel click here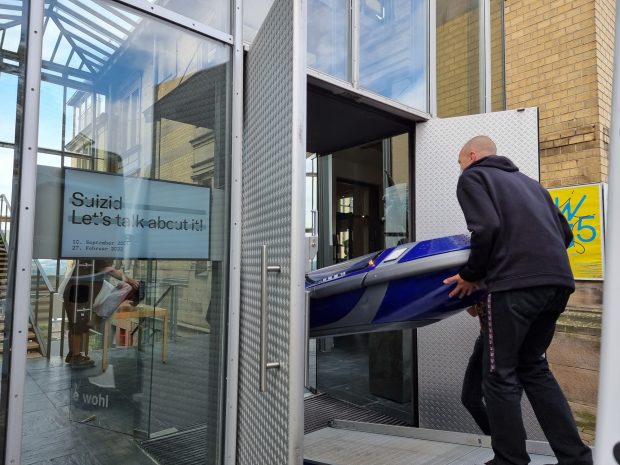 Sarco Arrives at the Museum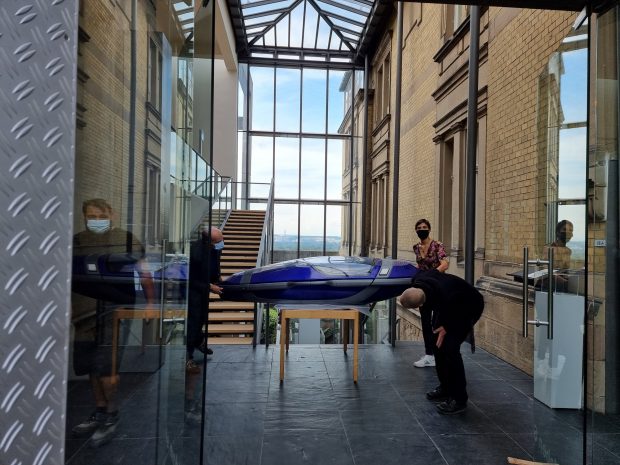 Now where to put it …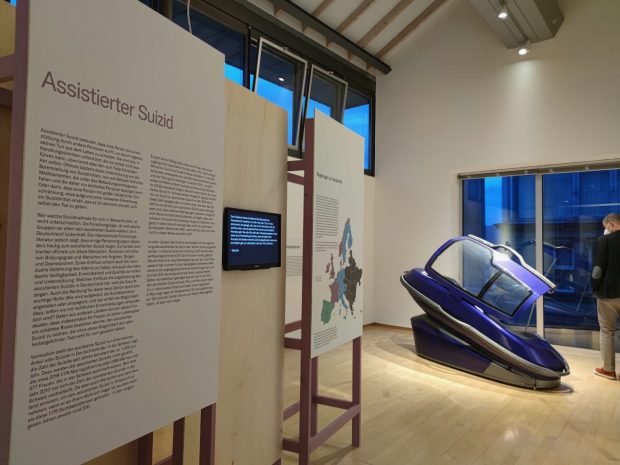 Here's a good place