Online Workshops & Snippets are the flagship program of Exit International.
During 2021, Exit has held monthly online workshops called Snippets.
Snippets are exclusively for Exit Members & Peaceful Pill eHandbook Subscribers.
Snippets are held on the first Wednesday of every month.
Each month there is a different topic.
All topics are selected from the Peaceful Pill Handbook.
DECEMBER TOPIC – The Essentials
DIY Euthanasia – Year in Summary
Topics –
Lethal Inorganic Salts
the Gases
Drug Premedication & Potentiation
Morphine & the Opioids
Dying at Pegasos
Miscellaneous Drugs
Barbiturates
USA Lethal Mixtures & the Devices
Exit Snippets
Need to Know
70 minutes duration, including participant Q&A
Topics are responsive to new developments & changing circumstances
Time Zones & Days

All Snippets are held on 1st Wednesday each month (or 1st Thursday in the Sth Hemisphere).
21.00 GMT – London (Wednesday) 
22.00 CEST – Amsterdam
17.00 EAST – Nth America – east coast
14.00 PACIFIC – Nth America – west coast
10.00 NZDT – New Zealand (+ 1 day – Thursday)
08.00 AEDT –  Sydney/ Melbourne/ Canberra/ Hobart
07.30 ACDT – Adelaide
07.00 AEST – Brisbane
06.30 ACST – Darwin
05.00 AWST – Perth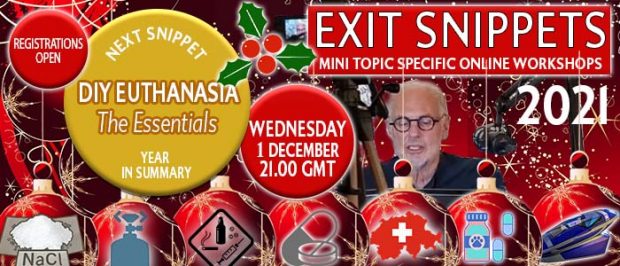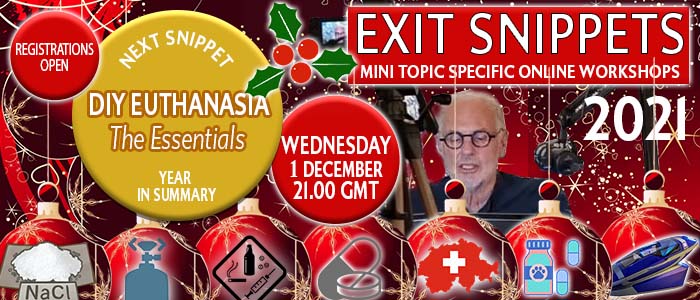 Cost & Access

Live Session – Free for Exit Members
Live Session – PPeH Subscribers – US$22.50 per Snippet
Recording Subscription
US$25 – Exit Members
US$50 – PPeH Subscribers
Subscribe to Snippet Recordings
If you already subscribe to the Snippet Recordings, you can Log In Here
New recordings are added 28 days after the live session.
Need to Know
Note – Participants must be > 50 years & of sound mind. People who are seriously ill are welcome to attend regardless of age.
Note – a one month wait period applies for new Exit Members/ PPeH Subscribers before Snippet attendance.
Previous Snippet Topics

February 2021: Lethal Inorganic Salts
March 2021: The Gases
April 2021: Drug Premedication & Potentiation
May 2021: Morphine & the Opioids
June 2021: Dying at Pegasos
July 2021: Miscellaneous Drugs
August 2021: The Barbiturates
October 2021: The Lethal Mixtures
November 2021: The Devices