May 4, 2020
Introducing Exit's new Man in Melbourne – Damian Flowers
In May 2008, Philip Nitschke received an urgent email requesting a private visit with 30-year old Melbourne writer, Angelique Flowers. Angelique had been diagnosed with stage IV bowel cancer and, as she said, 'there is on stage V.
The email was written by her brother Damian.
Angelique died tragically a few months later. Her story was told in the documentary '35 Letters' which won the Sydney Film Festival 'best documentary' in 2014.
For many years, Damian Flowers has worked behind the scenes with Exit from his adopted home of London. With his recent return to Australia, he has taken up a front-of-house position at the Exit office at Ross House in Melbourne.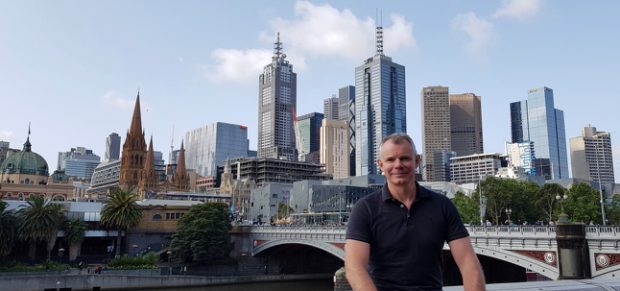 Damian divides his time between working for Exit International and Pegasos Swiss Association.
About Damian
Damian was born and raised in Melbourne, living there until the early 2000's, after which he was lost to the London corporate world.  Damian took a break from his career in 2008 to return to Melbourne to help his younger sister Angelique through her final months where he came face to face with the dilemmas, barriers and stereotypes that confront those seeking control in when and how they die.
Since Angelique's death, Damian says he is more committed than ever to helping others and to bringing about the societal changes needed by everyone, but especially by those like his sister, Angelique.  He says he is passionate about the right of everyone to be heard and supported in their assisted dying journey.
In his spare time, Damian is the president of the United Oxford Hospitals (UK) cricket club, described  as  a 'ragtag bunch of cricket tragics'.  He also loves to mountain climb and swim at the beach. He says he has not yet decided which of the two is his favourite place in the world.