March 30, 2023
Exit International Public Meeting held in Darwin
Exit International Public Meeting held in Darwin
Exit International hosted a free public meeting in Darwin to discuss the need for a new Voluntary Euthanasia/ Assisted Dying law for the Northern Territory at the Council for the Aged NT (Cota).
An Open Letter to the Politicians of the NT Parliament was signed and will be presented to the Chief Minister of the NT, Natasha Fyles.

Special Guest Speakers: Naomi Oliver – Exit Member, Daryl Manzie – Former NT Attorney General & MP, Philip Nitschke, Founder of Exit International.
Former Chief Minister, Marshall Perron, provided a statement to be read at the meeting.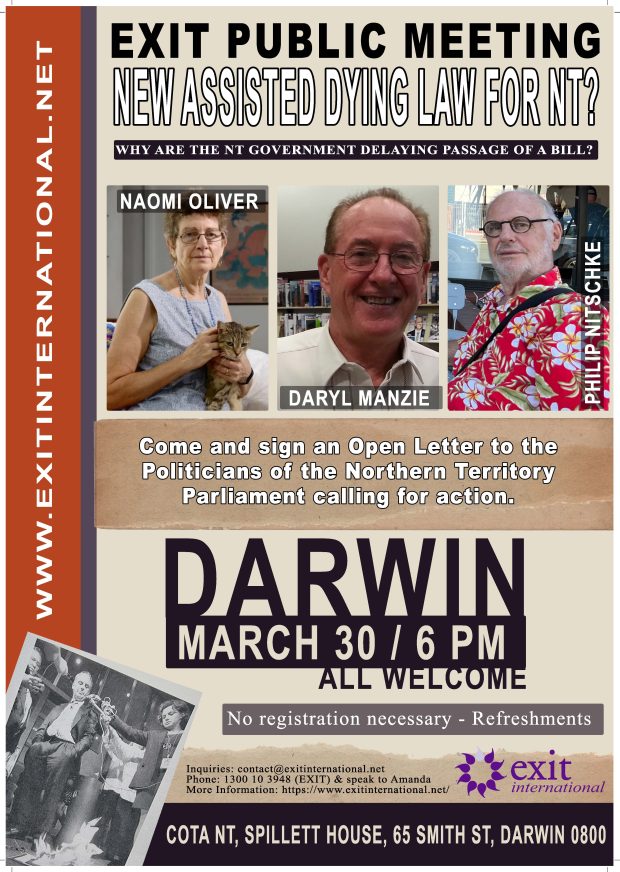 In 1996, Dr Nitschke became the first doctor in the world to administer a legal, lethal, voluntary injection under Marshall Perron's Rights of the Terminally Ill Act.
Four patients used the Deliverance Machine to self-administer a lethal dose of Nembutal.
The Deliverance Machine is now on display in the British Science Museum in London.
Exit International Public Meeting to be held in Darwin – Background

On 1 January 2023, Philip Nitschke wrote to the NT Attorney General Chansey Paech requesting a meeting in order to discuss a new end of life law for the Northern Territory.
Philip has accepted an invitation to meet with the Chief Minister, Natasha Fyles.
With the ACT moving ahead with wanting to legislate for end of life laws, the Northern Territory is left stranded.
The Government is talking about a renewed community consultation after the next Territory election.
Whereas the NT once led the world with their ground-breaking Rights of the Terminally Ill Act, the NT is now the laggard.
Inquiries: 1300 10 3948
Email: contact@exitinternational.net
The Meeting in Photos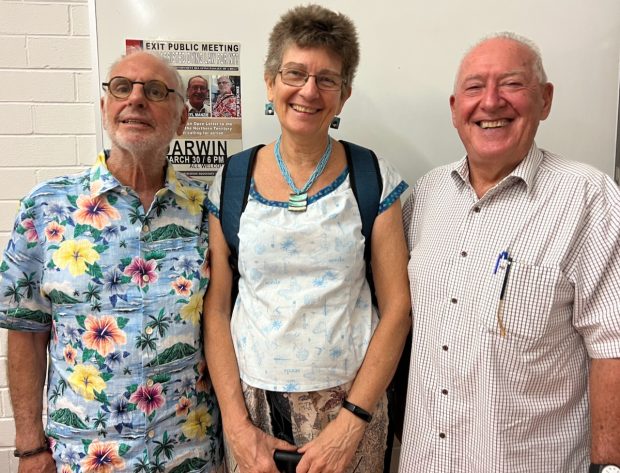 Speakers: Philip Nitschke, Naomi Oliver & Daryl Manzie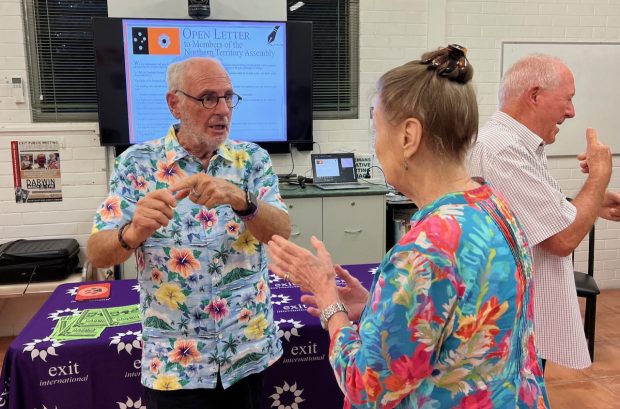 Philip Nitschke speaking with an Exit Member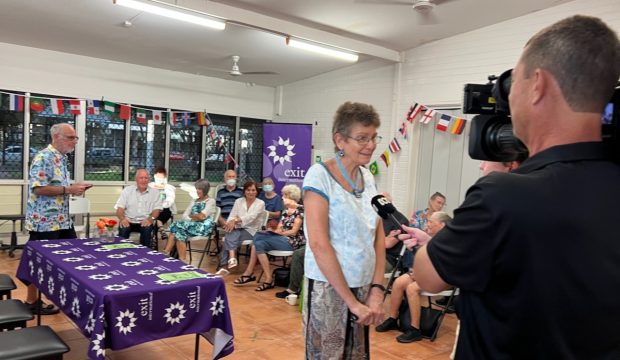 Naomi Oliver speaking to the ABC

Group Photo in front of the Open Letter