October 8, 2022
Dr Phil Meets Dr Phil
Dr Phil Meets Dr Phil live on air.
In August 2022, Exit's 'Dr Phil [Nitschke]' took part in the American 'Dr Phil [McGraw]' show on the topic of Medical Aid in Dying.
Zooming in from Amsterdam, other speakers were both in the studio and on the screen.
Philip Nitschke's participation can be viewed HERE
The full show can be viewed HERE
Dr Phil (the other one) showed himself responsive and sympathetic to the pro-choice arguments put. This was a pleasant surprise since it is often difficult to know what mainstream celebrities think of the issue of the right to die.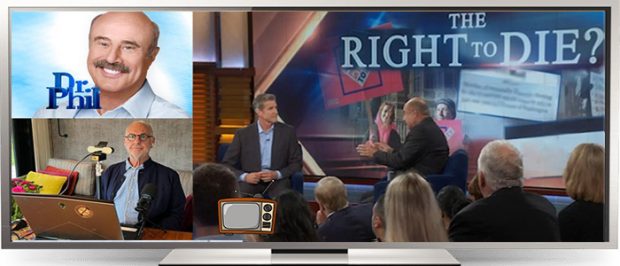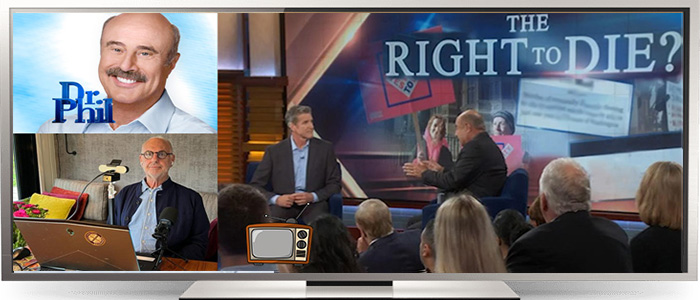 The show screened in the US on Thursday 13 October 2022.
Show Synopsis – Dr Phil Meets Dr Phil
In 2014, 29-year-old Brittany Maynard transformed the conversation about medical-aid-in-dying, which allows a terminally ill patient with a prognosis of six months or less to live and is capable of making their own healthcare decisions, to self-administer prescribed medication to die with dignity.
At the time, medical aid-in-dying was only authorized in four states, but today, it has been legalized in 10 states and Washington D.C.
Additionally, many Americans are choosing to fly internationally to use medical aid-in-dying for non-terminal illnesses.
With its growing popularity and more and more legislation being passed, Dr. Phil and his guests discuss dying on your own terms. With only one life, who says you can't control your end date?
And, is it your right to die on your own terms?