March 27, 2018
Controversial advocate for 'voluntary euthanasia' earns fans in Canada
While Canada's current laws on medically assisted death are being challenged in and out of court, there is another type of discussion quietly percolating across Canada, bolstered by a controversial former physician who advocates for what he calls "personal euthanasia."
Philip Nitschke is the founder of Exit International and an Australian former physician who now travels the world teaching people how to kill themselves peacefully and painlessly.
He recently travelled to Toronto to present his ideas on how everyone should be able to access the death of their choice. One of his messages is that Canada's assisted dying laws exclude too many people.Controversial former physician Philip Nitschke, the founder of Exit International.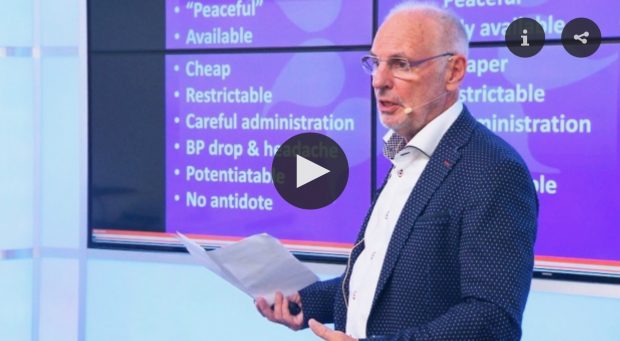 "It is a medically assisted privilege doled out to a select few who satisfy criteria. Many of us, including myself, think death and dying is a right," he told the small crowd who gathered to hear him.
Nitschke's controversial campaign has already played a role in ending at least one life in Canada: Adam Maier-Clayton.
The 26-year-old suffered from intractable depression, anxiety and a condition called somatic symptom disorder, and campaigned for medically assisted death for those with mental illness. He couldn't obtain assistance in dying because his condition wasn't considered a terminal disease.
Adam's father, who watched his son suffer for years, says Nitschke offered advice that eventually led to Adam taking a drug to end his life last April.
"I appreciate that Phil made him aware of this drug. My son was able to get it," Graham Clayton told CTV News.
But some watching Nitschke's crusade are alarmed, including euthanasia prevention advocate Alex Schadenberg.
"The reality is that Phil is a very dangerous man," he says.
Schadenberg says Nitschke is really just a businessman preying on vulnerable people.
"…He is providing information and selling it online, he is funding his whole campaign with that, and people are dying."
Several Canadian seniors who attended Nitschke's presentation in Toronto say they support his ideas because the current laws on assisted dying are simply too restrictive.
"That is what is so annoying to me about the restrictiveness of the current law," said one senior, who asked not to be identified, "it is so ageist and condescending because it is assumes older Canadians are incapable of making these important decisions on their own."
Another summed up her views this way: "If I have the means at home and I can do it at the right time, that gives me total control. And, it is my body, my life, my death."
With a report from CTV medical specialist Avis Favaro and producer Elizabeth St. Philip