May 5, 2023
Canada man charged with supplying substance linked to UK and US suicides
Canada man charged with supplying substance linked to UK and US suicides writes The Guardian.
Police in Canada have laid charges against an Ontario man following allegations he sold a lethal substance to people in dozens of countries, including four people who killed themselves in Britain and one in the United States.
Kenneth Law, 57, is due to appear in court on Wednesday after Peel regional police charged him with two counts of counselling or aiding suicide on Tuesday in relation to Canadian adults.
Law, a former aerospace engineer working at a high-end hotel kitchen, is alleged to have run an online business that sold a substance to customers in the United Kingdom and the United States. His shipments are alleged to be linked to at least seven deaths, including four British citizens in their 20s and 30s and one teen in the United States.
"The mental health and wellbeing of our communities is our main priority. As such, we will not tolerate criminal actions by those who prey on vulnerable individuals in our community," the police deputy chief, Marc Andrews, told reporters, adding that police "would not have laid the charges if we did not have the grounds to lay those charges".
Under Canada's criminal code, anyone who "counsels or abets" a person to die by suicide can face up to 14 years in prison.
Peel police say at least 1,200 packages have been shipped to over 40 countries and say they are working with other police forces across Ontario, nationally and internationally, including Britain's National Crime Agency.
"It's been a really hard slog," Andrews said. "Our investigators have done a lot of legwork."
Peel police allege Law was also linked to companies including Imtime Cuisine, AmbuCA, Academic/ACademic, Escape Mode/escMode and ICemac and released a public alert warning people to look out for to watch for transactions or packages bearing the names.
"If you notice payments or transactions related to any one of these companies, please contact us," said Andrews.
The Times reported last week there was concern that the mail-order businesses run by Law were linked to a number of suicides, including Neha Susan Raju, a 23-year-old woman from Guildford, Surrey, was found dead in her bedroom with a suicide note in April 2022.
Canada man charged with supplying substance linked to UK and US suicides.
Amid a push to clamp down on the sale of lethal substances, a coroner's report into Raju's death warned there was "no protection is afforded to vulnerable people prior to them making such purchases" and that "lethal quantities" could be freely shipped in the United Kingdom.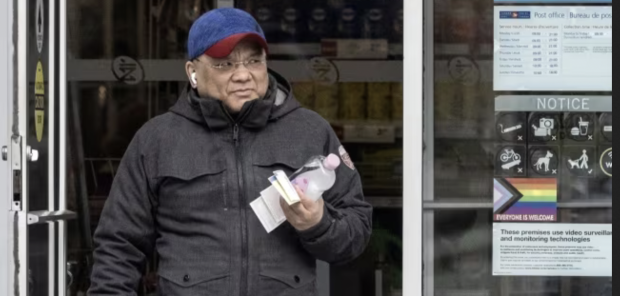 Ken Law, as photographed on breakingnewscanada.com
mazon is currently facing a lawsuit from families who allege the e-commerce giant knowingly sold "suicide kits" including lethal substances and a book on suicide.
Law, who lives in the Toronto-area city of Markham, has denied reports that he was willingly selling products to help people die by suicide. His mail-order company was taken offline following reporting by the Times.
Law is expected to appear in court for a bail hearing on Wednesday.
Note – Elderly Exit Members in several countries have reported very late night 'welfare' visits from their local police asking if they have purchased Sodium Nitrite from one of Law's websites.
Police have had no grounds to seize the Sodium Nitrite since it is not a prohibited substance.