November 1, 2018
Exit Black Friday Book Sale

ONLINE BOOK DISCOUNTS
Get an extra 12 Months Free On All Subscriptions – 36 Months for Price of 24 Months
The global Black Friday sale brings a significant saving to all would-be Peaceful Pill eHandbook subscribers across all language editions.
Following the popularity of last year's sale, Exit is pleased to offer an extra 12 months free for all new subscriptions.
36 Months for the Price of 24 Months
This offer ends midnight GMT on Cyber Monday (Monday 26 November 2018).
La Pillola Apacible – el manual electrónico
La Pillola della Quiete – edizione digitale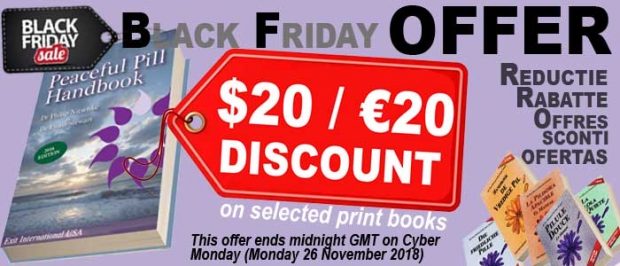 PRINT BOOK DISCOUNTS
Get $20/€20 Discount on Selected Print Books
INCLUDED BOOKS
The Peaceful Pill eHandbook 2016 Color Edition (NOT 2018 edition)
Die Friedliche Pille – Das Handbuch
La Pillola Della Quiete – Il Manuale
La Pildora Apacible – El Manual
Click a link above to purchase.