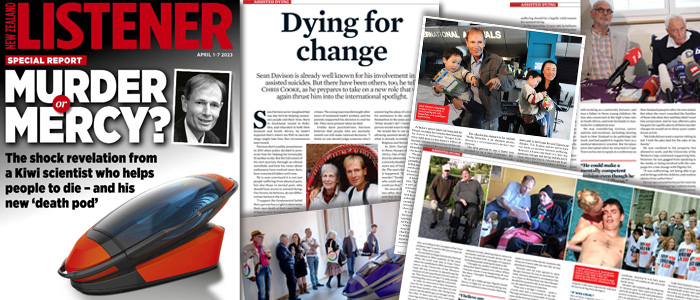 The Curious Story of a Censored Cover Story in The Listener?
On 1 April, The Listener in New Zealand published a significant cover story on Exit Director, Professor Sean Davison and the Sarco machine.


Journalist Chris Cooke, spent many months working on the piece conducting extensive interviews with the key players.


Yet upon publication, and for reasons unknown, the edition is

not

listed on the home page of The Listener. There is no 1 April edition. Sick joke or ... ?


The edition (PDF version) also comes with a 'CONTENT WARNING This story discusses assisted suicide and mental health issues'. Go figure!


This apparent moral panic can't help but make one more curious as to what the article contains: given it is hidden behind an especially solid paywall.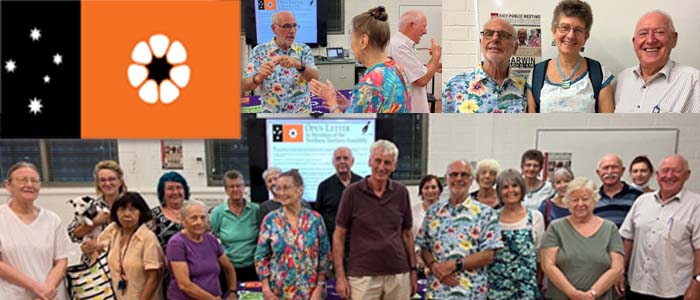 Darwin Public Meeting Results in Invitation to Meet NT Chief Minister
Exit hosted a public meeting in Darwin on 30 March to gather signatures to take to the politicians of the Northern Territory to urge them to act on a new Assisted Dying Act for the Northern Territory of Australia.


In 1995, the Northern Territory passed the world's first Rights of the Terminally Ill Act under the government of Chief Minister Marshall Perron. The conscience vote was close at 13/12 with the casting vote coming from the Member for Arnhem, Wes Lanhupuy.


Lanhupuy stated (paraphrasing) that his people would likely never use such a law but that all citizens had the right decide their own death.


With that Act now rescinded, the Northern Territory can now make a new law, so why the delay?


Watch this space for the outcome of Philip Nitschke's meeting with the Chief Minister Wednesday week.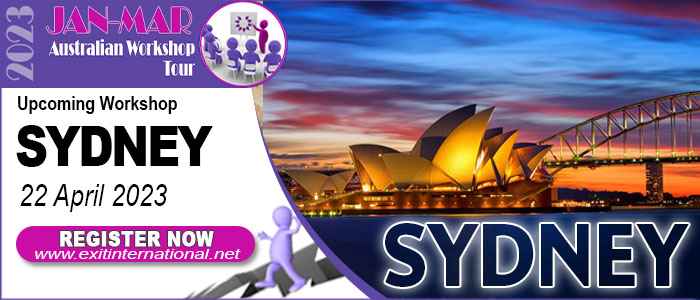 FINAL AUSTRALIAN WORKSHOP

The final Australian Workshop will be held in Sydney at 11am on Saturday 22 April 2023.


• Free & exclusive for Exit Members
• Face-to-face events with extensive Q/A
• Based on the Peaceful Pill eHandbook – Essentials Edition

• Duration - 4 hours inc. 30 minute afternoon tea break
• What to do when you 'fall through the cracks' of the forthcoming NSW VAD Law

• Practical DIY options to take control of your life & death
• The '3Ns': Nembutal, Nitrogen & ... the Salts


Phone: 1300 10 3948 (EXIT)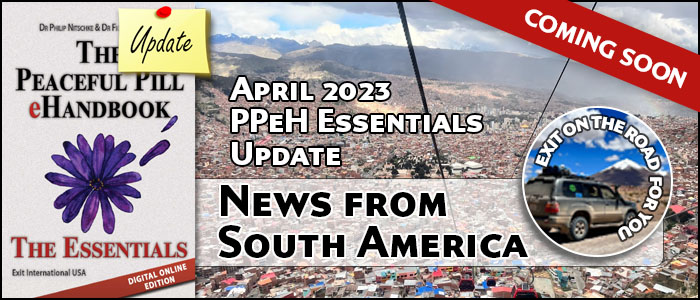 Planning a Trip to South America?

The Shopping is Good
The forthcoming April update to the Peaceful Pill eHandbook Essentials edition will bring news from recent field research in Sth America.


This news is a welcome relief as it is a lawful alternative that renders real results.


Existing Subscribers Transfer to the Essentials Now
Aus 1300 10 3948 (EXIT) || US +1 360 961 1333 || NL +31 6 23 82 95 82 || UK +44 7883 509 765 || NZ +64 09 889 1137