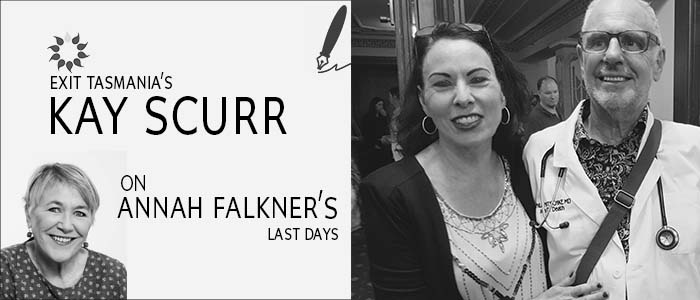 Annah Faulkner Died Alone
Was this a Travesty of Justice?
When writer Annah Faulkner died earlier this month, she was alone at home. With nitrogen (and a bag) her death was certainly peaceful. However, what of the question of dignity and of comfort.


According to Exit's Tasmanian Coordinator, Kay Scurr, Annah deserved better. Exit cannot disagree. A friend to Annah to the end, Kay could not be with her in those final hours.


Annah was on her own, and she knew it and she felt deeply the isolation, loneliness, her fear of being 'exposed'. She resented being made to feel like a criminal.
Annah was a woman with an abundance of conviction and courage, which was evident in the last venture she would undertake in her life. She was no shrinking violet.
Which brings me to why I wrote this article.
Australia prides itself on being a caring and compassionate country ... however, if you dare to hold someone's hand, or be with them as they take their last breath by their own volition, then you run the risk of legal action.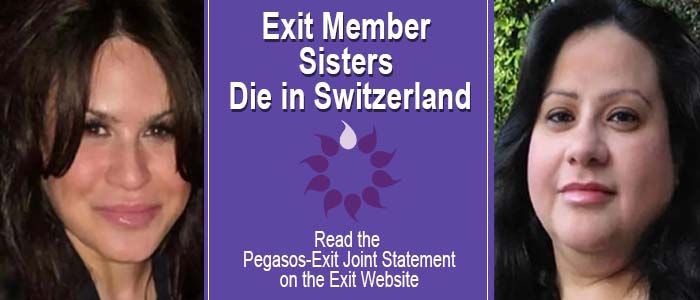 Palliative Care Doctor Chooses

Swiss Assisted Suicide with Sister

This week saw the high profile deaths of Exit Members - sisters, Lila Ammouri & Susan Frazier in Switzerland.



The sisters - a palliative care doctor and a nurse practitioner from Arizona - had told friends they were taking a short vacation in Europe. The problem was they never came back.


As neither was terminally ill, the sisters were afraid that their plans would be thwarted if they told anyone. Their deaths were, therefore, kept secret: even from their brother.


The reporting of the sisters' deaths took a dramatic turn with some news feeds reporting that an imposter had accessed their phones and sent messages to friends back home after they had died.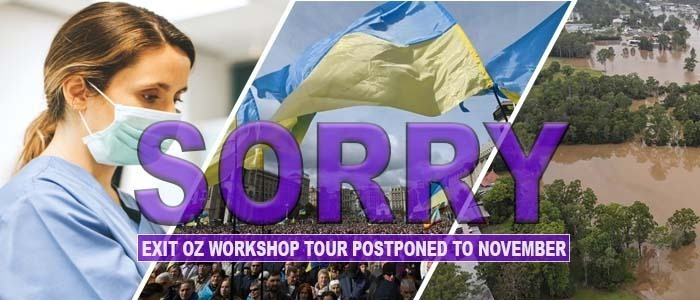 Oz / NZ Workshop Tour commences Nov 2022

The forces against us were too great. Exit has, therefore, taken the unfortunate step of postponing the recently-announced Australian tour.


We are very sorry for the inconvenience this will cause Exit Members.


The decision has come about from the aftermath of the floods on Australia's east coast, the rising Omicron rates in Australia (something especially important given Exit's elderly membership) and the war in Ukraine which has thrown everyone's plans into turmoil.


In particular, it has been difficult to secure venues given the widespread flood damage as well as some venues being unsure if social distancing would/ would not apply and, therefore, unable to give confirmed numbers about capacity (how many people can be in attendance).


Advance registrations will help Exit with planning. The new program will see public meetings and workshops conducted throughout the Australian/ NZ summer of 2022-2023.


Information about Exit workshops can be found on the Exit site under 'Programs' and 'Live Workshops'.
New Edition - Peaceful Pill eHandbook

In the coming months, Exit will publish complete re-write of the existing Peaceful Pill eHandbook.This is the first complete overhaul of the book since it was originally published online in 2008. The aim is to condense 554 pages to < 200 pages.


Existing subscribers will have their subscriptions 'transfer' to the new Essentials Edition, while retaining their access to the 554 existing pages of the Peaceful Pill eHandbook (as per their existing subscription). A print 'Essentials Edition' will also be available.


Aus 1300 10 3948 (EXIT) || US +1 360 961 1333 || UK +44 7883 509 765 || NZ +64 09 889 1137 || NL +31 6 23 82 95 82