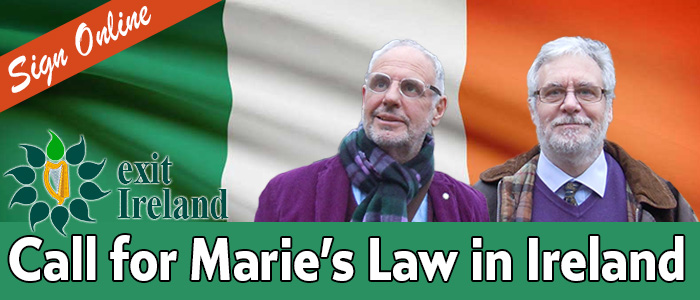 Exit Public Meeting in Dublin

11am @ Wednesday 11 October
Exit International will be holding a free Public Meeting at 11am, at the Club Na Muinteoiri (Teachers Club) in
Dublin.

All Welcome, including Membes of the Irish Parliamentary Joint Committee on Assisted Dying.


The Public Meeting will be hosted by Tom Curran whose partner, Marie Fleming, made legal history in 2013 when she took a discrimination case to to the Irish High Court, and later the Constitutional Supreme Court.


Tom will discuss why Ireland should be looking towards the Swiss as an example of the type of law reform that the Parliament should introduce.


Tom will pay a personal tribute to Marie by calling for any new Irish law to be named in her honour as 'Marie's Law'.


Everyone is welcome to attend. Registration is not required.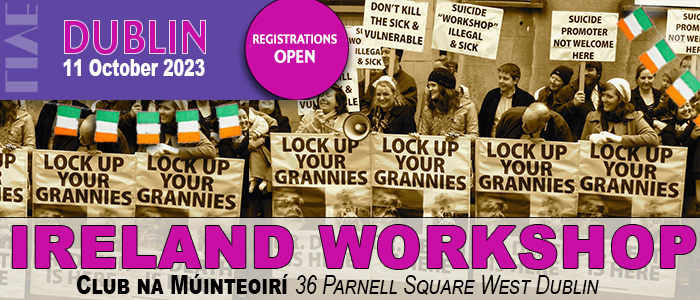 Exit Dublin Practical Workshop

Exit first visited Ireland in 2010 to hold our inaugural workshop at the infamous anarchist collective, Seomra Spraoi (because no other venue would host the then controversial meeting).


Fast-forward 13 years & Exit is back to hold a new workshop at the Dublin Teachers' Club @ 1-3.30pm, Wednesday 11 October. The workshop will be hosted by Dr Philip Nitschke.


Registrations are now
OPEN
The practical Exit Workshop will focus on peaceful and reliable DIY end of life approaches such as: Nitrite, Nitrogen & Nembutal & will include audience Q&A.


The Workshop will also address the recent sodium nitrite controversies that have been reported in the Irish press.


Exit Workshops are

Free

for Exit Members (> 50 years)
€40 - Peaceful Pill eHandbook Subscribers
More about Exit Workshops


Exit Books available on the day: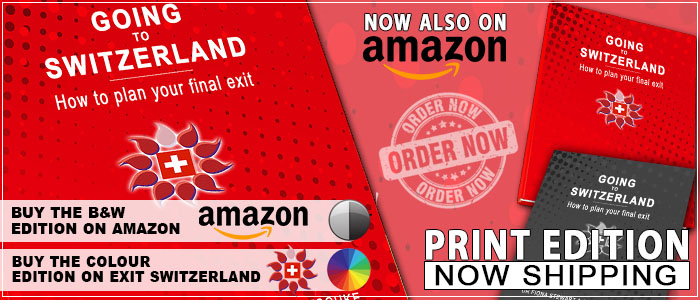 Exit Books in 2023

The print edition of Naar Zwitserland ships Monday.


Translations are currently underway for editions in French, Spanish, German and Italian.


Going to Switzerland is the first practical guide to help guide foreigners through the complicated waters of applying for an assisted death in Switzerland.


The book compliments Exit's Swiss Program which is overseen by Sean Davison.


The English edition of Going to Switzerland is available:
The September 2023 edition of the Peaceful Pill Handbook Essentials is also available online or in print (July edition).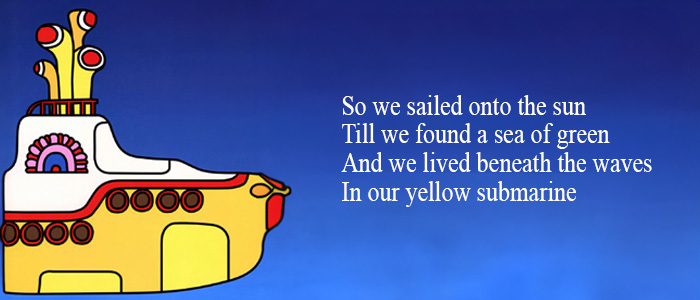 Nembutal Trivia - Did you know ...?
As if expressly written to keep us wondering, debate continues to rage in regard to whether or not the Beatles song - the Yellow Submarine - is in fact a song about, amongst other nefarious issues, Nembutal.


Long-known as pink ladies and yellow dolls (due to the colour of the gelatin capsule), Nembutal pills are also known as Yellow Submarines (due, clearly, to their color and shape).


In April and August 2023 respectively, the Cheatsheet and Grunge websites have both hosted discussion on the origins of the song: just what is a yellow submarine and is it Nembutal?


Regardless of the true answer, these precious pills are now next to extinct, along with yellow submarines but isn't it interesting to ponder ...
US +1 360 961 1333 || Aus 1300 10 3948 (EXIT) || NL +31 6 23 82 95 82 || UK +44 7576 224 931 || NZ +64 9 889 1137