Welcome to the Exit Internationalist Email News - 24 Sept '23
1. 'Detergent'/Chemical Deaths Sept 2023 Peaceful Pill eHandbook Update
2. Exit Podcasts Return Next Week
3. Going to Switzerland Book - now on Amazon Globally
4. Dublin Workshop (11 October) - Registrations Now Open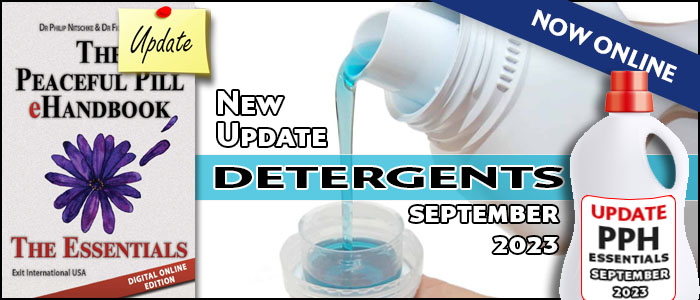 September Peaceful Pill eHandbook Update

Now Online
This month Exit has published an update to the Poison Gas Chapter in the Peaceful Pill eHandbook Essentials which has been updated to take account of important new safety information concerning hydrogen sulphide 'detergent' suicide.


Exit Podcasts Return - October 2023
Given the success of Exit's pandemic series of podcasts, it has been 'on the radar' to continue our unique end of life choices/ debate commentary.


In early 2020, podcasts were a relatively new thing. Now they are everywhere & everyone knows them.


Our reboot of the Exit Podcasts will be relaunched under the new name 'It's Down to You' intended to symbolize Exit's commitment to autonomy, empowerment and freedom of choice to choose your life & death decisions.


Topics to be covered in forthcoming Podcasts include: the intended use of Nitrogen in capital punishment protocols in the US (note Exit stands against the death penalty in all situations), the Nitrite Controversies and Exit's new book Going to Switzerland: how to plan your final exit.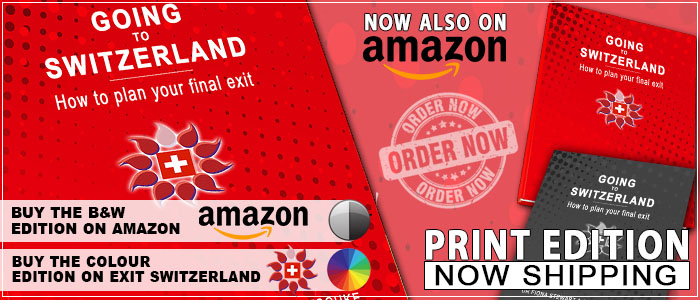 Going to Switzerland - Now on Amazon

Exit's new book Going to Switzerland: How to Plan your Final Exit discusses everything you need to know about going to Switzerland to for an assisted death.


This new book is available in full color print & online formats direct from Exit. As of this week, it is also available on Amazon globally.


Going to Switzerland explains Swiss law & need-2-know bureaucratic requirements, the differences between the clinics, assessment pitfalls in terms of dementia/Alzheimer's, the green light process, couples going together, and those valuable discussions of talking about plans with friends & family.


As a book, Going to Switzerland is intended for a general audience, so has no age or ID restrictions. The online edition is sold as a 24-month subscription & is updated as required.


Online US$40 - Exit Members & PPeH Subscribers, $60 - Public
Print US$45 - Exit Members & PPeH Subscribers, $65 - Public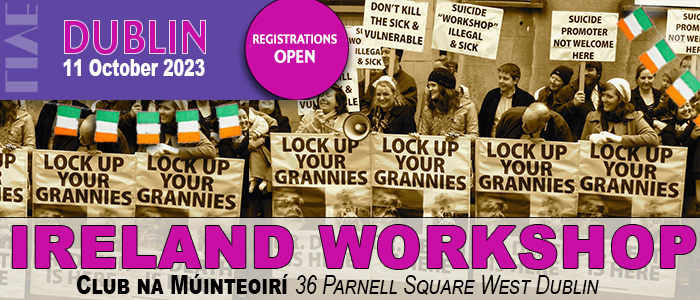 2023 Dublin Workshop

Exit International will be holding a workshop in Dublin on 11 October. Registrations are now open.


Exit workshops are based on the Peaceful Pill eHandbook Essentials and focus on the 3Ns: Nitrogen, Nembutal & Nitrite.



Note - the Dublin workshop will be preceded by a free, open public meeting to discuss the current state of play of assisted dying law in the Republic of Ireland.


At the meeting we will advocate for the Irish Parliament to adopt the Swiss Model of assisted dying for anyone of sound mind who does the action themselves.


Public Meeting - 11am - 12 noon (free & open to all)
Workshop 1 - 3.30pm (Exit members & PPeH Subscribers only)
More about Exit Workshops


Attendees must be > 50 years & of sound mind.
Photo ID may be required.
US +1 360 961 1333 || Aus 1300 10 3948 (EXIT) || NL +31 6 23 82 95 82 || UK +44 7576 224 931 || NZ +64 9 889 1137