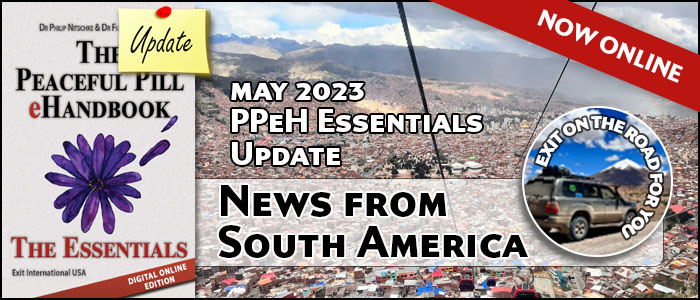 Now Available
The May 2023 PPeH Essentials Update examines where in Sth America one may purchase Nembutal over the counter. This update is timely in that it does away with the risk of dealing with scammers online.


There is an absolute dearth of the drug over the Internet which ipso facto means that there is a glut of scammers who are waiting to prey on elderly people.


Buying over the counter represents a safe, foolproof way to acquire the drug.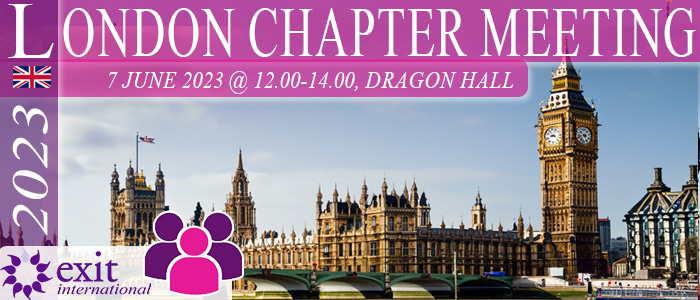 All Exit Members Invited
Professor Sean Davison will be hosting Exit's first UK Chapter meeting for 2023 at Dragon Hall (17 Stukeley Street, WC2B 5LT) at 12 - 14.00 on Wednesday 7 June.


The meeting will provide the latest update on all things Exit. Dr Philip Nitschke will join the meeting via Zoom from Amsterdam.


Registrations are essential. The meeting is only open to Exit Members.


Afternoon tea will be served.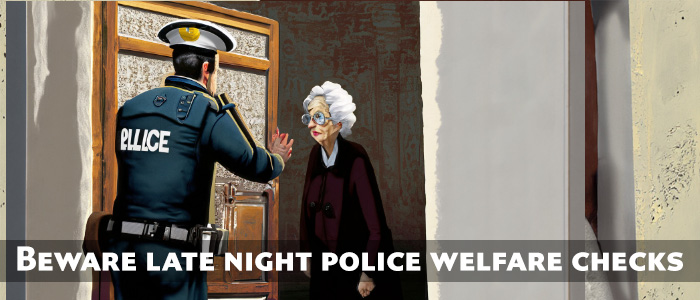 Global Police Visits Reported
Following the arrest last week of Canadian man, Kenneth Law, some of those on his reported 1400-strong global client list have received late night visits from their local police.


Kenneth Law was charged on Tuesday 2 May in Ontario, with two counts of counseling or abetting suicide. Law is accused of selling sodium nitrite via a number of websites. It is reported that Law sold sodium nitrite to purchasers in over 40 countries.


Conducted under the guise of a 'welfare check', elderly people in a range of countries are telling Exit they have been visited late at night by their local police. Police visits in Australia, for instance, have been received a few minutes before midnight.


One can only presume that the late hour of these visits has been designed to heighten the scare factor! So much for a genuine show of concern for the elderly.


Of those who have been visited, Exit is not aware of anyone who has had their sodium nitrite confiscated by the police: after all it is a lawful product to possess. There are no legal grounds for its seizure.


Read Exit's Blog - Fact Check - on why Exit does not supported suicide chat websites.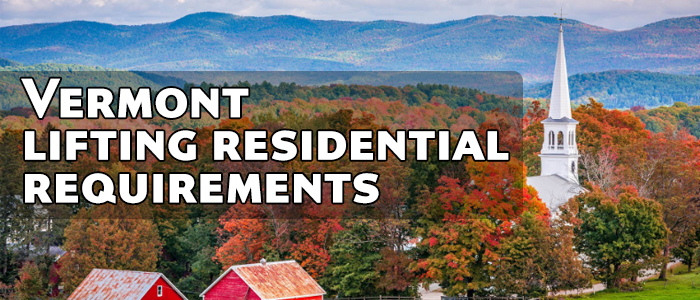 MAiD in the USA Just Opened Up to Everyone

At a theoretical level, every adult in the US can now request help to die in Vermont. This has to be good news, especially for those who live in states where assisted dying is yet to be legislated.


While Vermont may have loosened one criteria, a peaceful death in Vermont will remain a long, complicated & drawn-out affair.


To obtain MAiD in Vermont, the criteria applies. The person must be:

Diagnosed with a terminal illness that is expected to result in death < six months
Older than 18 years
Capable of making an informed decision & self-administering the medication
Requests for MAiD must be two weeks apart
Requests must be made verbally & in writing & witnessed by two unrelated parties
Person's diagnosis & determination about ability to consent is made by the prescribing physician & reviewed by a second doctor
The entire application process must take place within the jurisdiction of Vermont!


Sure, this relaxation is better than nothing but it is not the only thing about Vermont's law that needs relaxing!


Watch this space for a more humane, less bureaucratic approach to be taken.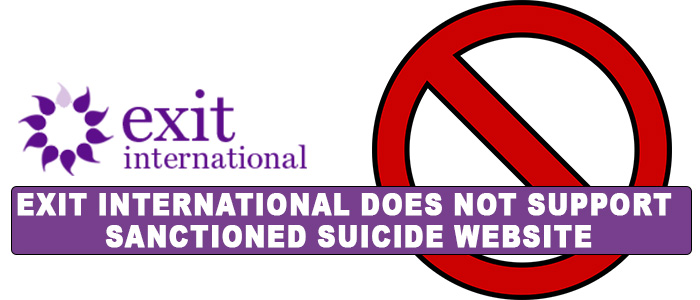 New Blog Comment

For many years, Exit has been concerned about suicide chat websites.


Indeed, we have campaigned to certain media outlets (eg. BBC) to use their enormous power & investigate sites like this. Our pleas fell on deaf ears. It would seem that young people had to die before anyone would sit up & take notice.


Last week The Times instigated a sting operation targeting Ken Law. A 3-part podcast details how the sting took place. Law's arrest & charging is the result.


Here is the Exit Fact Check on the current situation.


Exit does not support suicide chat websites.
Exit has no relationship with these websites.
Any subscriber to the Peaceful Pill eHandbook who is found to post material on such websites, has their subscription immediately cancelled & a life ban imposed.
Exit monitors these sites closely in order to protect the intellectual property of our books.
Exit books are available to people > 50 years only or seriously ill with medical records to prove it.
Purchasers of Exit books must complete video photo ID verification prior to sale.
US +1 360 961 1333 || Aus 1300 10 3948 (EXIT) || NL +31 6 23 82 95 82 || UK +44 7883 509 765 || NZ +64 09 889 1137