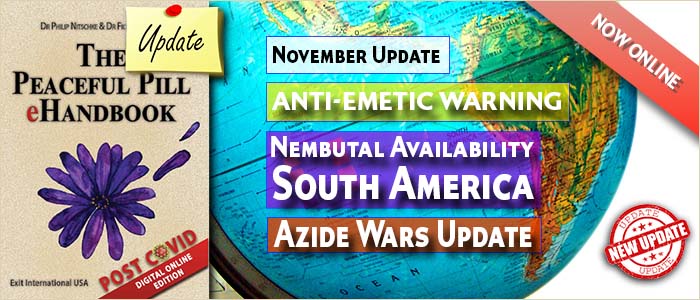 November 2021 PPeH Update
Now Available
The November Update to the Peaceful Pill eHandbook focuses on the three topics of:

Anti-emetics Warning: Doctors Advised to Scrutinise Requests
Nembutal Availability Changes: Sth America
Azide Wars Update: Truth is the 1st Casualty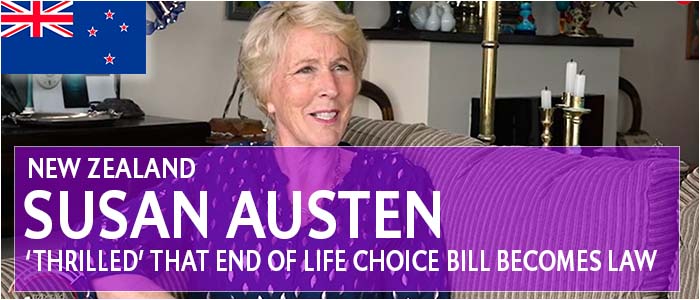 New Zealand Implements New Law

Exit's Suzy Austen Explains
She's got four grandchildren with a fifth on the way, a loving husband, and a conviction for importing lethal drugs – Suzy Austen is a little different to your typical grandmother but as a convicted euthanasia advocate Susan Austen 'thrilled' by End of Life Choice Bill.


The 70-year-old Lower Hutt woman has spent the last 15 years as the head of Exit International's Wellington chapter – an association which has long championed the legalisation of euthanasia.


It's a cause for which Austen has fought hard and on Sunday, the End of Life Choice Bill will enter into law.


Read the interview with Suzy

Watch the interview with Suzy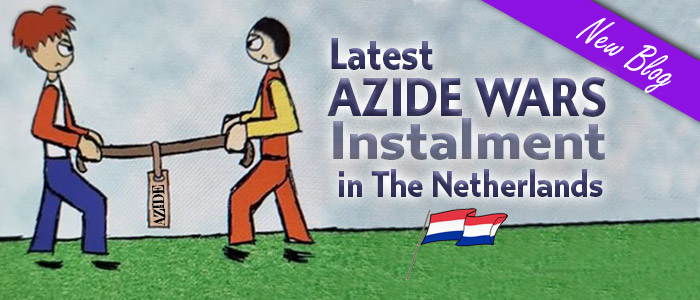 November 2021 Blog
The Azide Wars & Why they Matter

Last week, my former colleague, Dutch psychiatrist Boudwijn Chabot, published an opinion column in the NRC newspaper full of 'alternative facts'.


NRC has since published a correction.


Disagreeing with the use of Middel X (sodium azide) as a means for a peaceful death is one thing. But publicly confusing a video documenting a death from sodium nitrite with a death from sodium azide (and exaggerating the time to death) is both dishonest and unnecessary.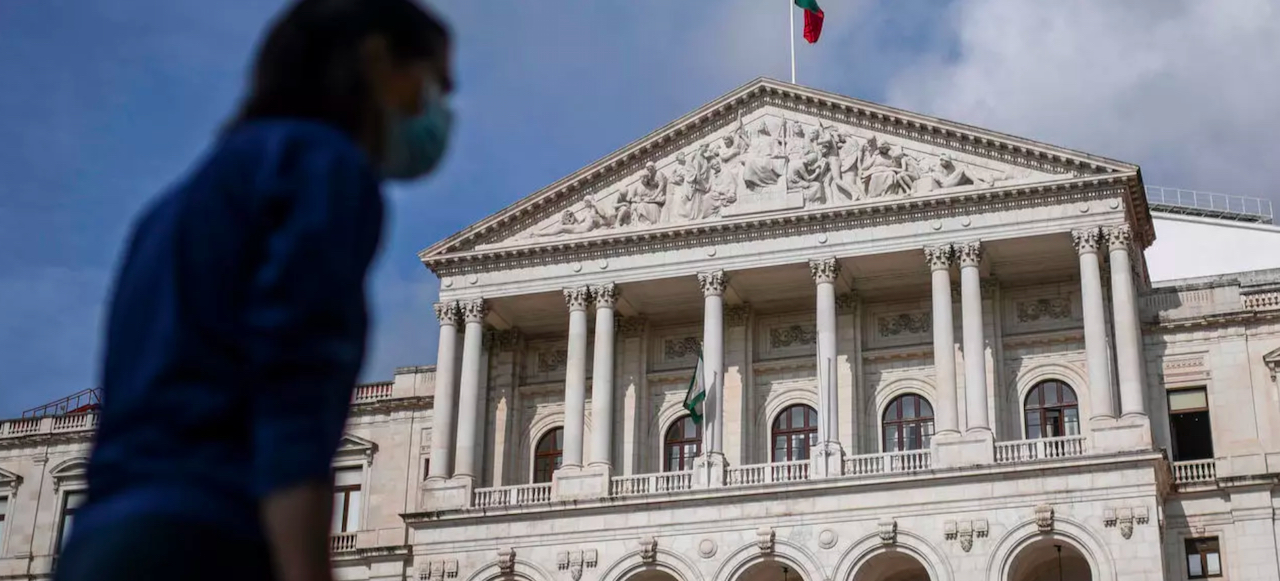 Portugal Joins the Club

Parliament Finally Agrees on a Law

Portugal's parliament has approved a revised bill legalising euthanasia for terminally ill and seriously injured people.


The legislation still requires the signature of Portugal's President Marcelo Rebelo de Sousa to become law, and he is known to have deep reservations.


If he signs the second version of the bill, Portugal would become one of the few countries in the world that permit the procedures.


Parliament passed the first version of the bill in January, but it was rejected by the country's Constitutional Court after a review request by President Rebelo de Sousa.




Aus 1300 10 3948 (EXIT) || US +1 360 961 1333 || UK +44 7883 509 765 || NZ +64 09 889 1137 || NL +31 6 23 82 95 82