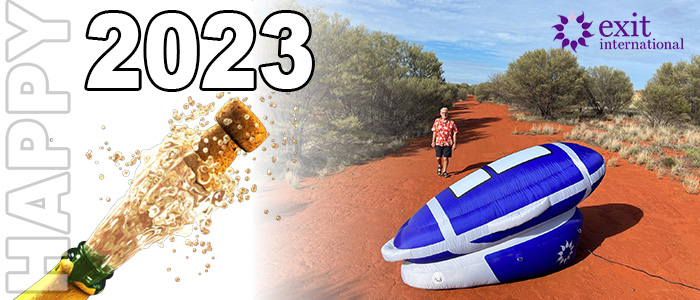 Welcome Back
2023 is the Year of the Sarco!
2023 is the year that Sarco will be used (in Switzerland - initially).


Before its first use later this year, an inflatable version of the 3D-printed capsule has been taken up north to Darwin in Australia's Northern Territory as part of the Australian Exit Tour.


It was in Darwin that Philip Nitschke helped four terminally ill patients to die in 1996, under the Rights of the Terminally Ill Act.


With the way now clear for the Territory to re-introduce end of life legislation, Philip is taking the opportunity to meet with local politicians to urge them to look towards the Swiss model of legislative reform: rather than the restrictive & deeply inequitable models that have been adopted by Australia's southern states.


Watch the Sarco.Design website for more images of Sarco as it travels Australia this summer.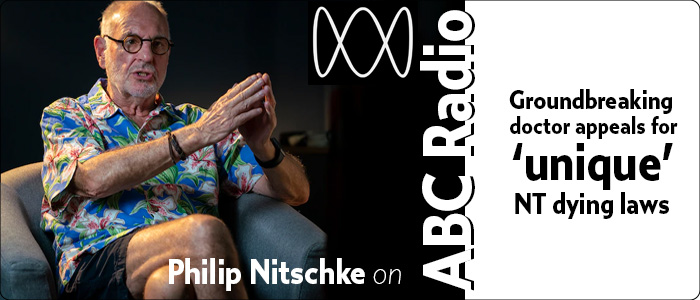 Why the Territory should Dream Big Again
One does not need to spend long in the remote Northern Territory of Australia to realise the place is different from the southern states.


The closest analogy, perhaps, is that the NT is Australia's Texas. But this comparison may have negative connotations, depending upon one's point of view.


The point is that the NT is unique. As they say in Darwin, 'the top is different to the bottom'!


It is understandable that the NT was first place in Australia to pass assisted dying laws, some 25 years ago in 1995.


Philip Nitschke has recently explained on ABC radio/ TV the freedom which comes with being the Northern Territory, and how this can be a force for good.


In Darwin, things are done different. The NT is perfectly placed to be innovative - again - in its legisltive reform. There is no better legal model than the Swiss Model.


A link to the TV report will be posted next week.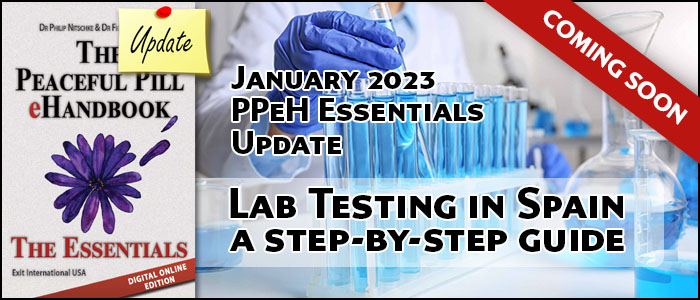 January 2023 Essentials Update
Testing one's drugs is more important than ever which is why Exit advocates drug-testing within the broader framework of harm minimisation.


However, because the best end of life drugs are heavily restricted, it is difficult to find reliable, professional, laboratory testing.


The leading professional laboratory for testing is discussed in detail in the Peaceful Pill eHandbook Essentials.


The January 2023 update brings further instruction about the extraction of samples & their submission for testing.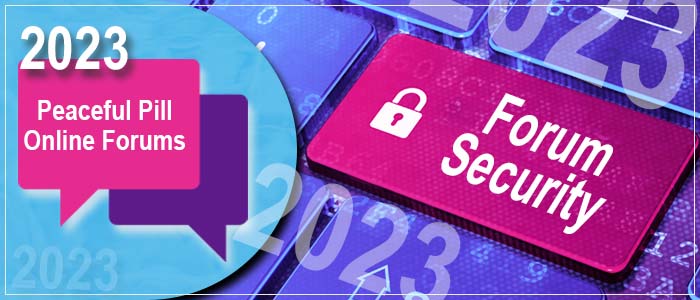 Exit Online Peaceful Pill Forums
Annual Security Lockout & Re-register Invitation
The Exit Peaceful Pill Forums have now reopened for 2023. Welcome back!

To enjoy continued access to the Forums, previous Forum Members are invited to renew their Membership.


Exit Members / PPeH Subscribers who are not yet Forum Members are invited to apply to Join.


Each year, Exit closes the online forums as a strict security measure: to ensure that

only
Exit Members &

current

Peaceful Pill eHandbook subscribers have access to this special, private online space.


Membership of the Peaceful Pill Forums is a closely-guarded privilege. These strong security measures are put in place for the safety & peace of mind of all involved.


* Photo ID is required (only if not already provided)
* All participants must be aged > 50 years, & of sound mind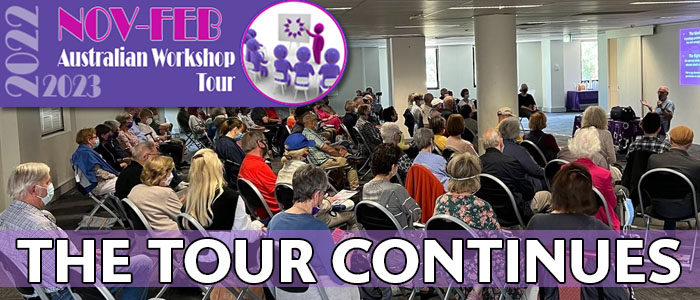 2022 Exit Workshop Tour Continues

The Australian Exit Workshop resumes in late January in Queensland.

Because this is an Australian tour & because end of life laws are new to Australia, the meetings will focus upon:


a) how to ensure the law in your State/ Territory works for you
b) and your options when it doesn't & you 'fall through the cracks'
c) practical options to take control of your life & death: the 3Ns

Workshops are based on The Peaceful Pill eHandbook - The Essentials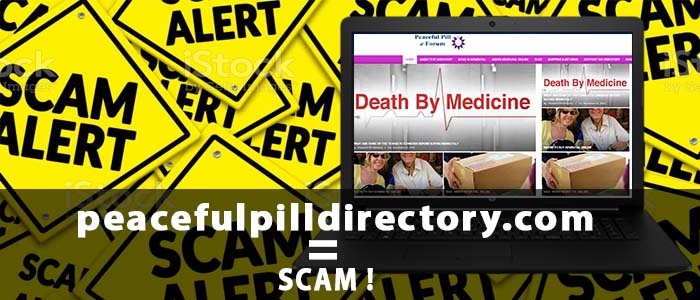 Scam Alert

Peaceful Pill Directory is NOT Exit

It is a sad state of affairs that this needs saying, yet again.


Exit International & the Peaceful Pill eHandbook have NO association with this Scam.


While the Peaceful Pill Directory Website says they work with Exit International'. This is NOT true.


Forewarned is Forearmed as they say! Do not deal with this scammer.


NL +31 6 23 82 95 82 || US +1 360 961 1333 || Aus 1300 10 3948 (EXIT) || UK +44 7883 509 765 || NZ +64 09 889 1137