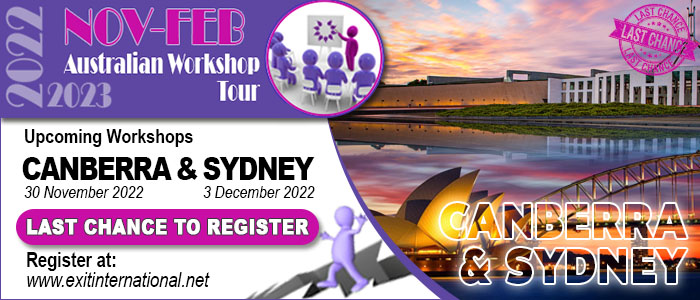 2022 Exit Workshop Tour Continues

The next Australian Exit Workshops will be held:
Canberra - 29 November
Sydney - 3 December
Adelaide - 8 December
Perth - 15 December

Because this is an Australian Tour & because end of life laws are new to Australia, the meetings will focus upon:


a) Ensuring the new restrictive end of life laws in your State work for you
b) 'Filling in the Gaps' so you don't 'Fall Through the Cracks' of the new Laws

c) Practical '3N' Options (Nembutal, nitrite & nitrogen) so you can control your Death
Dates for 2023 include: Darwin, Bundaberg, Sunshine Coast, Brisbane, Gold Coast, Lismore, Newcastle, Bowral, Sydney & Hobart. NZ dates will be advertised separately.
Workshops are based on
The Peaceful Pill Handbook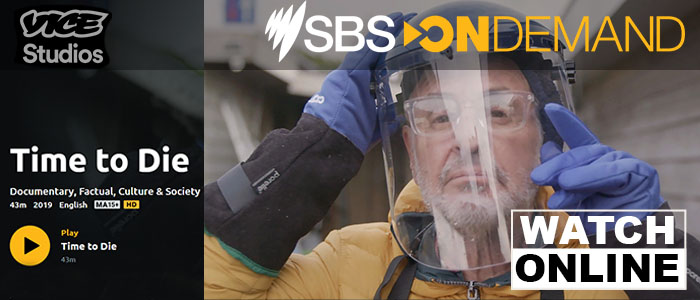 New Exit Documentary - Watch Now

After almost 5 years of filming, the feature documentary 'Time to Die' premiered in mid 2019 at the Fragments Film Festival in London where it won Best Film.


The pandemic put an end to further screenings ... until now.


A 45-minute cut of 'Time to Die' is now available free on Australian TV.


Edited for a local audience, the documentary nonetheless retains many pivotal moments (eg. the aftermath of the police raid on the home of Professor Avril Henry in Exeter, UK) as well as the first tests of the prototype of the Sarco capsule.


*Note - Set your VPN to Australia to avoid the geo-restrictions of the SBS Viceland site.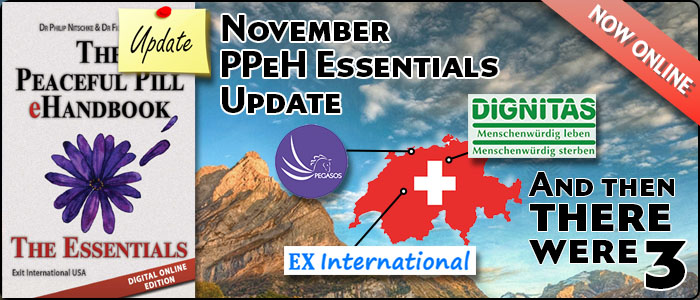 November 2022 Update

Peaceful Pill eHandbook - The Essentials

This month brings an update from Switzerland where the Lifecircle service has announced that it is closing its doors.


Log In
to Read the Update in The Essentials
Subscribe to The Essentials Peaceful Pill eHandbook
NL +31 6 23 82 95 82 || US +1 360 961 1333 || Aus 1300 10 3948 (EXIT) || SWITZ +41 615 100 413 || UK +44 7883 509 765 || NZ +64 09 889 1137