Welcome Sean Davison

After a three-year period of home incarceration in South Africa, Professor Sean Davison has served his time for his three convictions of pre-medicated murder, and has joined the Exit Team.


Sean Davison wears many hats. He is the Founder of Dignity South Africa and was a 2-term President of the World Federation of Right to Die Societies.


Until this month, Sean was Professor of Microbiology and DNA Forensics at the University of the Western Cape in Cape Town, South Africa. He resigned this position to join Exit.


From 1 November Sean joins Exit as a new Executive Director, to work alongside Philip Nitschke across all aspects of Exit International.


In the coming months, Sean will be managing the implemention of the Sarco Project in Switzerland: in preparation for its first use in that country in mid 2023.


Sean will join Philip on the Australian/ NZ workshop tour in January - February 2023.


We hope you join us in welcoming Sean Davison to Exit. We are sure he will be an incredible force in the future of the organisation.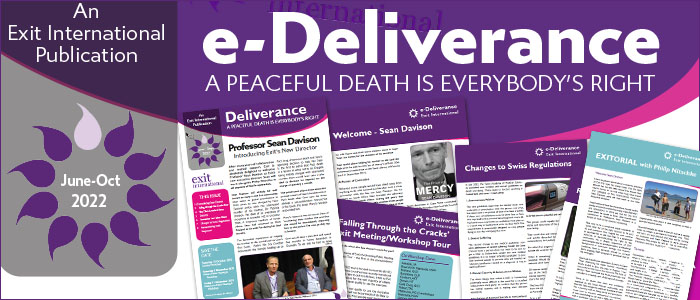 October 2022 eDeliverance - Now Available
Introducing Sean Davison
Landmark Dutch Court Case
And Then the Police Came for Him
Exitorial
Falling Through the Cracks Tour
TAS/ QLD/ SA Laws Take Effect
Changes to Swiss Regulations
Back Editions are Available HERE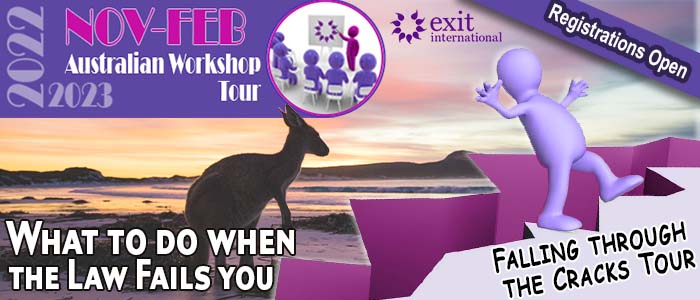 Australian Exit Tour
Commences 11 November 2022 - Melbourne
Exit Workshops commence next week in Melbourne.


Because this is an Australian/NZ tour & because end of life laws are new to Australia/NZ, the meetings will focus upon:


a) how to ensure the law in your State/ Territory works for you
b) and your options when it doesn't & you 'fall through the cracks'
Workshops are free & exclusive for Exit Members.
News Alert -
Professor Sean Davison will be visiting New Zealand in February 2023.
Aus 1300 10 3948 (EXIT) || NZ +64 09 889 1137 || NL +31 6 23 82 95 82 || US +1 360 961 1333 || UK +44 7883 509 765