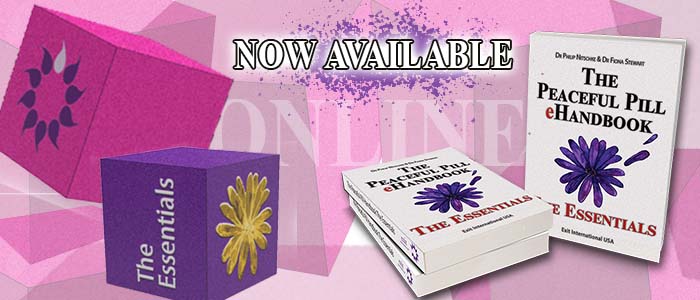 New Essentials PPeH - Now Available
The new ONLINE Essentials edition of the Peaceful Pill eHandbook is now available.


Existing subscribers can apply to have their subscriptions transferred to the new Essentials edition free of charge.


The Essentials Edition is the first whole book rewrite since 2008 & includes new chapters on VSED (voluntary stopping eating & drinking) & who /how to use right to die laws in all the different countries.


Book price is unchanged
Peaceful Pill eHandbook is now replaced by the Essentials Edition
Exit Members - $10 discount on 24 month subscription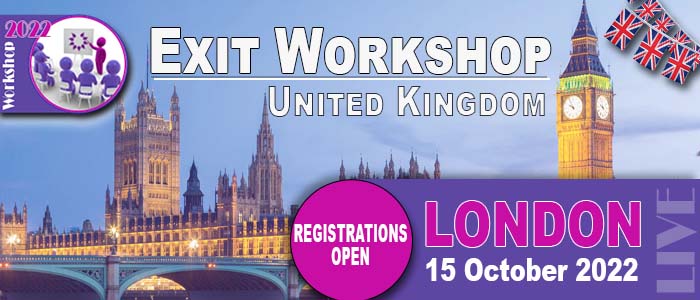 London Workshop - Saturday 15 October
Registrations are now Open for Exit's first Post C19 Workshop
WHERE: London, (Dragon Hall, 17 Stukeley St, WC2B 5LT)

WHEN: Saturday 15 October 2022
The London Workshop will be based on the new Essentials Edition of the Peaceful Pill Handbook (Topics).
Places are limited (due to social distancing)
Exit Workshops are exclusive for Exit Members
Not a Member? Apply to Join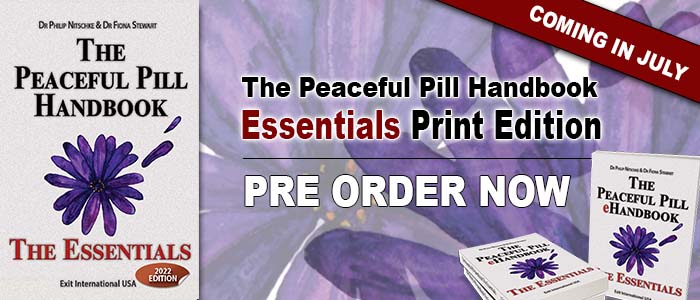 Print Essentials - Shipping Soon
The new PRINT edition of the 'Essentials Edition' of the Peaceful Pill eHandbook is now at the printers.


Pre-Orders are open for the new print edition which will begin shipping globally in the coming weeks.


Exit Members are entitled US$15 discount per copy (limit of 3). The discount is applied at check-out.


Australian Tour Dates Announced
Exit is currently securing Workshop Venues & Dates for the 2022- 2023 Australian / NZ tour that is due to commence in Melbourne on Saturday 12 November.


Melbourne - Saturday 12 November
Hobart - Saturday 19 November
Canberra - Wednesday 30 November
Sydney - Saturday 3 December
Adelaide - Thursday 8 December
Perth - Thursday 15 December
Darwin - Saturday 7 January
Bundaberg - Wednesday 18 January
Sunshine Coast - Saturday 21 January
Brisbane - Wednesday 25 January
Gold Coast - Saturday 28 January
Nth Rivers (Goonellabah) - Saturday 4 February
Newcastle - Wednesday 8 February
Sydney (No 2) - Saturday 11 February
Sth Highlands (Bowral) - Saturday 18 February
Melbourne (No 2) - Thursday 2 March


These dates are proposed & tbc
New Zealand dates will be announced at a later date.
Exit is also planning to hold social events for members in: Melbourne, Sydney, Perth, Adelaide, Gold Coast & Canberra.
Social events will include '20th anniversary' screenings of the feature documentary - Mademoiselle and the Doctor (with post-film Q&A with director Janine Hosking & Philip Nitschke).
NL +31 6 23 82 95 82 || US +1 360 961 1333 || Aus 1300 10 3948 (EXIT) || UK +44 7883 509 765 || NZ +64 09 889 1137