December 4, 2021
Eyewitness Accounts to Death with Middel X
De Volkskrant, Maud Effting & Haro Kraak
Investigative journalists Maud Effting & Haro Kraak from newspaper de Volkskrant examine Eyewitness Accounts to Death with Middel X
They spoke with eyewitnesses to the last hours of six people who wanted to end their lives with Middel X.
These witnesses tell in detail what they saw happen.
PETER – he doesn't want to live on …

In the autumn of 2020, Maarten drives on a deserted country road to his brother Peter's farm. It's a little after 3.30pm. He's a few minutes late.
His brother has asked him to pick up a friend from his home. It's not the only reason Peter invited him here this afternoon, but he doesn't know yet. Maarten turns into the yard in his gray Saab.
When he gets out, he thinks of his brother. Peter is a 64-year-old physiotherapist who can solve the most complex physical problems with his hands. But for the past year, he has been unable to muster the energy for it.
He suffers from depression. He has already let his family know a few times that he would prefer to be dead.
When Maarten walks into the kitchen, he sees that his brother and his wife are not there. Only the friend is sitting at the kitchen table.
'Where are they?' Maarten asks.
"They've gone to the bedroom," the friend says. 'It is that time again. I don't know what's happening there."
Then they hear a loud scream.
Maarten storms upstairs to the bedroom. There he sees his brother, half lying next to his bed. His wife is with him. 'Have you taken that rubbish now?' Maarten shouts.
Eyewitness Accounts to Death with Middel X
It is now more than a year later, and Maarten and his other brother Gijs are sitting opposite two journalists from de Volkskrant to tell what happened that day. They want to talk about Drug X, the suicide powder their brother Peter took.
On that autumn day in 2020 they were – after all – surprised by his death. Peter was the pacesetter of the family. Funny and sensitive. You could laugh terribly with him, they say. It was never quiet around him.
Maarten and Gijs are not their real names: for privacy reasons they wish to remain anonymous. The men, both retired, had good jobs in business: they worked in communications and in work and organizational psychology. They want to warn.
According to them, the stories about a humane death that Middel X would cause are not correct.
Agent X is a white powder, a preservative, for sale at chemical wholesalers. It was 'discovered' in 2017 as a suicide powder by Cooperative Last Will (CLW), the organization that fights for a way to humanely end life without the intervention of a doctor.
This battle provoked strong reactions: the judiciary is now investigating various CLW members, including the chairman.
Initially, the drug seemed "ideal": cheap, deadly, easy to store, little was needed and there was no antidote.
But doctors and scientists were extremely skeptical from the start about whether the drug is so humane.
Nursing home doctor Bert Keizer warned in the trade journal Medisch Contact. "There is," he wrote, "a significant risk of dying thrashing about."
But is that true?
Until now, hardly any detailed eyewitness reports about the dying process with the suicide powder have appeared in the media.
For de Volkskrant, the story of the brothers was therefore the start of an investigation into the experiences with Middel X.
We spoke to four eyewitnesses of a total of six deaths and a policeman who followed a report of suicide three times.
What does this powder do? What do people experience who take the recommended 2 or 3 grams? Does it lead to a humane death?
The suicides are described by eyewitnesses. It is their experience of the events: only they were there. That makes it difficult to control.
But all witnesses were questioned in detail and an attempt was made to check the stories for inconsistencies.
Peter's wife has read and checked the piece.
In one case, there were two witnesses to a death. The policeman's story was partly confirmed by another source.
Shortly after Peter's death, a report was also made by psychiatrist Boudewijn Chabot, who collects cases because he is concerned about Middel X.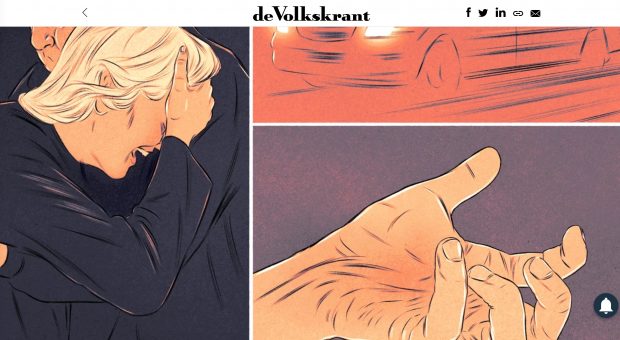 PETER – his brother can't stop him
Before turning to Middel X, Peter has been severely depressed for years.
He does everything he can, but the GGZ turns out to be unable to help him, his brothers say. "His psychiatrist prescribed him medication," Gijs says. "But he didn't look for the causes of his depression."
First he tries to drown himself in the canal near his house. He stands in the living room, soaking wet and crying. Then he asks the doctor for euthanasia, but he does not want to accept it.
Then Peter gets in touch with someone from the Cooperation Last Will (CLW). The man says he wants to look him in the eye first.
'My brother went there with his wife', says Maarten. "His wife was desperate. She was incredibly angry that he wanted to die, but she also saw that he was sinking further and further.
She said: if you do it, please don't do it on a train or in the water." The conversation lasts half an hour. "The man told me how it would go. He said: you sit on a chair, take it and sink. Then he got a phone number."
Maarten drops out when his brother asks if he would like to attend his death. "I said, 'Are you all screwed up? The last thing I want is to help kill you."
All his life, Peter had been strongly against the artificial termination of life. That's why I went against it hard. But he only answered: well, that will be a nice mess then.'
"Mán," Maarten says to his brother. "Flick that drug in the trash."
But his brother perseveres.
A Carefully Planned Death

On that Friday in 2020, he takes Middel X as soon as he hears Maarten enter the kitchen. His wife and his brothers are pretty sure afterwards that he planned it exactly that way, not to leave her alone that day.
In the bedroom, Peter lies on the floor in convulsions.
"Help me," he shouts. 'Help me.'
Maarten puts him back on the bed, together with his wife. "Pum up," he yells. "Pum up!" For a moment he considers sticking a finger down his brother's throat, but he doesn't. He knows that Peter made this decision himself. Next to his bed is a letter stating that he wants to die.
His brother keeps calling for help. He has cramps. Every now and then he tries to get up, but then he falls right back down – convulsing.
'What can we do then?' Maarten shouts. "Should we call 911?
You said you wanted to die and you didn't want help. If you don't say anything, I'll call. If you don't want that, you have to say it now."
His brother looks at him. And is silent.
And so he calls. When the dispatcher from 112 asks if he knows what his brother has taken, Peter's wife approaches with a paper, a kind of manual for Drug X.
Maarten reads the name of the drug to the emergency service. The operator says the ambulance is on its way.
Maarten sees something else on the same page. It says there is no going back after ingestion.
MAUD – The mother who doesn't want to die like her husband
In the search for eyewitness accounts to death with Middel X , de Volkskrant also comes across another story about Middel X: the death of Maud, an 81-year-old woman.
Her two sons, highly educated in their fifties, talk fondly about their mother. She likes classical concerts, gardening, her friends. But her body is exhausted: every fifteen minutes of effort she has to pay for with two days of rest.
She also sometimes feels so short of breath that it seems as if she is drowning. However, her request for euthanasia is refused. The GP cannot 'get it over his head', her sons say. "He still liked her too much."
Their mother is determined not to die like her husband. He died of lung cancer and his last three weeks were an inhumane agony. He lay in bed, delirious from the morphine.
One day she tells her sons and the doctor that she has Middel X at home. She arranged everything herself.
They are startled for a moment. 'I am in favor of self-determination', says her son Rens, 'but it is different if your own mother suddenly wants to say goodbye.'
Still, they accept her decision. "We said: we're going to support you, we're going through this together."
First they consult a consultant from De Einder, a foundation that guides people through a self-chosen end of life. "He told us what we could possibly expect," says Rens.
"Headache, fits, seizures, foaming at the mouth, vomiting. It depended on what would happen. My mother was not shocked. She found it especially annoying that we had to deal with that.'
"The great thing about that conversation," says her son, "was that we got a complete picture."
A Goodbye that goes on for Months
In the months that follow, they say goodbye and prepare. "My mother took everyone along in her decision," Steven says. "She invited the grandchildren to her one by one."
They also hold a family gathering once a month. Secretly they try to make life more fun for her. Until she says, "Damn, I just have to choose. And I'm going to do it now."
It is March 2021 when both her sons come to her house. Their mother is unbelievably happy that day.
Everything seems to have fallen off her. They no longer say a long goodbye: everything has been said. In the hours before that, she took the recommended antiemetics and painkillers. "It's nice that nothing more is needed," she says.
It's two o'clock in the afternoon when she looks at them and says, "Just let it happen."
She swallows the two capsules without delay. 'Gosh', Rens tells her, 'how long would it take before you feel anything?'
Eyewitness Accounts to Death with Middel X
The self-chosen end of life largely takes place in the darkness in the Netherlands. Those who choose suicide are not always supported by those around them.
In October 1991 Huib Drion, a former member of the Supreme Court, wrote a taboo-breaking piece in NRC: he advocated suicide drugs for elderly people who considered their lives 'complete'. "Many people would find great peace in it," he wrote, "if they could have a means of acceptably out of life when it . . . seemed appropriate."
His plea led to fierce discussions that continue to this day, including in politics.
For example, D66 submitted a bill last year to make the 'last will pill' possible for people over 75 under strict conditions.
At the same time, there is a fear that the availability of such resources will cause unstable young people to cross the threshold too easily and commit suicide.
The argument also unleashed a search for the 'pill of Drion'.
For years there has been a lively trade in last wills. People get them – illegally – from Mexico, China or India. And since the emergence of Middel X, also from the Netherlands.
But this is not without risk: assisted suicide has been punishable in the Netherlands since 1886.
Anyone who actively participates in a suicide risks a prison sentence of three years.
Handing out a drink, handing out resources – it's seen as help. Several people over the age of 70 have since been arrested for supplying Middel X.
Only bystanders who sit on their hands have nothing to fear.
It is one of the reasons that there is little reliable information about Middel X: few dare to be open.
Documentation
Nevertheless, attempts are made to collect information. In The Peaceful Pill Handbook, in which Australian physician Philip Nitschke documents all methods of suicide, Middel X is called "(almost) as deadly as cyanide."
According to Nitschke, the drug has a number of properties that make it a 'useful suicide drug', such as the fact that it can be obtained legally.
The doctor has included two lists of deaths from Middel X in his book.
One list comes from Cooperation Last Will and concerns 29 cases, ranging in age from 31 to 92 years.
On average, it takes half an hour for a person to lose consciousness, according to the figures, and an hour and three quarters of an hour to death. It should be noted that the information was recorded by next of kin, so may not be accurate.
The other list includes 19 cases registered by the NVIC poison control center. The information herein is even less complete.
"It is extremely difficult to collect data on this," Nitschke says over the phone. "The information I have now is not good enough. It's too patchy. We still have no footage of a death by Middel X.'
The reported side effects of Drug X in the two lists vary from 'none' to severe headache, foaming at the mouth, panic, dizziness, shortness of breath, vomiting, cramps, seizures and cardiac arrhythmias.
It follows from the scientific literature that Middel X causes a strong reduction in blood pressure in all cases. The direct result is often that people pass out or collapse.
The mechanism of action of Middel X has not yet been fully unraveled, but it is clear that the agent blocks cell respiration, says toxicologist Antoinette van Riel of the NVIC poisoning center.
Cells need oxygen for their energy balance, but the drug blocks this process, she says. Cells suffocate, as it were. Some tissues can go without oxygen for a while, but vital organs, such as the heart or brain, cannot.
"The brain is very sensitive to oxygen deprivation," she says. "The feeling of tightness may explain why some people panic."
PETER – the ambulance paramedics administer sedation

In his bedroom Peter starts after a while to feel hot."I'm on fire," he shouts. He begins to pull at his shirt. With savage, uncontrolled movements he tries to tear it from his body. He also starts to scream. It takes minutes. And it goes to the bone.
Maarten and Peter's wife look on helplessly.
"Give me a knife," Peter yells. "Then I'll put an end to it."
"We're not going to do that," his brother yells. "Help is coming."
He walks outside to meet the paramedics. Peter does not oppose them. He doesn't scream anymore. The brothers look at Middel X's stencil, check his breathing, his blood pressure, his heart rate. They also give him a sedative.
"This is all we can do," the rescuer says. "I think we should take him to the emergency room."
"Do you want that, Peter?" his brother asks.
But he doesn't answer. Maarten insists a few times. And then his brother finally says something. "Nobody can help me," he says. It's not an answer, and yet it is. In fact, everyone in the room knows that it no longer makes sense.
Maarten sees how his brother loses consciousness and how his breathing becomes more irregular. He also has an epileptic seizure that lasts about fifteen minutes – foaming at the mouth.
When the GP arrives, it takes a few more minutes. It is 4:53 pm when Peter dies, in his own bedroom. Seventy-three minutes after he took Middel X.
*
It starts a few minutes after 81-year-old Maud has swallowed Middel X.
"Oh, I feel everything," she tells her sons. 'I am dizzy.'
Shortly after, she says she has to throw up. Her sons look for a pan in the kitchen, but she keeps it inside. Their mother is getting hot. Her vest has to come off. They feel on her hand that she is starting to sweat.
After a while she can no longer walk properly. She falters. Her sons accompany her to bed and sit next to her. One holds her hands, the other strokes her head.
The brothers feel calm: they have discussed everything that happens in advance.
Every now and then they look at each other to see if the other is still holding up. "We were determined to help her through this," says Rens. Steven: 'The consultant had told us that we could walk away if it got violent.' They stay.
Their mother keeps her eyes closed. She doesn't say much more.
"We saw that all kinds of things were happening in the body," says Steven. "It must have been intense. But she didn't show much of that.' Rens: 'I think she was working very hard to concentrate, to control herself. She wanted to hold it in, with everything she had in her. So that we were inconvenienced as little as possible. That's how she lived her life.'
After about twenty minutes, their mother suddenly starts to babble. Her sons hold her. It will take a few minutes. And then she's gone, they say. Unconscious.
She continues to breathe for more than three quarters of an hour. It's quiet. She has no spasms, no seizures, no foam at the mouth.
Sad but relieved
"When she stopped breathing, something fell off me," Steven says. "She was through it." Then the brothers fall into each other's arms. They are sad, relieved, satisfied – all at once.
Steven: 'I thought: this went well. She may have suffered intensely, but compared to my father, who had been fighting for three weeks, this was really short. I think many people forget that a natural death can also be endless. This was much nicer."
That same evening they are heard by the police. "The officers were very sympathetic. The chief officer said: I've been working for the police for fifteen years, but I've never experienced this before.'
The two sons look back on the death of their mother with a good feeling. It was intimate and intense, they think.
Steven: "She prepared this very well, both for herself and for us. We've been so busy in the months before that, we'd already had part of the grieving process before her death. Together with her. That was very special."
HANS – Four Times at a Middel X Deathbed
De Volkskrant has also been in contact with Hans in recent months – not his real name. Few people will have witnessed a death from Agent X as often as he.
Hans is retired and, as a living room facilitator, talks to members of Last Will about their death wish. He is an optimistic man, he says: he assumes that things usually work out.
He himself thinks that the rise of Middel X is unstoppable. He tries not to judge during conversations. He also tries to make people aware of those left behind.
And very occasionally people ask him: 'Would you like to be there when I do it?'
He said yes to that question four times.
He tells about it at his kitchen table, in the presence of his wife. He says it is an honor that people trust him so much.
In all cases he came to people's homes. He usually wore gloves; he doesn't want to leave fingerprints anywhere.
Afterwards he quietly left the house, hid the key somewhere near the door and informed the doctor via an anonymous letter or email.
Relatives were not aware of his involvement: the people who invited him did not want that. They asked him because they didn't want to be alone when they passed away.
The first time is with Ank, a woman in her seventies.
Just before she takes Middel X, she makes jokes, says Hans. "She was relieved. Pleased. As if the party was about to start now.'
After ingestion she starts talking about her life, but a few minutes later she says: 'I feel something. I feel a struggle within myself." A moment later she starts talking gibberish. "She repeated syllables, words, as if she were drunk. I held her hand. Without glove."
She falls backwards and begins to breathe heavily. She is silent for a while.
But then she suddenly stands up and looks at him. She calls his name. "Thank you," she says. She also says something about her daughters. It moves him.
"Hold me," she says. Then she starts shaking, he says, a phase that lasts about a minute. "It looked like an epileptic seizure. I was shocked. This was what I was afraid of. It was pretty intense. uncontrolled. But she didn't seem to be aware of it.
Then her body went limp and she began to breathe more and more irregularly. It was a bit like snoring." In total it takes an hour and a half. "It was immediately clear she was dead."
The second time Hans comes to the home to a man and a woman, a duo who are at their wits' end.
"They were happy," says Hans. "As if they were going on a school trip."
In the kitchen they each spoon three capsules of Middel X down with a full bowl of custard. Then they go to bed upstairs.
And then, Hans says, nothing happens for a long time. A quarter of an hour passes, half an hour, forty-five minutes – nothing. "It made them nervous and asked each other: are you feeling anything yet? They were watching each other very closely. That may not help. They did not surrender."
The man becomes nauseous. Hans says he has to vomit next to the bed. A little bit is coming.
"It's not going well," the woman says.
"I see it too," says Hans. "But we have to wait. It should work." He tries to reassure them. But deep down, he doubts. "It made me a little nervous. I thought: what is happening here? Will they survive this dose? I started to wonder if I should eventually call 911."
The two lie quietly in bed. They don't touch and barely move. Sometimes Hans thinks that they are sinking. But then they start talking again.
"I feel weird," the man says. "I feel like I'm dying."
"Oh, how beautiful this is, oh, how calm this is," says the woman. But not much later, her mood changes. "How goddamn awful this is," she says.
Hans stares anxiously at the two on the bed. "I'm not really shocked," he says. "But I didn't really know what was so terrible. I didn't want to ask questions that would keep them awake longer."
An hour & a half later
They lose consciousness after an hour and a half. They snore and breathe.
The woman eventually dies after two and a half hours.
The man fifteen minutes later.
Startled, Hans calls his wife. "It didn't go well," he says. "At least: they are dead, but it shouldn't have been that way. It took way too long.'
With hindsight he suspects that this is because they took capsules with custard. On a full stomach, it may enter the bloodstream later. "It seems to go fastest if you dissolve it in a glass of water."
The last case that Hans experiences is a widow in her seventies. She is calm beforehand. She took a sedative. She drinks a glass of water in which Middel X has been dissolved.
"Oh, now I'm going to die," she says. 'How special.'
This time it goes fast, really fast. "She passed out in three minutes. She was moving and then she fell backwards. She lifted another arm." Then she lays open-eyed for a while. "I don't know if she saw anything. She pulled up one leg and straightened it again. A few times her right hand came up slowly – almost a sort of greeting."
The movements last about twenty minutes, says Hans. Then she lay breathing for another hour. After that it was quiet.' In total it takes an hour and a half.
In his experience, all four times went smoothly, despite the long duration with the couple. He found the conviction that he found striking. "Everyone was determined, everyone was sure that life had to end."
Eyewitness Accounts to Death with Middel X
One evening in November, de Volkskrant receives a phone call from a police officer. He has now been confronted with a suicide by Middel X three times and he is struggling with conscientiousness.
After much hesitation, he decided to call. Although as a police officer he is not allowed to talk about these matters in detail, he believes that he should.
During his work, he often comes into contact with people who take their own lives, he says.
He sees everything: from hangings to people throwing themselves in front of the train.
"I know from experience that some people cannot be helped. So I can imagine that they would opt for this. I'm not against that per se. But it bothers me that the whole truth is not being put on the table."
Three times he finds relatives at home devastated after a report about Middel X.
Each time it is women who have seen their husbands die.
"At first I thought they were upset because their husband had just passed away. But it wasn't. It had turned out completely different than they had imagined."
The first report concerns a man in his 50s. "His wife was very emotional. It had lasted for hours and he had had terrible cramps. She should have kept him in bed by force. She said this is the worst I've ever experienced."
At the next report, the man and woman have agreed that he will take Middel X upstairs and she will wait downstairs. "She said, 'I'll wait until it's quiet. She went upstairs about five or six times, because she thought: now it's done. But each time he was still alive. He was curled up on his bed."
"A policeman is practical," he says. "He goes somewhere, does his thing, and then leaves.
If I were to bring this up with the police, I would be told: this is not up to us, we do not interfere with this. But I want clarity on this.
"Look, a hanging is a terrible thing to see. People who jump in front of the train are hardly identifiable.
As a police officer, you then come to the door and tell relatives that they can no longer see their loved one. Those are things you don't want either. In that sense, this might be a solution. But this is not the right tool. These women have seen their husbands suffer like this. This might be burned into their retinas forever."
Is Medium X humane or not?
"In any case, things don't always go quickly and not always peacefully," notes toxicologist Antoinette van Riel of the NVIC poisoning center. "It is a distorted view that this is an ideal tool."
"We say to our members that in many cases things go well and peacefully, comparable to a natural death," says Jos van Wijk chairman of Coöperatie Laatste Wil. "But there are exceptions, due to eye rolls and twitches."
Philip Nitschke, author of The Peaceful Pill, predicts that Drug X will become a cocktail of drugs.
"CLW finds Middel X attractive because it is simple," he says. "But there are reasons to add medication." Painkillers and anti-emetic drugs alone are not enough, he thinks. "You can add a sedative. Once asleep, cramps and a drop in blood pressure are no longer a problem."
"I think," Nitschke says, "that Middel X could eventually develop into a pretty perfect Drion pill."
Furious
Peter's brothers have looked at it completely differently since his death. They are still furious, also because the remedy is irrevocable and there is no antidote.
'I am convinced that my brother did not know that this could happen,' says Maarten. "He must have thought: I'm just slipping away with this."
For a while they wondered what to do with this. "We are not the type that immediately goes to a lawyer," says Gijs. "Moreover, Peter had very emphatically chosen this himself.
But that Last Will maintains that Middel X ensures a humane death – I actually think that's criminal.
They have been blinded by their idealism."
The death of 81-year-old Maud proves that death with Middel X can also be gentle.
In retrospect, the sons think that the good preparation, the acceptance in the family and the peace and quiet ensured that everything went so well. '
The process beforehand has been very important,' says Steven. "We had discussed all the scenarios with each other. When unexpected things happen, you panic and things can go wrong. '
'My mother felt confident because we were there,' says Rens. "She didn't have to do it alone."