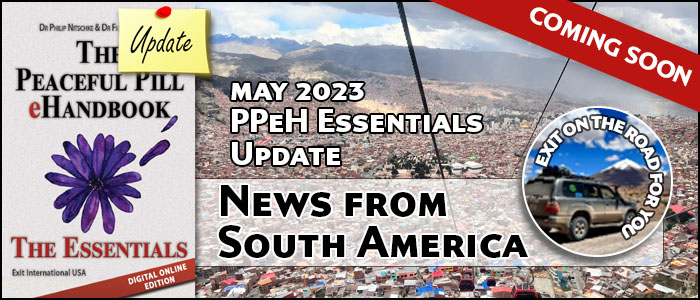 Coming This Week
The May 2023 PPeH Essentials Update will examine where in Sth America one may purchase Nembutal over the counter. This update is timely in that it does away with the risk of dealing with scammers online. There is an absolute dearth of the drug available over the Internet which ipso facto means that there is a glut of scammers.


Over the counter purchase means there is no middle man. Although serious legal considerations still apply. Read more in this week's forthcoming Update.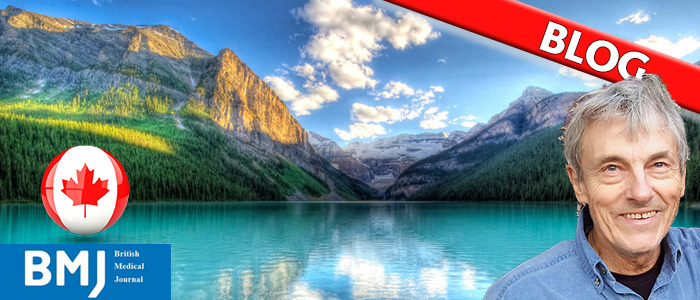 New Peaceful Pill Blog
From Canada to Switzerland via Germany
In a Blog that was published by the BMJ Journal of Ethics on 6 April and which is this week published as a Peaceful Pill Blog, Exit's Canadian Chapter Coordinator takes a pan global look at the pressures facing VAD legislation around the world.


To read Juergen Dankwort's Blog is to be better informed about why the Swiss hold the answers to future directions of the Voluntary Assisted Dying debate.


Read the Blog on the Peaceful Pill Handbook Site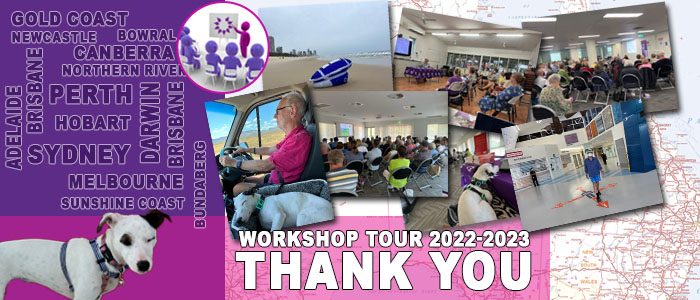 Australian 2022-23 Tour Concludes

The Australian Exit Tour is finally over after a long 6 months on the road.


Between November 2022 and April 2023, Exit held a total of 20 workshops in various Australian capital cities and regional towns.


This was the longest, continuous run of workshops that Philip Nitschke has ever held. He is now back in Europe and taking a few days R&R before heading to Vilnius, Lithuania to give a keynote at the LogIn2023 Conference on Friday 12 May.


This conference has as its title: 'Dare to Change - Face the Future' which makes it the perfect technology/ futures conference to be speaking about the Sarco capsule. But more on this next week.


In the meantime, the London 2023 Workshop has been confirmed for Wednesday 9 September 2023 at Dragon Hall (WC2B 5LT).


The next London Chapter Meeting will be held on Wednesday 7 June, also at Dragon Hall. Details to follow.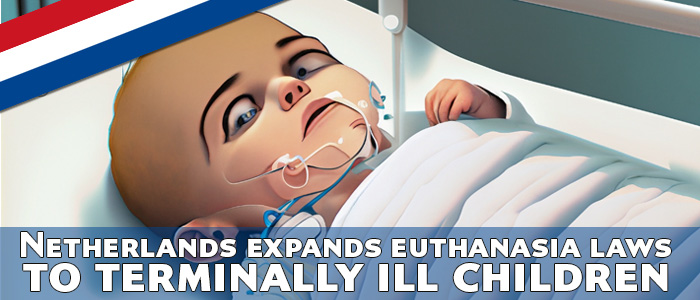 Law Extension in the NL

This week saw the Netherlands play catch-up to Belgium by allowing euthanasia to be performed on terminally ill children.


Ever the pragmatists, the Termination of Pregnancy and Termination of Life for Newborns (LZA/LP) Act will be extended to include children between the ages of 1 and 12 years accessing voluntary euthanasia.


Newborn babies in the Netherlands can already receive euthanasia up to the age of 12 months. As can children aged over 12 years. This change in the law allows access for between the ages of 1 and 12 years. Dutch authorities expect around 5 - 10 children will use the law each year.


These children helped by this law change will be a 'small group of terminally ill children who suffer hopelessly and unbearably, whose palliative care options are not sufficient to relieve their suffering and who are expected to die in the foreseeable future.'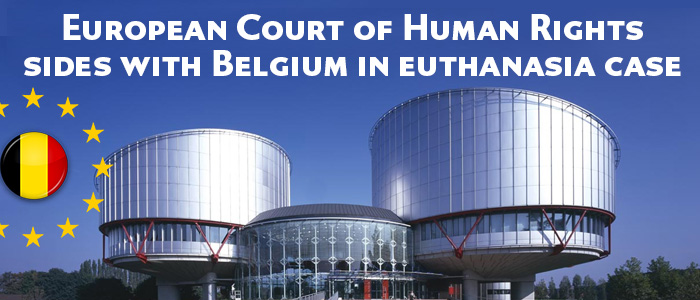 ECHR Court Rules on Euthanasia & Depression

In an important case that flew under the radar late last year, the European Court of Human Rights upheld the right of depressed people to seek and receive voluntary euthanasia (without interference from their families).


The case in question concerned a 64-year old Belgian woman who had suffered from a number of mental illnesses (including depression) for over 40 years. She went on to receive euthanasia from the Belgian oncologist, Wim Distelmans.


The case was brought by the conservative group ADF International by way of Godelieva de Troyer's son, Tom Mortier.


Mortier was upset that he was not able to stop his mother's death and complained that he was not told about it until after the event. De Troyer had reached out to him but he had not replied. She also issued doctors with strict instructions not to involve him.


The court found that de Troyer's right to privacy and family life (Article 8) had been rightly upheld. No harm had been caused to aggrieved son.


This case is important because of the way it preserves a person's access to voluntary euthanasia in situations of mental illness (and in the face of disagreeing family members).


US +1 360 961 1333 || Aus 1300 10 3948 (EXIT) || NL +31 6 23 82 95 82 || UK +44 7883 509 765 || NZ +64 09 889 1137