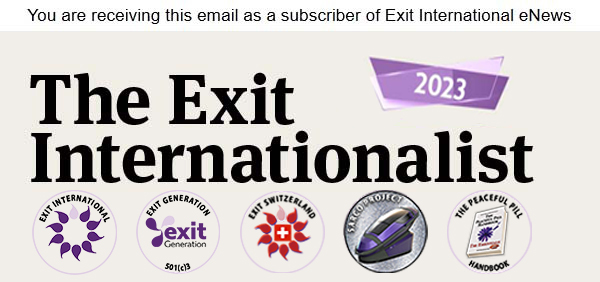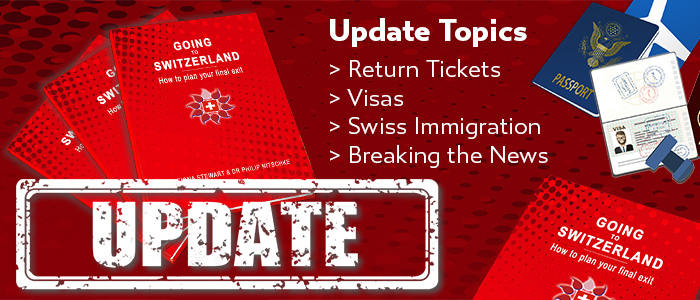 First Swiss Book Update

Now Available
This update has been undertaken in response to member feedback, and outstanding topics of interest. Subjects that have been added to the online edition of Going to Switzerland include:

Visas
Return Tickets
What to say at Swiss Immigration &
How Exit can help with 'breaking the news' (of your death) to your loved ones & friends back at home.
Going to Switzerland: how to plan your final exit is available both online & in print formats. Please note the print edition contains no updates.


Login Here
to Going to Switzerland OR the Peaceful Pill Handbook Essentials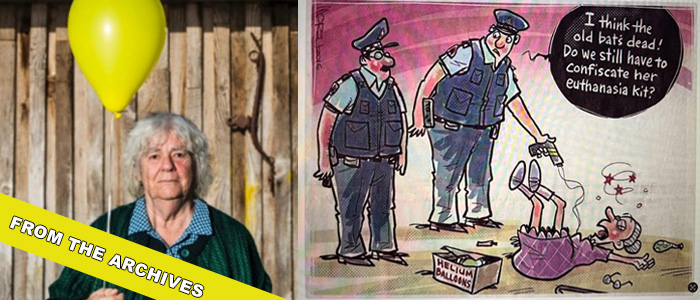 A Delve into Exit's Archives

For those who enjoy a chuckle, this week we remind readers of a hard-hitting, but 'you gotta laugh' cartoon that got a run in the Nelson Mail on the South Island of New Zealand back in October 2016.



The article concerned Exit Member, Patsy McGrath who, out of the blue, received a visit from the local Police. The Police had a warrant to search her home and confiscate her Balloon Time Helium cylinder.


The seizure, the Police said, was part of 'ongoing inquiries'.


Patsy was reported as being initially amused by the 'raid' but became increasingly disturbed saying:


"I thought what an infringement of my rights. They would actually have had the right to pull my house to bits. I think the law should should stay out of my house," McGrath said, adding that she is not causing anyone harm and owning such 'toys' is not illegal.
"I just think it's my body, my choice and my responsibility if something goes wrong."
And she is right. The situation would be funny were it not such an extreme example of the lengths the authorities can be prepared to go to in order to stop elderly people have end of life choices (as an insurance policy for the future)!


Re-read the full article on the Exit Website (along with the cartoon).
US +1 360 961 1333 || Aus 1300 10 3948 (EXIT) || NL +31 6 23 82 95 82 || UK +44 7576 224 931 || NZ +64 9 889 1137