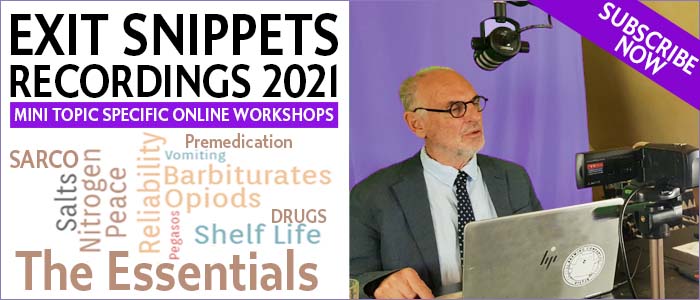 Snippet Recordings (10) Available Now
Subscriptions Limited
Did you miss one or more of Exit's 10 monthly Snippet Online Workshops (held February - December 2021)?


Fear not, the recordings are available & are exclusive to Exit Members & Subscribers to the PPeH (all languages).


Topics: Lethal Inorganic Salts, the Gases, Drug Premedication & Potentiation, Morphine & the Opioids, Dying at Pegasos, Miscellaneous Drugs, the Barbiturates, USA Lethal Mixtures, the Devices & Year in Summary & late Developments.


The subscription period is 12 months from the start date and provides access to recordings of all 10 of the 2021 snippets.


* Subscribers must be > 50 years & of sound mind
* Photo ID may be required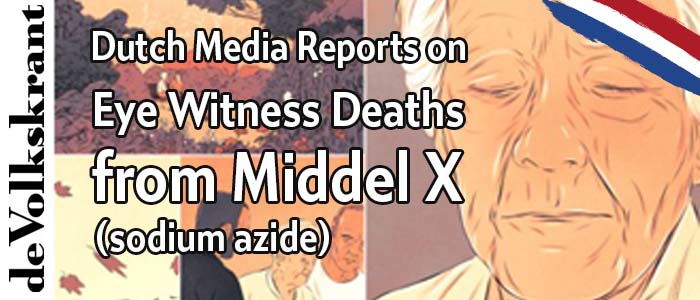 Eyewitness Accounts of Death with Middel X
This week, prominent Dutch newspaper - de Volkskrant - has published a forensic, long-read concerning 6 eye-witness accounts of Middel X death, as told by loved ones and others present.


Some deaths went as planned: they were peaceful and quick.


Others dragged on for hours: and were violent and tortuous.


If you have ever wanted to know the baseline details of this method of self-deliverance, then read the English translation (from the original Dutch article) of this important article from one of the Netherlands most respected broadsheets.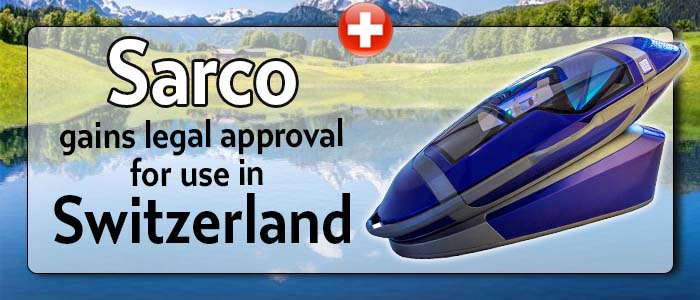 Sarco Capsule Clears Final Legal Test
for Switzerland

Swiss Info has reported this week that Sarco has passed its final legal hurdle for use in Switzerland.


This interview with Exit founder, Philip Nitschke, is useful because it coincides with the commencement of the printing of the 3rd iteration of Sarco in Rotterdam in the Netherlands.


The printing is expected to take a little over one month with multiple machines programmed to print 24/7.


Exit is seeking expressions of interest from Exit Members/ PPeH Subscribers who may be interested in using Sarco in Switzerland in the context of a VAD in 2022.


Remember to create your own free Protonmail email address

before

emailing Exit.


Aus 1300 10 3948 (EXIT) || US +1 360 961 1333 || UK +44 7883 509 765 || NZ +64 09 889 1137 || NL +31 6 23 82 95 82