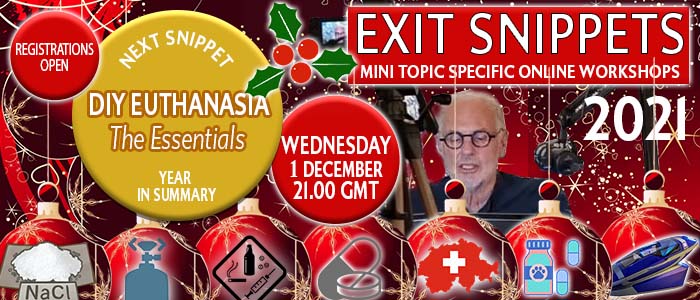 Register Now
Final Exit Snippet 2021
The final Snippet for 2021 will be held on Wednesday 1 December.


The December Snippet will provide the 'year in review' & signal the new, condensed 'Essentials' edition of the Peaceful Pill eHandbook that will be published in print & online in early 2022.
Topics will include: Lethal Inorganic Salts, the Gases, Drug Premedication & Potentiation, Morphine & the Opioids, Dying at Pegasos, the Miscellaneous Drugs, the Barbiturates, the USA Lethal Mixtures & the Devices.


Exit Snippets are exclusive for Exit Members & PPeH Subscribers


21.00 London GMT (Wed 1 Dec)
22.00 Amsterdam
17.00 USA East Coast
14.00 USA Pacific
10.00 NZ (Thurs 2 Dec)
08.00 Australia - Sydney/ Melbourne/ Canberra/ Hobart
07.30 Australia - Adelaide
07.00 Australia - Brisbane
06.30 Australia - Darwin
05.00 Australia - Perth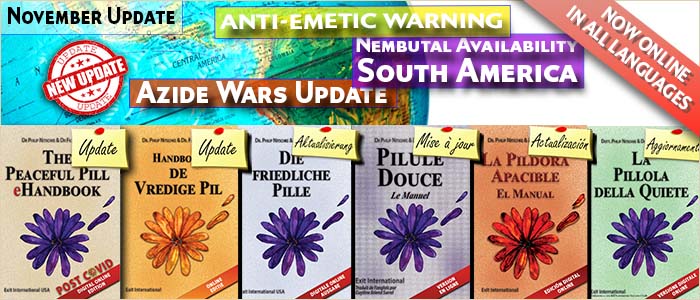 November 2021 PPeH Update
Now Available in All Languages

The November 2021 Update to the Peaceful Pill eHandbook focuses on the three topics of:

Anti-emetics Warning: Doctors Advised to Scrutinise Requests
Nembutal Availability Changes: Sth America
Azide Wars Update: Truth is the 1st Casualty
The November Update is now live in all languages (en, nl, de, fr, it & es)
Australian/ NZ Workshop Tour
September - December 2022
Exit is very pleased to announce that plans for 4-month workshop DownUnder tour, commencing in September 2022 are currently underway. This is a preliminary call for expressions of interest to attend.


Despite recent moves to introduce restrictive medicalised assisted dying laws across Aust and NZ, the demand for information on how you (not the medical profession) can control your own death grows. Recent developments in Europe make the option of rational suicide even easier - the planned 2022 DownUnder workshop series will show you how..


The tour - the first post C19 - will encompass all Australian capital cities as well as many regional centres.


The New Zealand cities of Auckland, Wellington and Nelson will also be included.


If you are interested in attending, be sure you are on our email list.


* Back editions of the Deliverance newsletter are also available.


Aus 1300 10 3948 (EXIT) || US +1 360 961 1333 || UK +44 7883 509 765 || NZ +64 09 889 1137 || NL +31 6 23 82 95 82