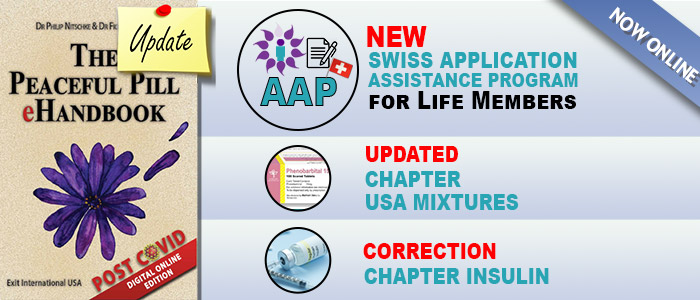 October PPeH Update
The October 2021 Update to the Peaceful Pill eHandbook features a new Exit service for those seeking a VAD in Switzerland: the Swiss Application Assistance Program (AAP).


For many people, Swiss bureaucracy is a Matterhorn of an affair.


The new AAP is designed to help those who seek the 'Swiss Option', to navigate the paperwork & the pitfalls of a Swiss VAD application.


The new service is exclusively for Exit Life Members & is in addition to Exit's current ID service, which is also only for Life Members.


Also included in the update is a review of all the Swiss VAD services as they apply to foreigners, along with updates and corrections to the existing USA Mixtures and Insulin Chapters.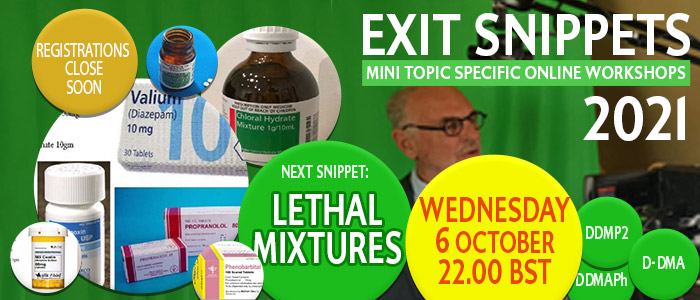 October Exit Snippet - Wednesday, 6 October

Registrations Close Monday
The 6 October Snippet examines the groundbreaking work coming out of the US which details which combination of lethal drugs can be used for a peaceful death when the holy grail of Nembutal is not available.


Exit Snippets are exclusive for Exit Members & PPeH Subscribers


Note Time Zone Changes - Day Light Savings Time in AU/NZ

23.00 Amsterdam (Wed 6 Oct)
17.00 USA East Coast
16.00 USA Central
14.00 USA Pacific
10.00 NZ (Thurs 7 Oct)
08.00 Australia - Sydney/ Melbourne/ Canberra/ Hobart
07.30 Australia - Adelaide
07.00 Australia - Brisbane
06.30 Australia - Darwin
05.00 Australia - Perth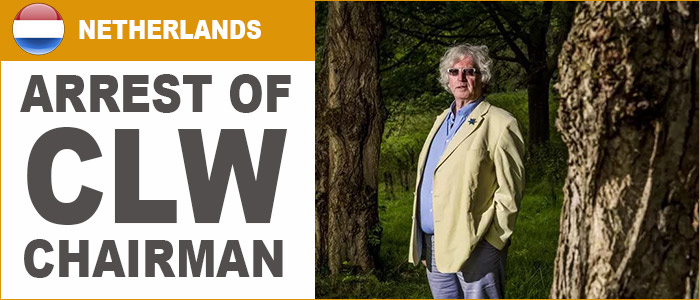 CLW Attract More Controversy
Chairman - Arrested

It was with great alarm that Exit learned of the arrest this week of the Chairman of Dutch activist group, CLW, Jos van Wijk.


CLW is the group behind the infamous 'Middel X' power (sodium azide) and with whom the person known as 'Alex from Eindhoven' has been said to be associated. Alex is currently in state custody for allegedly selling sodium nitrite on the open Internet, and therefore assisting in the suicides of at least 6 people.


In 2017, CLW were investigated by the Dutch public prosecutor who alleged they were a criminal organisation. No charges were ever laid.


In April 2021, CLW commenced legal action against the Dutch state arguing that Dutch euthanasia law is in breach of EU human rights legislation because it does not enable Dutch citizens to access the means to self-determination of ending their lives at a time and place of their choosing.


There is little doubt that the Dutch public prosecutor and CLW are involved in an intricate game of cat and mouse.


The political climate of the Netherlands is highly charged on the issue of voluntary euthanasia. Everyone has an opinion in this country that prides itself on keeping an 'open mind'.


While euthanasia is widely accepted in the general population, this week's arrest of Jos shows that the State has little or no tolerance for assisted suicide, despite recent calls for doctor-administered euthanasia to be replaced with legal recognition of older people's fundamental right to die, regardless of the reasoning behind it.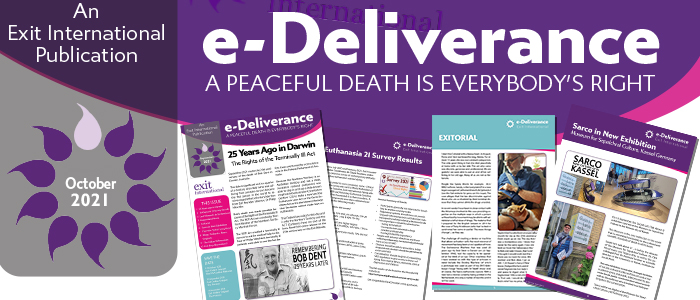 October Exit Newsletter - Now Available
1 25 Years ago in Darwin
2 Euthanasia 21 Survey Results
3 Last Moments in Switzerland
3 Queensland News
5 Exitorial
6 Sarco in New Exhibition
7 The New Yorker Long Read
8 Blogs, Podcasts, News, Snippets
9 The Italian Referendum
10 Exit Bag Alternatives?




US +1 360 961 1333 || Aus 1300 10 3948 || UK +44 7883 509 765 || NZ +64 09 889 1137 || NL +31 6 23 82 95 82