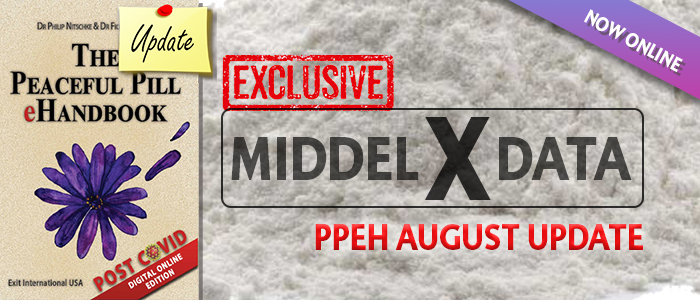 August 2021 Peaceful Pill eHandbook Update

Now Published in Eng/Dutch

The August 2021 update to the Peaceful Pill eHandbook publishes original data on over 30 documented deaths from 'Middel X Powder'.


Middel X is the substance that has become a household name in the Netherlands due to its promotion by activist group, CLW - Cooperation Last Will.


Exit is very grateful to both CLW and Dutch psychiatrist/ activist/ writer Dr Boudewijn Chabot for providing Exit with exclusive access to this important information.


The August 2021 Update forms the first public release of these data.
* Subscriptions are only available to >50s of sound mind & photo ID may be required.
** Nederlands editie - nu

beschikbaar!
*** Spanish, German, Italian & French updates to follow in coming days.
Next Exit Snippet - Wednesday, 4 August

Registrations Close Tomorrow (Monday)

Registrations for the August Nembutal Snippet will close Monday 2 August 2021 so register now!


The August Exit Snippet will present a comprehensive overview of all aspects of the drug Nembutal (sodium pentobarbital) including: history, different types, administration, storage, shelf life, potentiation, sources, recent changes & legal issues.


Snippets are reserved for Exit Members & current subscribers to the Peaceful Pill eHandbook
Snippets are held at 22.00 BST (London time) on the 1st Wednesday of the month. Use the time zone calculator to check your time zone
Recording of the July 'Miscellaneous Drugs Snippet' will be published 4 August.
Snippet Recordings are available on subscription - only to members/ subscribers
Existing Snippet Subscribers can log-in here
More about Snippets can be found on the Exit International website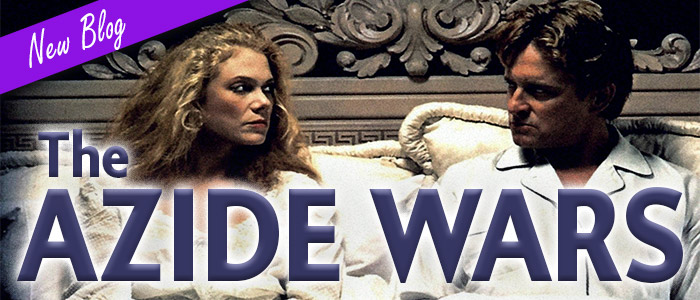 New Blog - Read Now

This week's Blog by Dr Philip Nitschke provides the backstory to the arguments that have been playing out in the Netherlands between those who believe that the inorganic salts are the 'best thing since sliced bread' and those who believe that they are 'extremely unsuitable' with 'unbearable symptoms'.


This month's PPeH update on Sodium Azide, which is based on original, verified data raises the temperature of the debate.


The Blog is intriguing, contextual reading for anyone interested in the politics of the right to die debate.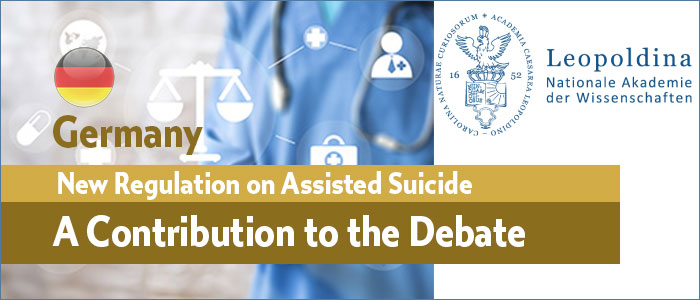 Germans Struggle with Spirit of Constitutional Court Ruling on Self-Determined Death
In February 2020, the German Constitutional Court ruled that the general right of personality (contained in Article 2), as an expression of personal autonomy, included a right to self-determined death.


A new report by Leopoldina - the German National Academy of Sciences - seeks to set out how, in light of this ruling, assisted suicide should be regulated.


While the authors represent different disciplinary perspectives, there is little doubt that the main tenet of the report is driven by medical profession, and psychiatry in particular.


Far from being a report that takes the Court's ruling as the first building block towards a rational suicide/ and assisted suicide framework for action, the report tends to read, disappointingly, as an attempt to thwart the 'spirit' of the law in terms of self-determination.




US +1 360 961 1333 || Aus 1300 10 3948 || UK +44 7883 509 765 || NZ +64 09 889 1137 || NL +31 6 23 82 95 82