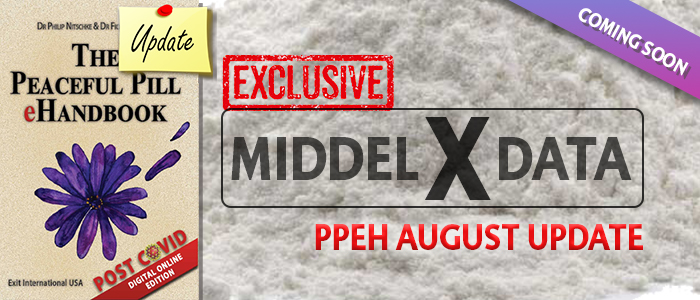 August 2021 Peaceful Pill eHandbook Update

Coming Soon

The August 2021 update to the Peaceful Pill eHandbook will publish, for the first time, data on over 30 documented deaths from 'Middel X Powder'.


Middel X is the substance that has become a household name in the Netherlands due to its promotion by activist group, CLW - Cooperation Last Will. Exit has been privileged & is very grateful to obtain this first-hand data from CLW in regard to the use of Middel X. Recent data from the Dutch Poisons Centre (DPIC) will also be presented.


* Note - Subscriptions are only open to the over 50s of sound mind & photo ID may be required.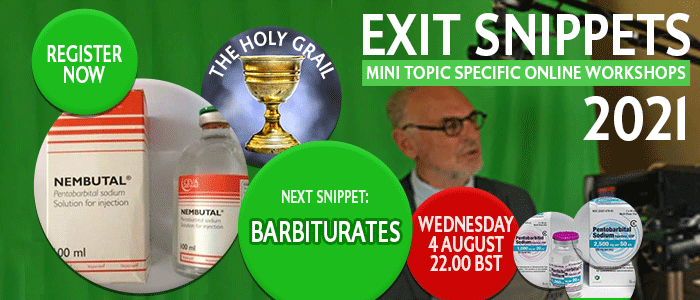 Next Exit Snippet - Wednesday, 4 August

Final Week to Register

The August Exit Snippet will present a comprehensive overview of all aspects of the drug Nembutal (sodium pentobarbital) including: history, different types, administration, storage, shelf life, potentiation, sources, recent changes & legal issues.


There is only one 'holy grail' in terms of peaceful, fast and reliable end-of-life drugs, and this is Nembutal - the drug that is used in the majority of countries where assisted dying is lawful, including by all the groups in Switzerland.


Snippets are reserved for Exit Members & subscribers to the Peaceful Pill eHandbook
Snippets are held at 22.00 BST (London time) on the 1st Wednesday of the month. Use the time zone calculator to check your time zone
Recording of the July Miscellaneous Drugs Snippet will be published 4 August.
Existing Snippet Subscribers can log-in here
More about Snippets is on the Exit International website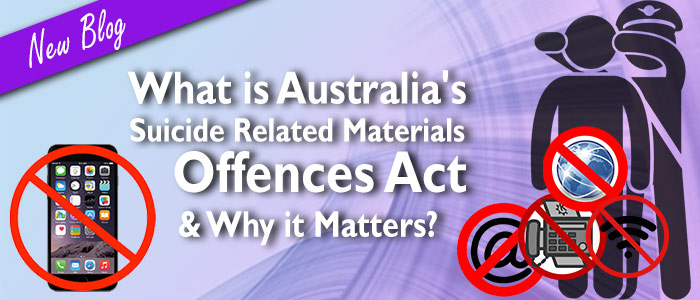 New Blog - Read Now

In recent months, the Suicide Related Materials Offences Act has been cited as an impediment to the effective operation of assisted dying laws in Victoria and West Australia.


This archaic law (dating back to 2006) prevents Australians from discussing assisted suicide/ assisting dying on the phone, email, the Internet or by fax.


There is an intriguing backstory as to how this law came to be. At the time, Electronic Frontiers said:


The proposed offence appears to have the primary purpose of silencing the speech of one particular high profile Australian resident, but only in relation to use of the Internet.
The politician behind the intrigue is little known but he is/ was the conservative, catholic, Senator from West Australia, Chris Ellison.


With States such as Queensland now pleading with the Federal government to allow doctors to engage in 'telehealth' with their patients (communicating by phone, email, zoom etc - something especially important for rural and regional communities), there seems little political inclination for change.


Understanding how the government of John Howard, with the full support of the Australian Labor Party, came to enact censorship of this nature, is useful in understanding the hitherto unforeseen problems of the current political environment.




US +1 360 961 1333 || Aus 1300 10 3948 || UK +44 7883 509 765 || NZ +64 09 889 1137 || NL +31 6 23 82 95 82