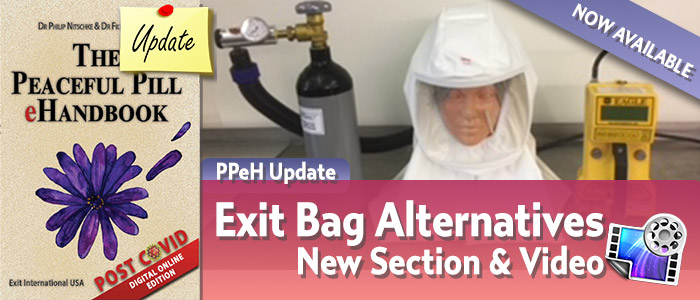 July 2021 Peaceful Pill eHandbook Update

Now Available

The July 2021 update to the Peaceful Pill eHandbook focuses on the efficacy of Anti-Coronavirus Helmets as useful alternatives to the plastic exit bag.


While inert gases (eg. Nitrogen, Helium) have long proven to be an effective, reliable & lawful means of a peaceful death, the idea of plastic bag has meant that the strategy is dismissed by many out of hand.


With the Exit experimental workshop now back operating at full post-Covid capacity, Exit has been running tests on various bag alternatives.


Some of these helmets were invented during the pandemic as anti-virus devices.


We have also been interested in the fact that positive pressure helmets are now often seen on TV as part of the Covid news cycle. This has served to soften attitudes that are based on aesthetics alone with such helmets no longer as 'freaky' as once conceived.


* Note - Subscriptions are only open to the over 50s of sound mind & photo ID may be required.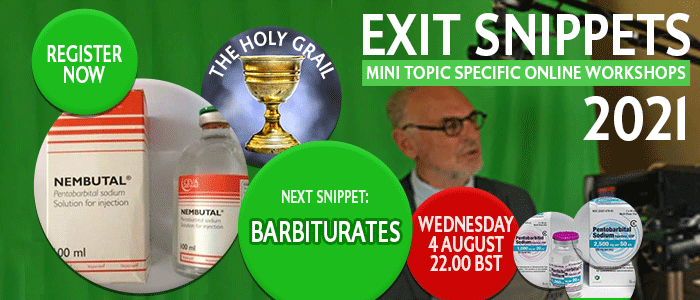 Next Exit Snippet - Wednesday, 4 August

Register Now

The August Exit Snippet will present a comprehensive overview of all aspects of the drug Nembutal (sodium pentobarbital) including: history, different types, administration, storage, shelf life, potentiation, sources & legal issues.


There is only one 'holy grail' in terms of peaceful, fast and reliable end-of-life drugs, and this is Nembutal - the drug that is used in the majority of countries where assisted dying is lawful, including by all the groups in Switzerland.


Snippets are reserved for Exit Members & subscribers to the Peaceful Pill eHandbook
Snippets are held at 22.00 BST (London time) on the 1st Wednesday of the month. Use the time zone calculator to check your time zone
Recording of the July Miscellaneous Drugs Snippet will be published 4 August.
Existing Snippet Subscribers can log-in here
More about Snippets is on the Exit International website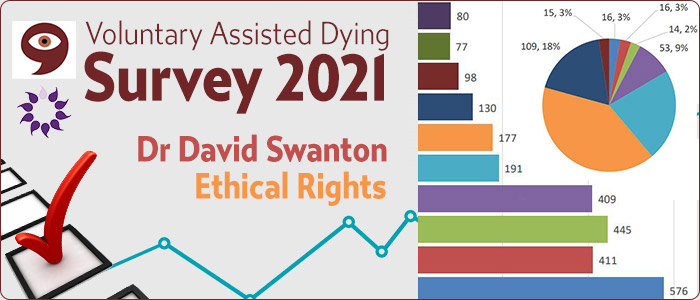 VAD Survey Results - Now Available

Exit is pleased to share the results of the recent survey (July 2020 - February 2021) by Dr David Swanton of Ethical Rights in Canberra, Australia.


The survey closed with > 1600 responses received from 31 countries. Around 45% of respondents were members of Exit.


Most important criteria for a VAD:

Voluntary Decision & Decision-making Capacity

Few People wish to travel for a VAD (either overseas or to another region)
The older you are, the more likely you are to think that having access to an end of life substance will improve your quality of life in the here and now!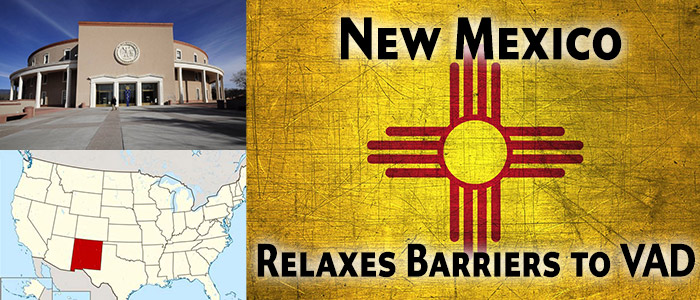 New Mexico Follows Canada Lead
Under most current VAD - MAID legislation the following 'safeguards' apply.

18 years old or older
terminally ill with prognosis of < 6 months or less to live
mentally capable
able to self-ingest the medication
2 oral requests at least 15 days apart
written request using a statutory form
second waiting period
physician must wait 48 hours from the time of receiving the written request to write the prescription
two physicians to certify the criteria are met: one who writes prescription, second certifies criteria are met
Exit has long objected to such a ridiculous and excessively onerous compliance regime, arguing instead that Switzerland's 2 criteria work just fine (mental capacity & do the action yourself).


This is why it is pleasing to see this week that the US state of New Mexico is following Canada's lead in relaxing the barriers that currently confront those seeking a peaceful death.


That New Mexico has acted only one month after implementing their end of life law is welcome news.


The irony is that despite Dr Philip Nitschke making precisely this point (of the need for more humane and fewer qualifying criteria) at this week's public consultation in Brisbane in regard to that State's forthcoming Voluntary Assisted Dying Bill 2021, the Health & Environment Committee in session showed little interest, asserting instead that they intended to max-out the 'safeguards'.


Read about the New Mexico developments in 'Groundbreaking' Law Erases Some Barriers to Medical Aid to Dying on the Exit International Website


US +1 360 961 1333 || Aus 1300 10 3948 || UK +44 7883 509 765 || NZ +64 09 889 1137 || NL +31 6 23 82 95 82