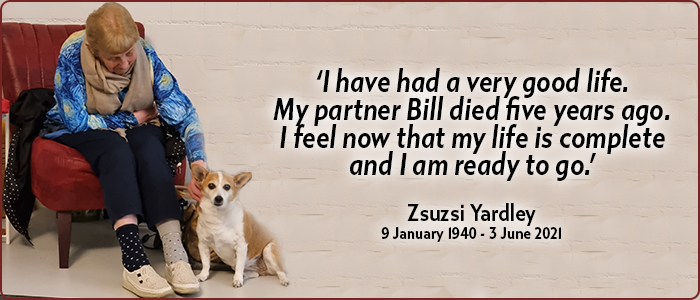 Exit Life Member & Holocaust Survivor, Zsuzsi Yardley died at Pegasos in Switzerland on 3 June 2021. She was 81 years old. Zsuzsi was not sick.


A control systems engineer by profession, Zsuzsi was a highly organised woman. Despite the odds at her birth, she maintained forcefully that being able to choose the time and place of her death was especially important for her. It was her ultimate right as a human being.


Read her final message to her friends and family (her suicide note) on the Exit website.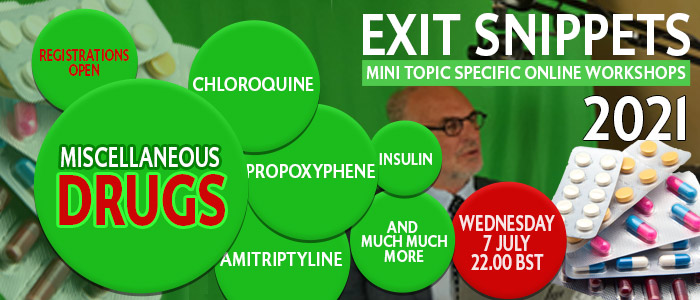 July Snippet - Register Now

Miscellaneous Drugs
The Peaceful Pill eHandbook contains a number of chapters detailing lesser known over the counter and prescription drugs that can be used to provide an elective death.


These drugs are not as good as Nembutal for a peaceful and reliable death and they invariably require some potentiation to ensure success, but they are much easier to obtain (and lawful), they offer an important fall-back option.


The July Snippet will discuss: Chloroquine, Insulin, Amitriptyline, Propoxyphene and more.


Next Snippet Wednesday 7 July 2021, 22.00 BST (London Time)
* Exit Snippets are live, online workshops of 70 minutes duration, available only to Exit Member & current Peaceful Pill eHandbook subscribers.

* Snippet recordings are posted 28 days after the livestream event.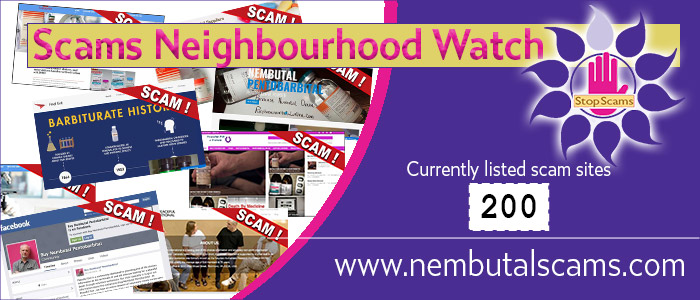 Nembutal Scams Website

Over 200 Scammers Now Listed
Since its launch in July 2020, the Exit Nembutalscams.com website has gone from strength to strength with over 200 separate scammers now listed.


This website is valuable because every week, Exit continues to receive inquiries from people asking if this or that offer to sell Nembutal online is genuine; bearing in mind that >99% of offers for Nembutal over the Internet are scams.


People pay hundreds of dollars and never hear from the scammer again.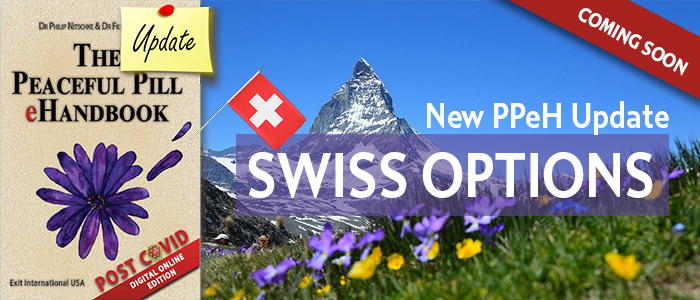 June 2021 Peaceful Pill eHandbook

Coming Soon
Every time Exit visits Switzerland and accompanies a member for their death, we learn new things about the every-changing 'Swiss Options'


One fact that came through loud and clear with the experience of Zsuzsi Yardley is just how difficult it has been to get to Switzerland given all the Covid restrictions.


What should be a simple travel arrangement has become nothing short of a nightmare.


This update will be published on Sunday 20 June 2021.


US +1 360 961 1333 || Aus 1300 10 3948 || UK +44 7883 509 765 || NZ +64 09 889 1137 || NL +31 6 23 82 95 82