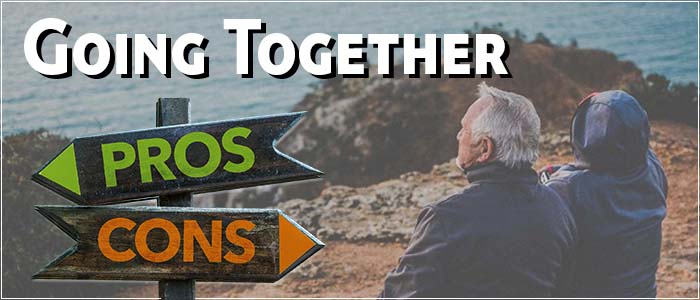 The Tale of 2 Couples

The Pros & Cons of Couples Going Together is a topic that needs comment, especially in light of the recent alleged botched double suicide of Exit Members Marijke and Tony Smythe in Queensland, Australia.


I want to compare this awful ordeal (at least as it was for Tony) with the orderly, successful death in Switzerland of American couple, Audrey and Greg to which I was humbly witness.


This is not an article that advocates Switzerland above all else. Far from it.


It is a discussion that argues for Swiss-style laws in order to safeguard those who want to go together.


Read this week's Blog on the pros & cons of 'going together'.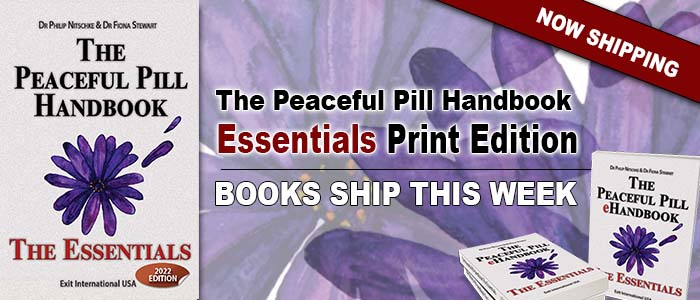 Print Essentials - Now Shipping
This week Exit took delivery of the new print Peaceful Pill Handbook - Essentials Edition.


Shipping commences Monday 8 August (which is also Philip's birthday).


What a fine way to celebrate! Happy Birthday Philip.


Order Peaceful Pill Handbook - Essentials Edition Here
Subscribe Online Peaceful Pill eHandbook - Essentials Edition Here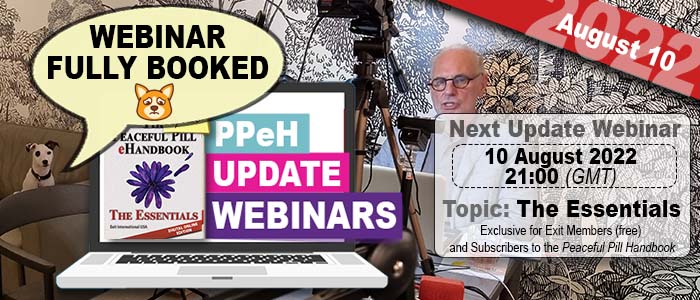 Essentials August Webinar

Bookings Now Closed

Registrations are now closed for this week's Essentials Explained Webinar.


For those who have registered, watch out for your access details by email on Tuesday (CET) & we look forward to seeing you Wednesday evening/ Thursday morning (Aus/NZ).


When: 21.00 GMT, Wednesday 10 August 2022 (Thurs 11th in Aust/NZ)
Who: Exit Members (free) & Subscribers ($40 for 2022 series)


(22.00 Amsterdam, 15.00 East Coast, 12.00 Pacific, 7.00 + 1 day Auckland, 05.00 +1 day Sydney etc.)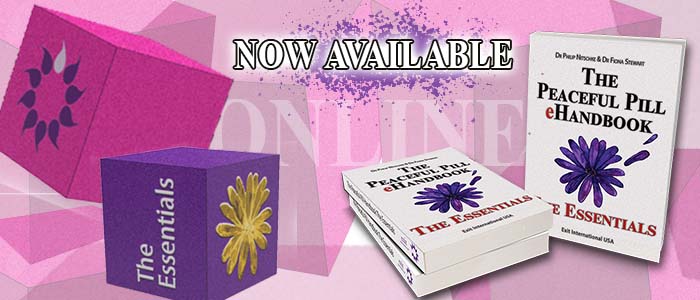 Transfer to the New Essentials PPeH
All

existing subscribers must transfer to the new Essentials edition if they wish to continue to have access to monthly updates.


Only the Essentials Edition of the Peaceful Pill eHandbook is now updated.
Note - Peaceful Pill eHandbook Essentials replaces the former Peaceful Pill eHandbook.

NL +31 6 23 82 95 82 || US +1 360 961 1333 || Aus 1300 10 3948 (EXIT) || UK +44 7883 509 765 || NZ +64 09 889 1137