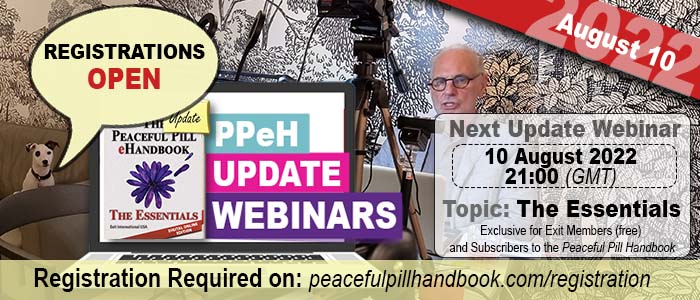 Register Now
Registrations are now open for the August 2022 Webinar.


The Topic is 'the new Essentials Edition'
The Webinar will provide an overview of all that has changed in the newly republished, condensed, succinct edition of the best-selling Peaceful Pill eHandbook.


When: 21.00 GMT, Wednesday 19 August 2022
Who: Exit Members (free) & Subscribers ($40 for 2022 series)


(22.00 Amsterdam, 15.00 East Coast, 12.00 Pacific, 7.00 + 1 day Auckland, 05.00 +1 day Sydney etc.)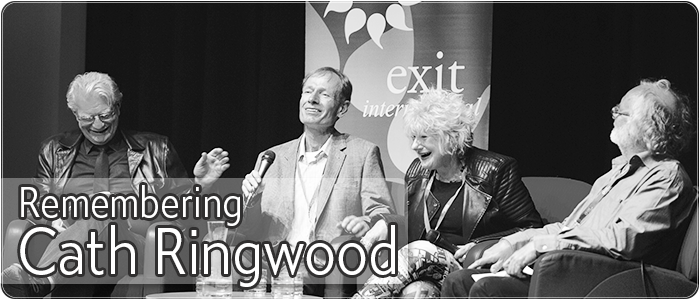 Cath Ringwood
This week Exit learned the sad news of the death of Melbourne stalwart volunteer, Cath Ringwood.


Cath was at the heart of the Victorian Chapter of Exit. We will miss her greatly.


A long time survivor of leukemia and breast cancer, Cath (a former RN and social worker) became one of the public faces of Exit International, never shy to step in front of a camera to tell her story and whey she was so passionate about choice at the end.


Exit's Obituary to Cath is on the Exit Website.


Watch Cath explain her stance in Vice International's 'Death in a Can' which has been viewed > 1.3 million times on Youtube.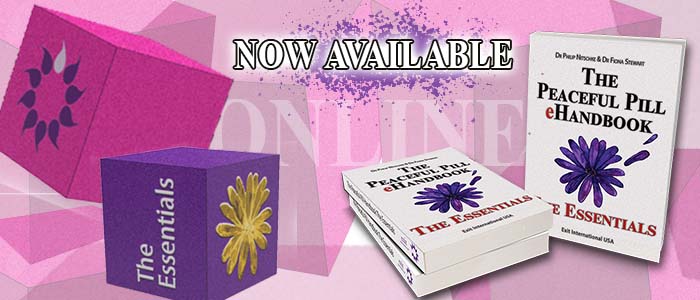 Subscribers can Transfer Now

New Essentials PPeH
Existing subscribers can apply to have their subscriptions transferred to the new Essentials edition free of charge.


From July 2022,

only

the Essentials Edition of the Peaceful Pill eHandbook will continue to be updated.


Essentials Edition - Peaceful Pill eHandbook replaces Peaceful Pill eHandbook

In Defence of Suicide as a Life Choice
Live at Ted X Darwin
Always ahead of his time, this month's Video features a Ted X event Philip gave in Darwin in 2016.


The issues are just as relevant today as 6 years ago.


Exit has a rich history of footage on all aspects of the right to die issue.


This week marks the beginning of our archive exploration which will be shared here with Exit Internationalist readers on a regular basis.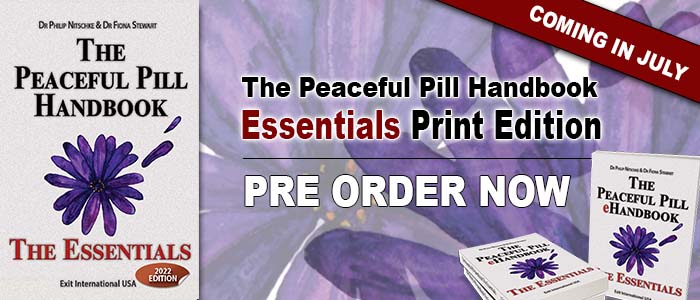 Print Essentials - Shipping Soon
The new PRINT edition of the 'Essentials Edition' of the Peaceful Pill eHandbook is now at the printers.


Pre-Orders are open for the new print edition which will begin shipping globally in the coming weeks.


NL +31 6 23 82 95 82 || US +1 360 961 1333 || Aus 1300 10 3948 (EXIT) || UK +44 7883 509 765 || NZ +64 09 889 1137