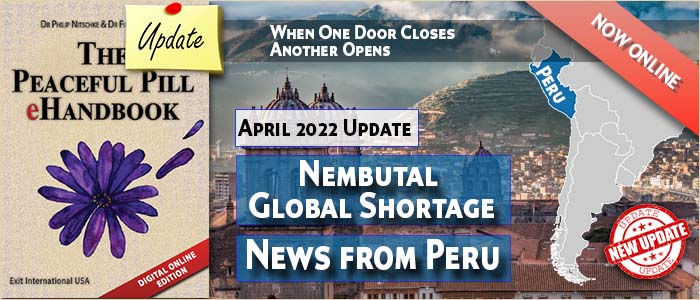 April 2022

Peaceful Pill eHandbook Update
With the new Essentials Edition of the Peaceful Pill eHandbook due in the coming weeks/month (or 2), the April update is one of the final updates to be done to the original format of the eHandbook.


This month's Update includes:


Warning on Nembutal Scams from fake PDF downloads of the real Peaceful Pill eHandbook
Breaking news of the current global Nembutal shortage
News from Peru: Lima & Cuzco (book your flight today?)
* The next Update Webinar will focus on the new Essentials Edition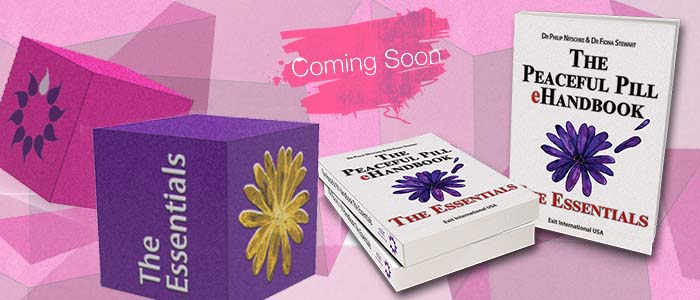 The New Essentials Edition - PPeH

Forthcoming
In the coming months, Exit will publish complete re-write of the existing Peaceful Pill eHandbook.This is the first complete overhaul of the book since it was originally published online in 2008. The aim is to condense 554 pages to < 200 pages: succinctly, clearly and with gusto.


Existing subscribers will have their subscriptions automatically 'transferred' to the new Essentials Edition. All subscribers will retain their access to the existing 554 pages of the Peaceful Pill eHandbook in the form of Appendices. A print 'Essentials Edition' will also be published in due course (minus the Appendices).


NL +31 6 23 82 95 82 || US +1 360 961 1333 || AU 1300 10 3948 (EXIT) || UK +44 7883 509 765 || NZ +64 09 889 1137