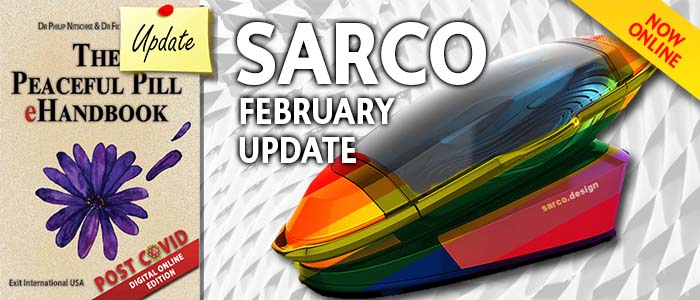 New Sarco Update - February 2022

The February update to the Peaceful Pill eHandbook features a new Chapter on the Sarco Euthanasia Capsule.

Following the sensational media stories about the Sarco in recent months, this new Chapter clarifies the issues and discusses the future of the invention.


The Sarco PPeH Update is complemented by this week's Update Webinar (see below) in which the authors of the Peaceful Pill eHandbook will be in discussion about Sarco and its forthcoming expected use in Switzerland.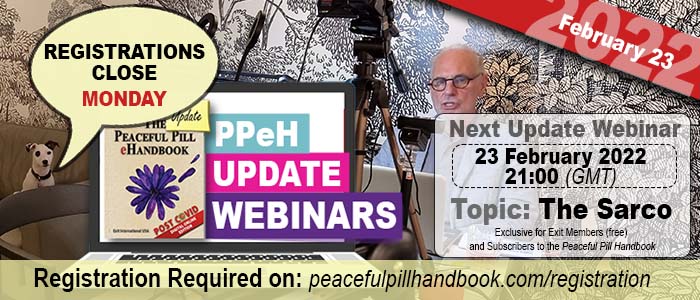 Sarco Update Webinar

Registrations Close Tomorrow (Monday)

Exit's inaugural online Update Webinar on the Sarco hosted by Philip Nitschke will be held on Wednesday (23/2/22) @ 21.00 GMT (16.00 NYC & 8am Sydney + 1 day).


21.00 GMT on the last Wednesday of the month
Held online, duration 60 minutes, Audience Q&A
Registration required for each Webinar
* PPeH Subscribers need to buy a Webinar Subscription

before

registering for each webinar they want to attend.

** All attendees must be aged 50 years & over. Photo ID may be required.
Aus 1300 10 3948 (EXIT) || US +1 360 961 1333 || UK +44 7883 509 765 || NZ +64 09 889 1137 || NL +31 6 23 82 95 82