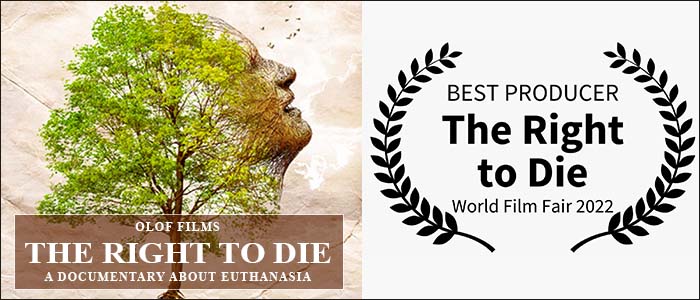 'Right to Die' Documentary Wins Award

Exit would like to congratulate the Finnish documentary team of Jan-Olof Svarvar and Maria Holmberg who have won the 'Best Producer' award at the 2022 World Film Fair this week in New York.


Based on the 6-part TV documentary series which was aired in late 2019 by the Finnish national broadcaster YLE, 'Right to Die' follows the end of life experiences of four people (two Exit members) in Finland, the Netherlands & the US.


Olof Films feature documentary (English language) stems from their initial TV series.


The documentary can be viewed on Vimeo (on subscription). Exit hopes to post further information of free to air viewings in the near future.


* Note - this documentary should not be confused with the 2019 film by Vice Media called 'Time to Die'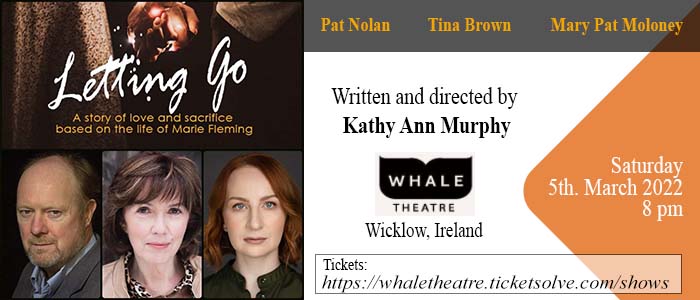 'Letting Go' - the Play
Whale Theatre, Dublin, 5 March
The world premiere of Letting Go, a new play about the love story of Marie Fleming & Tom Curran, will be held at Whale Theatre Dublin, Ireland.


In 2013 Marie and Tom took a landmark court case to the Irish High and Supreme Courts arguing that Marie wanted lawful help to end her life: because she was too disabled from her MS to do it herself. She wanted Tom to help her.


A previous production of Letting Go was scheduled for March 2020 but was abandoned with the onset of the C19 pandemic.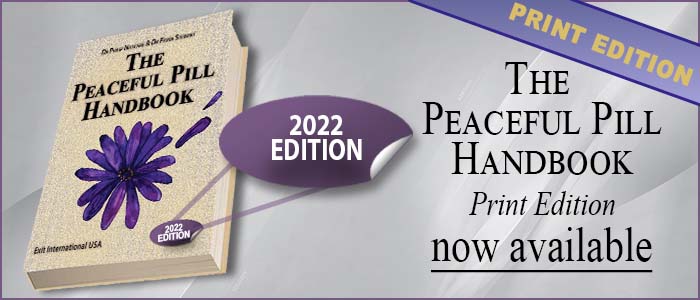 2022 Print Peaceful Pill Handbook
This edition is based on the past 12 months of updates made to the Peaceful Pill eHandbook.


Updates in 2021 included: the gases, morphine & the opioids, Switzerland, coronavirus helmets & Exit bag alternatives, new data on Middel X deaths, a new insulin chapter, developments with the USA lethal drug mixtures, notes on the Dark Web & more.


The sale of these books is restricted to > 50s of sound mind. Photo ID may be required.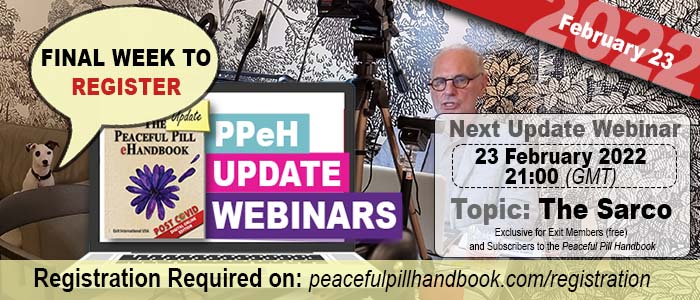 February 2022 Sarco Update Webinar

Final Week to Register Now
Exit's first Update Webinar for 2022 will be held Wednesday 23 Febraury @ 21.00 GMT (16.00 NYC & 8am Sydney + 1 day) on the Future of the Sarco Capsule.


Update Webinars provide an overview of the changes that are made each month to the Peaceful Pill eHandbook & include real time Q&A.


21.00 GMT on the last Wednesday of the month
Held online, duration 60 minutes
Registration required for each Webinar
* PPeH Subscribers need to buy a Webinar Subscription

before

registering for each webinar they want to attend.

** All attendees must be aged 50 years & over. Photo ID may be required.
Aus 1300 10 3948 (EXIT) || US +1 360 961 1333 || UK +44 7883 509 765 || NZ +64 09 889 1137 || NL +31 6 23 82 95 82