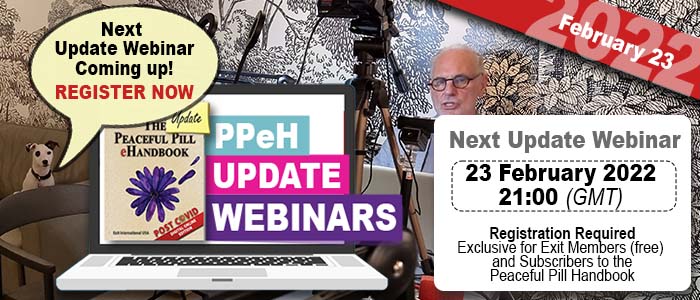 February 2022 Update Webinar

Registrations - Now Open
Commencing Wednesday 23 February 2022, Philip Nitschke will be hosting regular Update Webinars based on updates to the Peaceful Pill eHandbook.


Note - A bunch of stuff has been updated this month (January 2022) including changes to the Swiss & DeBreather Chapters. However the first major update will take place in February with a new Chapter on the 'Sarco & a Peaceful Death'
The Concept behind the Update Webinars is to provide PPeH Subscribers & Exit Members with an overview of the changes that are made with each major Update to the PPeH & provide an opportunity in real time for reader Q&A.


Update Webinars are

exclusive

to current Exit Members (irrespective of whether they subscribe to the Peaceful Pill eHandbook) & current PPeH Subscribers.


A new Update Webinar will be held each time a substantial update is made to the PPeH (6-12 times per year).


Held online
Duration 60 minutes
21.00 GMT on the last Wednesday of the month
Webinars are

Free

for Exit Members
On Subscription for PPeH Subscribers, US$40
New Subscribers can bundle the 24-month PPeH subscription + 12 month Webinar Series subscription, US$125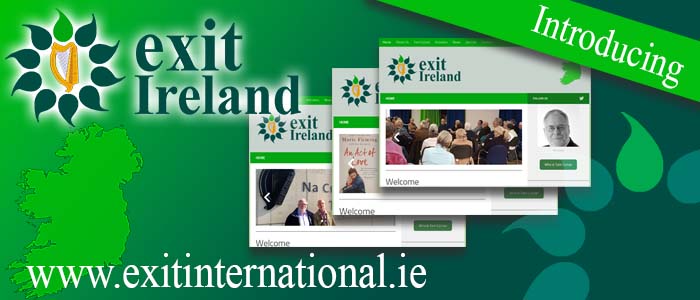 Exit International Ireland

New Website Launches
With the right to die debate hotting up in the Irish Republic and with so much at stake in terms of the type of law the country will debate, Exit's Tom Curran has launched a new Irish group to advocate for change.


Extending Exit International's human rights approach to the right to die, Tom Curran is calling for a law that not only helps the terminally ill (< 6 months to live) to die, but will also help those like his late partner, Marie Fleming.


Marie had MS so she was not terminally ill. Marie's only lawful option was Switzerland. This was because of the way the Swiss have structured their Criminal Code.


Only in Switzerland is help to die decriminalised. Anyone can help anyone else to die, as long as their motives are altruistic, and the person is of sound mind and can do the action themselves (eg. push the button, drink the drink).


This case was lost but the full bench of the court said that while there was no constitutional right to commit suicide or to arrange for the termination of ones life at the time of their own choosing ...


Judge Denham added that there was 'nothing in the judgment to prevent the State from introducing legislative measures, with appropriate safeguards, to deal with cases such as Ms Flemings'.
Marie Fleming died 20 December 2013, aged 59. Marie's legacy lives on in the work of Exit International today.
Marie's beautiful book An Act of Love is available on the Exit Website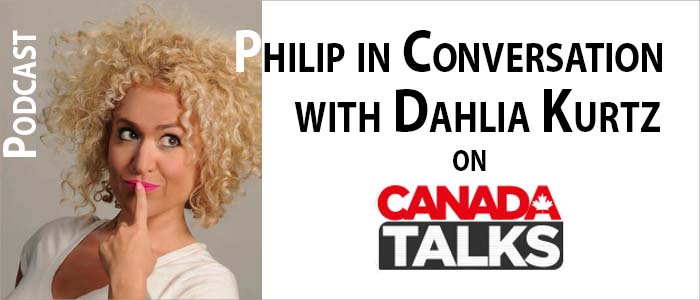 New Podcast - Listen Now
Dahlia Kurtz is an Award-Winning Talk Show Host, Canada's First Nationally Syndicated Social Media Columnist, Writer & Righter.


Earlier this month she interviewed Exit's Philip Nitschke about Sarco, AI, Implants and the future of the universe.


Dr. Philip Nitschke is the first doctor in the world to administer a legal, lethal voluntary injection. He is the creator of Sarco, the suicide pod, and founder of Exit International.


He joins Dahlia Kurtz on Good Mornings to have the conversation that no one likes having – but the conversation that must be had regardless …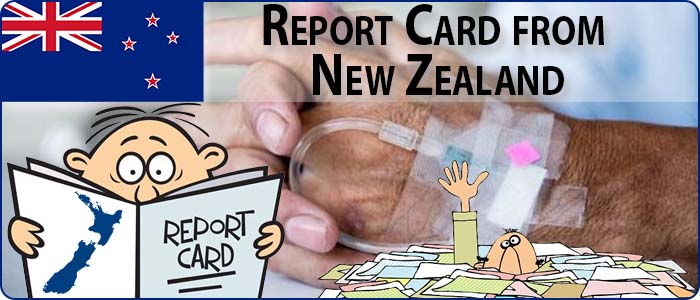 Report Card from New Zealand
On 7 November 2021, New Zealand finally implemented their assisted dying law.


While 350 people were expected to use the law annually the slow start perhaps suggests that far fewer have been able to qualify.


The New Zealand law (like those introduced in Australia) is especially onerous. You must be:

terminally ill & likely to die < six months
in an advanced state of irreversible decline
have "unbearable" suffering
get the approval two medical practitioners & maybe a 3rd psychiatrist
So far 73 people have applied, but < 20 have died as recipients of the law.


This could mean 2 things. 1. It's comforting for terminally ill people to know they have an exit plan in case things turn really bad or 2. it's next to impossible to satisfy the exact criteria. Only time will tell.




Aus 1300 10 3948 (EXIT) || US +1 360 961 1333 || UK +44 7883 509 765 || NZ +64 09 889 1137 || NL +31 6 23 82 95 82