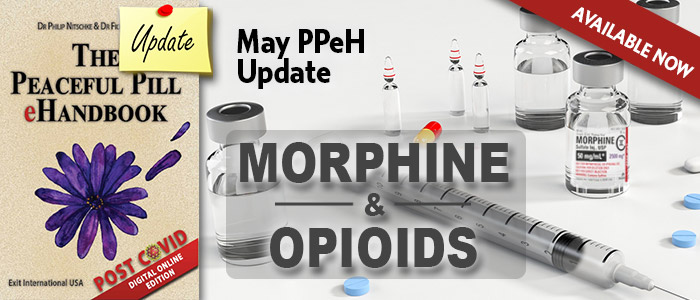 May 2021 PPeH Update
Now Available
This month's Peaceful Pill eHandbook Update features a rewrite of the Morphine & Opioids Chapter with new sections included and older sections clarified / updated.


In the May Update we explain terms that you might have heard, but not understood including: Terminal Sedation, Double Effect, Pharmacological Oblivion, '3M' Treatment & Slow Euthanasia.


We also examine the reasons why Morphine & the Opioids need to be viewed with great caution as DIY end of life agents.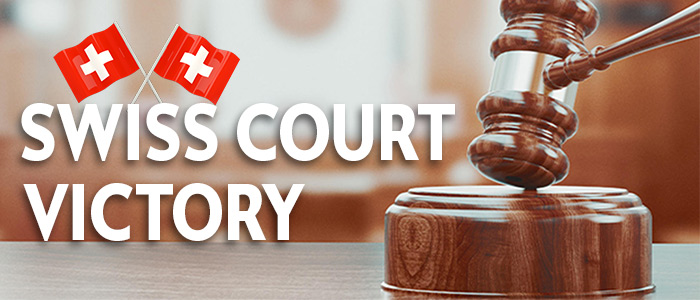 Swiss Court Rules on VAD
for People with Mental Illness
This week's landmark Swiss decision concerning the VAD of a mentally ill woman in Switzerland in 2016 brings welcome relief for everyone working in the right to die movement in Switzerland.


There is a number of significant issues that now stand as case law as a result of this Cantonal Court decision:

When a person presents for a VAD with a mental illness, a generalist doctor (as opposed to a psychiatrist) can make the mental capacity assessment
Swiss courts place considerable importance on a person's right to self-determination, even if they have a mental illness
Despite a posthumous forensic report that found the woman lacked mental capacity at the time of her death, the Court ruled to the contrary prioritising first-hand accounts of the woman's mental state
*While there could be a further appeal there is no doubt that this is a very welcome second (and possibly final) stage in the proceedings.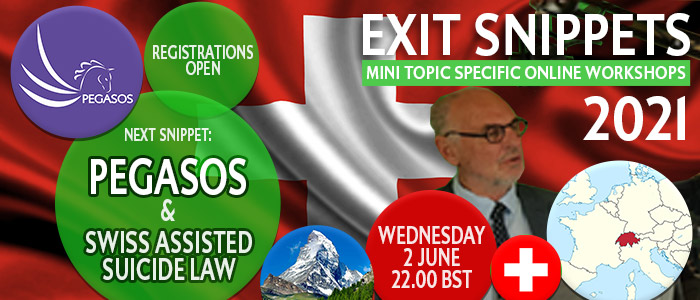 Next Snippet - Wed 2 June 2021

Live from Pegasos in Switzerland

Dying in Switzerland - an overview

Why do the Swiss have only 2 safeguards?
What makes Pegasos Swiss Association special?

Qualifying for a VAD in Switzerland: eg. mental illness

Special guest speakers
Pegasos applications, timelines, travel assistance etc

Snippets are Exit's 2021 series of online, real time workshops held at 22.00 British Summer Time (BST). Next Snippet Wednesday 2 June 2021.
* Recordings are available on subscription to Exit Members & PPeH Subscribers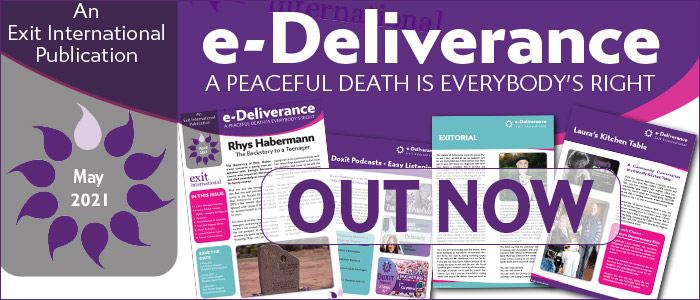 Now Available
Rhys Habermann: The Backstory
Going Global: Human Rights Framework for EOL Choices
Exitorial
Book Banning in Australia
Exit 2021 Snippet Series
Doxit Podcasts
Laura's Kitchen Table
French Controversies & Ultime Liberté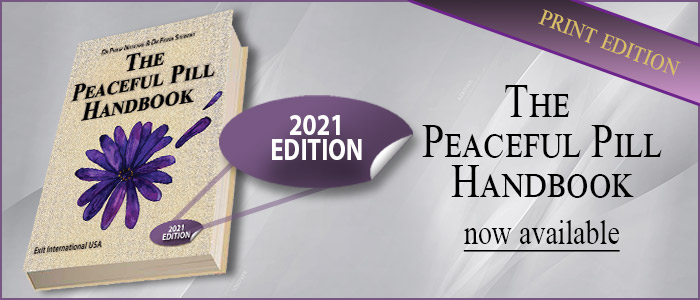 New 2021 PRINT Peaceful Pill Handbook

Now Available

The 2021 Print Peaceful Pill Handbook edition is now available.


Based on the March 2021 edition of the online Peaceful Pill eHandbook, the new 456-page, Print PPH contains 28 Chapters with all you need to know about practical end of life choices & related issues.


The Print PPH does

not

include


US +1 360 961 1333 || Aus 1300 10 3948 || UK +44 7883 509 765 || NZ +64 09 889 1137 || NL +31 6 23 82 95 82