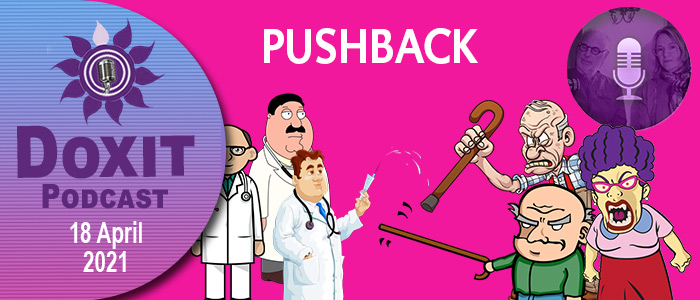 NEW APRIL DOXIT PODCAST
Good Death as a Human Right

NL, Germany & Austria Proclaim!
This month's Doxit Podcast takes a look at the emerging trend in Europe where courts are being challenged to rule that the right to a self-determined death is a universal human right for all.


Dutch group CLW have been open in acknowledging the shift in Germany, and now Austria, over the past 18 months - where the prohibition on assisted suicide has been ruled unconstitutional and an individual's right to have control over their death - whatever the circumstances - has been upheld as a fundamental human right.


This European progress stands in stark contrast to countries like Australia/ NZ/ USA which continue to pass laws that reflect a head-in-the-sand approach to the lessons that should have been learned over the past 2 or more decades of euthanasia practice and activism.



Change in Screen Schedule??
There is Nothing Like a Death (of a Duke) ...
There is nothing like a death to bump a program that you were waiting for from its prime time viewing slot on national TV.


The death of Prince Philip 2 weeks ago was enough for Australia's national broadcaster, the ABC, to replace the screening of the Laura's Choice Documentary with a tribute to the Duke.


For those readers outside of Australia, yes the Queen is still ... sigh ... Australia's head of state. The war of independence remains a long way off in the land downunder.


The good news is that Laura's Choice will 'definitely' screen on Tuesday this week, with Episode 2 destined to be shown on Tuesday 27 April.


Our Dutch lockdown & night curfew is due to be lifted on 28 April so the timing is perfect 😁!


To recap, Laura's Choice is about the 'bad arse' grandma Laura Henkel and the years that lead up to her death at Pegasos in December 2019.
If you are not in Australia, you can watch Laura's Choice anytime on ABC iView, as long as you have a VPN set to 'Australia'.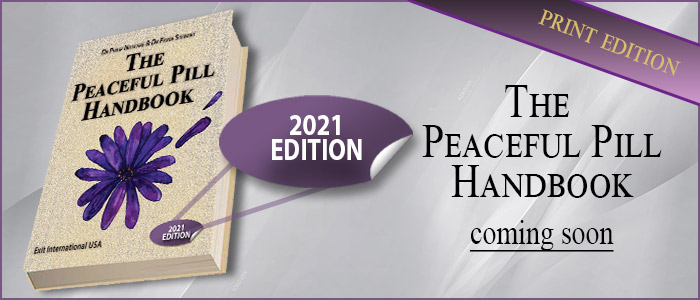 The 2021 Print Peaceful Pill Handbook edition will be published later this week.


Based on the March 2021 edition of the online Peaceful Pill eHandbook, the new 456-page, Print PPH contains 28 Chapters with all you need to know about practical end of life choices & related issues.


The Print PPH does

not

include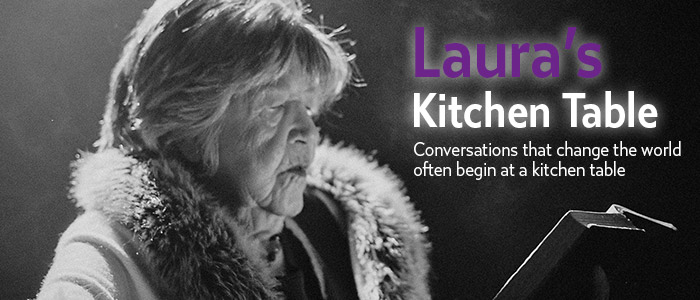 New End of Life Discussion Forums
Join Now
For those who want to make new friends and change the world, the new Laura's Kitchen Table online discussion forums are the place to go.


With a focus on Australia, this kitchen table welcomes all those interested in talking about the difference between medically-controlled assisted dying for the terminally ill and 'the autonomous route' which respects the right of older people to make their own life and death decisions.


People like Laura Henkel who shunned the care home option (and industry).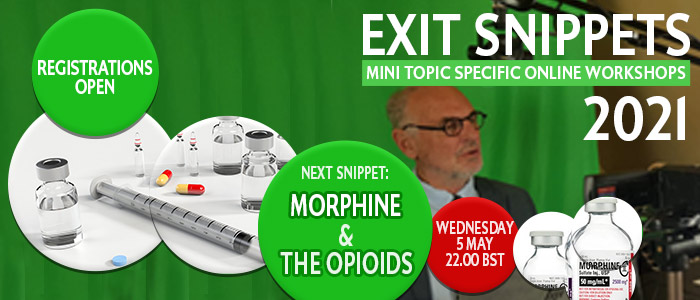 Next Exit Snippet - 5 May
Morphine & the Opiods - Registrations Open
why doctors always use morphine to assist clandestine deaths
why this practice is called 'slow euthanasia'
difficulties when using opiates for DIY death
the twin problems of sensitivity & tolerance
solutions to the problems with these drugs
Note the new times (1 hour earlier to allow for easier Aussie viewing)
22.00 BST - London
23.00 CEST - Amsterdam
14.00 Pacific – Nth America
17.00 East – Nth America
07.00 AEST – Thursday 6 May - Sydney/ Melbourne
Snippets are Exit's 2021 series of online, real time workshops.
* Recordings are available on subscription to Exit Members & PPeH Subscribers


US +1 360 961 1333 || Aus 1300 10 3948 || NL +31 6 23 82 95 82 || UK +44 7883 509 765