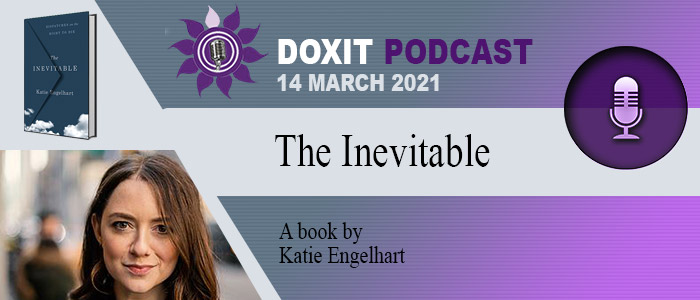 Dispatches on the Right to Die

For the past five years, Vice journalist (as Exit knows her) Katie Englehart, has been reading, talking, thinking and - it seems - writing on the right to die movement around the world.


The result of her efforts is a new book published by Macmillan titled The Inevitable: Dispatches on the Right to Die.


Exit first met Katie when Vice UK were making their documentary 'Time to Die'. Katie was part of the directorial team.


Clearly intrigued by those she met, her inquiries have produced an in-depth, nuanced political-cultural analysis of the activists and stakeholders within the movement.


Our new Doxit Podcast casts an eye over the lives of Avril (Age), Maia (Body), Debra (Memory) and Adam (Mind) as well as MD Lonny Shavelson. And we include some personal recollections of Philip & Fiona on the journalist behind writing.


Louis Theroux
writes of The Inevitable:
'Powerful and moving. Engelhart recounts the stories of those she meets with humanity and grace'.
Katie will be in conversation at the Greenlight Bookstore (NYC) with Larissa MacFarquhar (New Yorker), on Monday 15 March at 7.30pm (EST).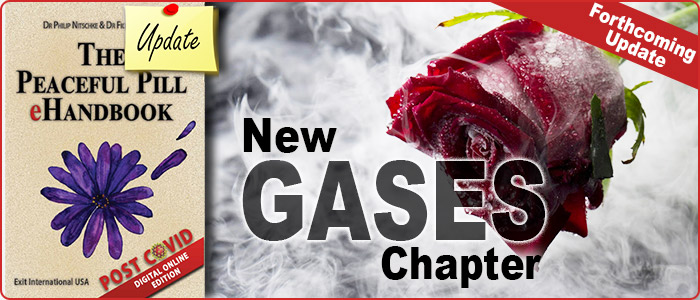 March PPeH Update
Coming Sunday 21 March 21
With the arrival of Coronvirus protection helmets, it seemed a perfect time to rewrite the Gases Chapter in the Peaceful Pill eHandbook.


Our first project is to explore the possible ways that the Coronavirus protection helmets could replace the exit bag when it comes to a peaceful death with an inert gas such as nitrogen.


The March Update - to be published Sunday 21 March 21 - will give the existing Gases Chapter a much-needed overhaul, dismissing helium as yesterday's news in place of a greater emphasis on nitrogen as well as new supply sources.


Remember, nitrogen is 100% lawful, no ifs and no buts.


The March 2021 Update will be published Sunday 21 March 21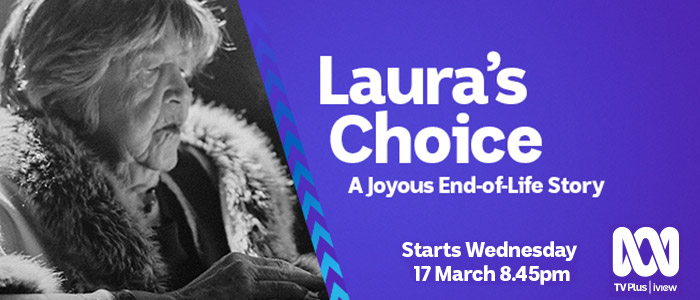 'Towering Achievement of Filmmaking' - thecurb.com.au
The long-awaited feature documentary of Cathy Henkel and Sam Lara will premiere on Australian TV this coming Wednesday at 8.45pm AEDT.


Laura Henkel was a feisty, determined 91 year old who was not terminally ill. The only way she felt she could have a controlled, elected, peaceful death was to go to Pegasos in Switzerland.


Two years earlier, Laura had embarked on a trip of a lifetime to Europe with her grand-daughter. A filmmaker herself, Sam took along her cameras.


Only the holiday turned into a disaster after Laura fell head first from her walking frame and soon developed pneumonia.


Her holiday came to consist of a month in a Vienna hospital. On her return to Australia her mind was made up. Enough was enough.


'sure to be polarising ... ' - The Australian


Outside of Australia? Use a VPN & watch by visiting ABC TV Plus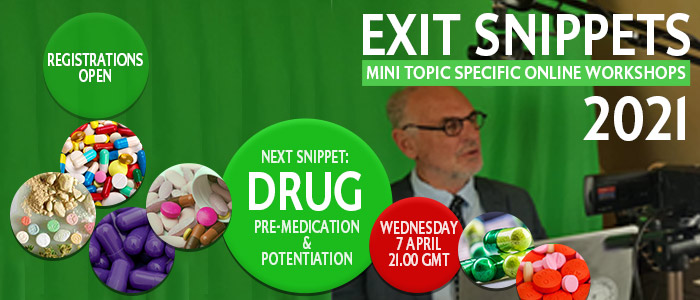 Drug Premedication & Potentiation
The topic for the forthcoming 7 April Exit Snippet will be Drug Premedication & Potentiation


Exit Snippets are mini, online, monthly workshops exclusively for Exit Members and PPeH Subscribers.


Exit Snippets are held at 21.00 GMT on the 1st Wednesday of every month.


22.00 CET - Amsterdam
13.00 PST – Nth America – West coast
16.00 EST – Nth America – East coast
8am AEDT – Thursday 4 March - Sydney/ Melbourne
* Recordings are only available to Exit Members & PPeH Subscribers
US +1 360 961 1333 || Aus 1300 10 3948 || NL +31 6 23 82 95 82 || UK +44 7883 509 765