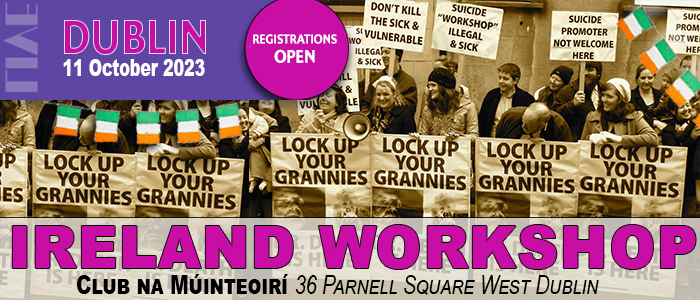 Dublin Public Meeting & Workshop

Wednesday, 11 October
Exit International will be holding a Public Meeting & Workshop at the Club Na Muinteoiri (Teachers Club) in Dublin on Wednesday, 11 October.


Registrations are now
OPEN
The free Exit Public Meeting will argue why Ireland should be looking towards the Swiss who operate the best model of law reform.


The meeting will also address the recent sodium nitrite controversies that have been reported in the Irish press.


Speakers: Mr Tom Curran & Dr Philip Nitschke


The closed Exit Workshop will focus on the practical DIY methods of: Nitrite, Nitrogen & Nembutal and include extensive audience Q&A.


Exit Books will be available on the day:
More about Exit Workshops


Exit Workshops are

Free

for Exit Members
€40 Peaceful Pill eHandbook Subscribers
Attendees must be > 50 years and of sound mind.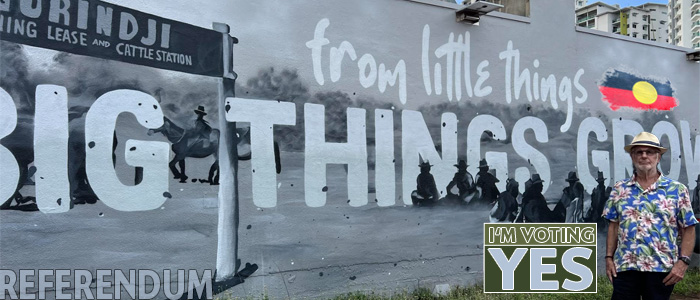 New Blog by Philip Nitschke
It is not often that I stray into mainstream politics, but the forthcoming Australian Referendum on a Voice to Parliament is one issue that I cannot stay silent about.


I am voting YES because Aboriginal people have received a raw deal from us white Australians for over 200 years (to put it mildly).


Genocide and dispossession are more accurate descriptors?


It is not good enough for the 'white man' to continue to think that they know best for black Australia.


The Voice to Parliament is one embarrassingly small step to right the wrongs of Australia's colonial past. Treaty and reparations must follow.


Read Philip's BLOG on the Peaceful Pill Handbook Website
Watch John Farnham's 'You're the Voice' Song Support on YouTube, courtesy of The Guardian.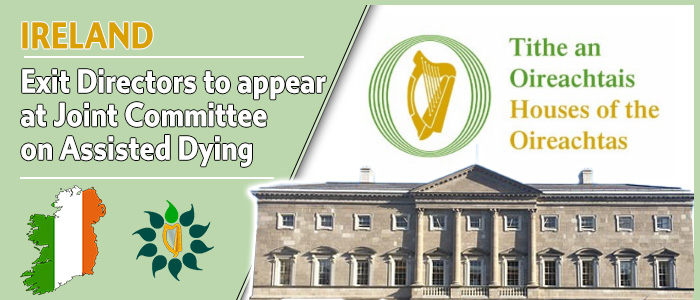 Exit Directors to Address Joint Committee
Irish Parliament
Mr Tom Curran & Dr Philip Nitschke will both appear before the Oireachtas Joint Committee on Assisted Dying on Tuesday 10 October 2023.
Tom will be speaking at 11am, with Philip speaking at 20.30 (IST/ GMT).


The Joint Committee on Assisted Dying was 'established to consider and make recommendations for legislative and policy change related to a statutory right to assist a person to end his, her or their life and a statutory right to receive such assistance'.


The Republic of Ireland is finally moving on the right to die issue, but not necessarily in the right direction.


Ever since Tom Curran and Marie Flemming challenged Irish law in 2012 and lost, the issue of assisted dying has not been out of the Irish news (thank you Tom).


If Ireland does act to change the law, it will be because of Marie and Tom's bravery and perseverance.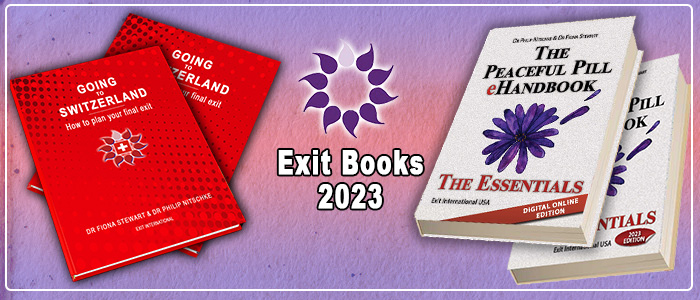 New Exit Books in 2023

This year has been a busy publishing one for Exit International in the Netherlands with not one, but two, new editions now available in both print and online versions.


This week, Going to Switzerland will be published in Dutch as Naar Zwitzerland: hoe u uw laatste reis regelt.


2023 has also seen the 2nd print edition of the Essentials edition of the Peaceful Pill Handbook.


All books are available at Exit's online Book Store.
US +1 360 961 1333 || Aus 1300 10 3948 (EXIT) || NL +31 6 23 82 95 82 || UK +44 7576 224 931 || NZ +64 9 889 1137