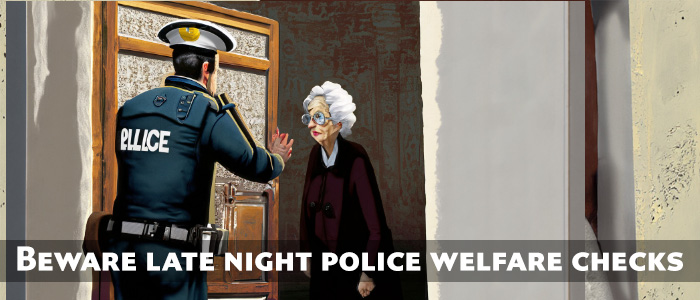 Global Police Visits? This is How it Works!
"On May 3 at 2 a.m., our doorbell rang. It woke up our dogs who started barking. I said to my husband, "I had a dream that the doorbell was ringing." And he told me it wasn't a dream.
So we lay there for a while, preparing for an intrusion, but the doorbell didn't ring again so we finally fell back to sleep. I've lived in this house for 18 years and this has never happened before.
So, the next morning I woke up and found six calls from the sheriff's office, asking me to call them ..." (click to read more).
Exit Members & PPeH Subscribers around the world continue to receive (very) late night / early morning (eg. 2am) visits from their local police following the arrest and charging of Kenneth Law in May in Ontario Canada, for allegedly selling sodium nitrite online.


The police visit under the guise of performing a 'welfare check'.


What they are actually doing is using the late/ early hours (from 11pm to 2am) to scare and intimidate elderly people around the world!


Police visits in Australia, for instance, have been received a few minutes before midnight. In the US at 2am!


As we said in our last email missive, one can only presume that the late hour of these visits is intended to harass and intimidate. So much for a genuine show of concern.


Exit is not aware of anyone who has had their sodium nitrite confiscated by the police: after all it is a lawful product to possess. There are no legal grounds for its seizure.


Read about 2 especially startling US Visits in recent weeks on the Exit Website.
Read Exit's Blog - Fact Check - on why Exit does not supported suicide chat websites.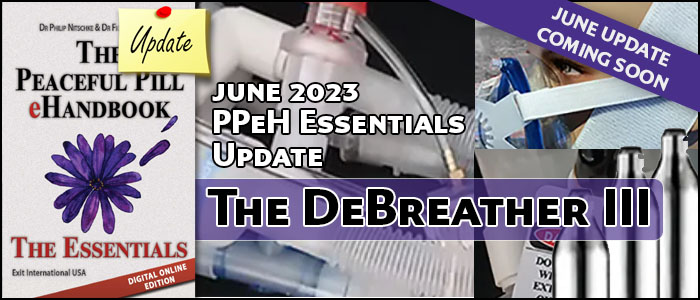 Coming Soon
Following hot on the heels of the May 2023 PPeH Essentials Update which detailed the availability of Nembutal in certain Sth American countries, the June 2023 Update will be feature the long-awaited, latest incarnation of the ReBreather - DeBreather device.


The inventor of the ReBreather - DeBreather is launching a new website which details the way in which a new, modified device works. By preloading the gas reservoir, the time to loss of consciousness should be significantly reduced.


While Exit is not actively involved in the ReBreather - DeBreather developmet we are watching this innovation closely and are hopeful that it will provide a useful and important end of life option.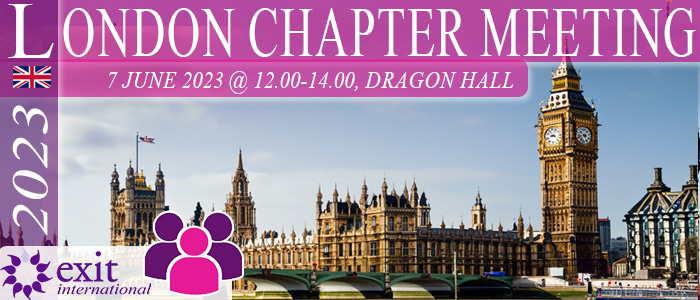 Meeting Reminder?

Professor Sean Davison will be hosting Exit's first UK Chapter meeting for 2023 at Dragon Hall (17 Stukeley Street, WC2B 5LT) at 12 - 14.00 on Wednesday 7 June.


The meeting will provide the latest update on all things Exit, including police visits & the newly-modified DeBreather. Dr Philip Nitschke will join the meeting via Zoom from Amsterdam.


Registrations are essential. The meeting is only open to Exit Members.


Afternoon tea will be served.
Dutch Group NVVE Turns 50

One of the world's oldest right to die group is turning 50 and Sarco has been invited to help celebrate.


NVVE are holding one-day conference in Hilversum on 2 June.


As part of the day's activities, the Sarco will be displayed and Dr Philip Nitschke will join a panel discussion about the future of end of life options: especially in the context of 'completed' or 'tired of life'.


These are terms used for the growing number of older people who want the right to make their own end of life choices, irrespective of whether or not they are seriously ill.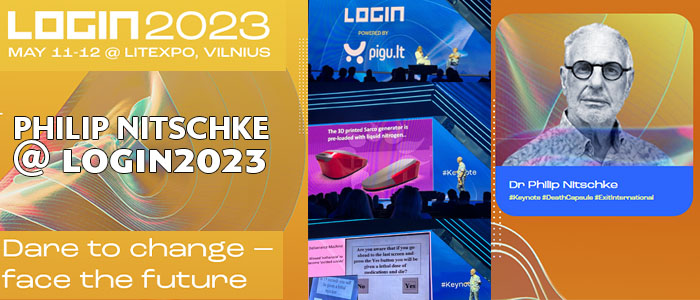 Philip was hon0ured and pleased to be asked to present a keynote at the future-tech conference - 'Login2023' - which was held in Vilnius (Lithuania) last week.


Other keynote speakers included Lottie Moss, the sister of super model Kate Moss (who discussed the politics of the personal brand market in the age of 'socials') and an advisor to Alexei Navalny who discussed what we don't know about his colleague. Login2023 was a conference not to be missed.


As likely the oldest presenter, Philip explained the Sarco to a youthful audience whom seemed divided into the intrigued, horrified and admiring camps in equal measure.


As one of the more positive attendees wrote:


Greetings!
Last week I had the pleasure of attending the #login2023 conference in Vilnius, and let me tell you-it was not what I expected!🥊
The speakers were absolutely exceptional and I'd like to share my highlights and interpretations of the speeches with you all!
Dr. Philip Nitschke, the founder of 'Exit International', gave a thought-provoking talk 'Final Freedom: The Truth About Choosing Your Own End'. His presentation was both sensible and brave, exploring the topic of voluntary suicide and the right to choose. It was a powerful reminder that we need to have more honest and open conversations about end-of-life care. After all, death is a part of life!
With over 7000 delegates, the conference was impressive, insightful and highly educative!


US +1 360 961 1333 || Aus 1300 10 3948 (EXIT) || NL +31 6 23 82 95 82 || UK +44 7883 509 765 || NZ +64 09 889 1137