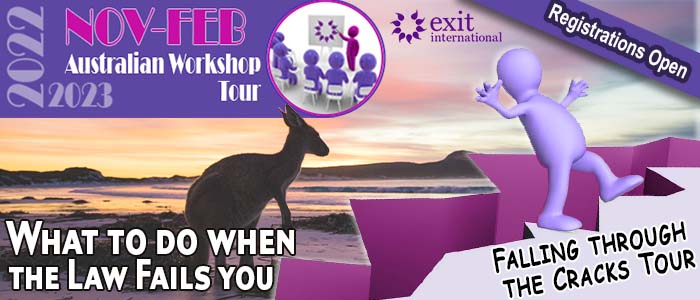 Australian Exit Tour
The final date (Bowral) for the forthcoming Australian tour is now confirmed.
Exit Meetings will be held in: Adelaide, Bowral, Brisbane, Bundaberg, Canberra, Darwin, Gold Coast, Hobart, Lismore, Melbourne (x2), Newcastle, Sunshine Coast, Sydney (x2).


Because this is an Australian tour & because end of life laws are new to Australia, the meetings will focus upon:
a) how to ensure the law in your State/ Territory works for you
b) and your options when it doesn't & you 'fall through the cracks'
Workshops are free & exclusive for Exit Members.


Dates for New Zealand are TBC.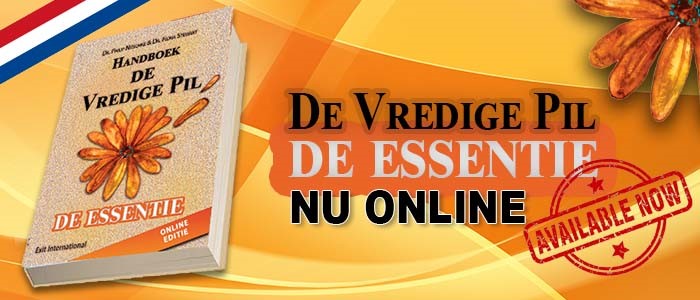 Dutch Essentials Edition

Now Available
Exit International has published this week the Dutch edition of the new Essentials Peaceful Pill Handbook.


Titled De Vredige Pil: De Essentie - this new Dutch book brings Benelux readers a condensed, clarified, easier-to-read edition of the best-selling De Vredige Pil.


Dutch Subscribers can apply to transfer to the new Essentie Edition HERE
English Subscribers can apply to transfer to the new Essentials Edition HERE


The print version of De Vredige Pil: De Essentie will ship October/ November 2022.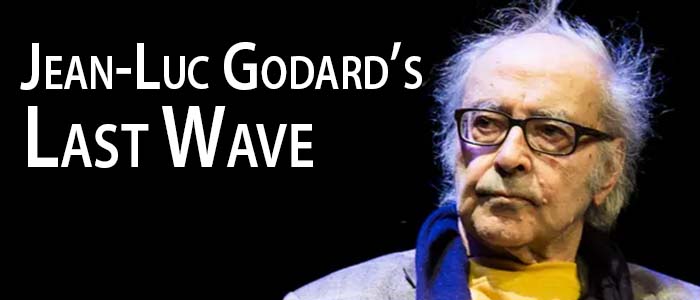 Godard's Completed Life
In the Netherlands it is called 'Completed Life'. This is when a person of advanced years decides that 'now is the time to go', irrespective of whether they are sick or not.


Jean-Luc Godard was precisely one of these old people. He died last week at his home in Switzerland.


Agence France Presse quoted a close contact saying:


'He was not sick, he was simply exhausted. So he had made the decision to end it. It was his decision and it was important for him that it be known.'
For those who argue that assisted death should only be for people who are terminally ill, Godard's decision to go early (when old but not sick) should provoke some soul-searching.


Why must one be terminally ill to get a good death?


Surely, the right to euthanasia (a good death) is universal & should be more than a medical privilege for the very very sick.


Read the reporting on Jean-Luc Godard's death on the Exit Website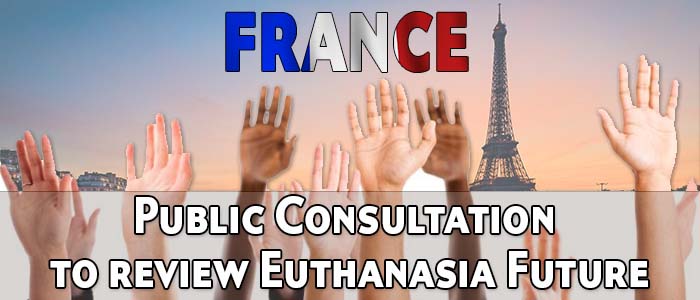 A French Convention Going Nowhere?
This week the French President, Emanuel Macron, announced a Citizen's Convention to determine France's future direction with regard to medical aid in dying.


While the headline looks promising, the reality less so.


At a practical level, Macron has an uphill battle to convince French MPs that assisted dying is a good idea.


While Laïcité sounds good in theory, France remains a staunchly Catholic country.


Short of a referendum, deep political divisions make a law on assisted death, even in cases of clearly determined terminal illness, highly unlikely in France.


This is despite Switzerland, Belgium and Spain all having laws that allow for a elected, voluntary death in the context of serious illness or unbearable suffering.


Read the highly critical Liberation reporting on Macron's latest grand idea in English on the Exit Website
NL +31 6 23 82 95 82 || US +1 360 961 1333 || Aus 1300 10 3948 (EXIT) || UK +44 7883 509 765 || NZ +64 09 889 1137