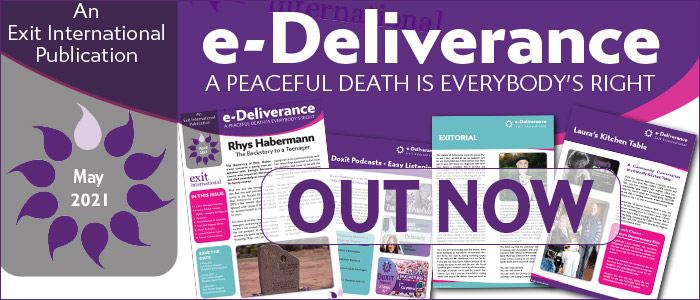 Now Available
Rhys Habermann: The Backstory
Going Global: Human Rights Framework for EOL Choices
Exitorial
Book Banning in Australia
Exit 2021 Snippet Series
Doxit Podcasts
Laura's Kitchen Table
French Controversies & Ultime Liberté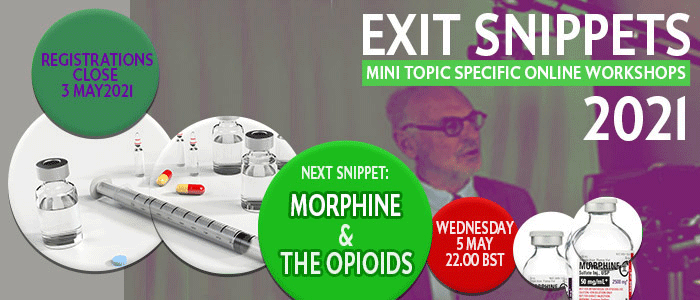 Next Snippet - Wed 5 MAY 2021

Registrations Close Tomorrow (Monday)

why doctors use morphine to assist clandestine deaths
all about 'slow euthanasia'
difficulties of using opiates for DIY death
twin problems of sensitivity & tolerance
solutions to the problems?
Snippets are Exit's 2021 series of online, real time workshops held at 22.00 British Summer Time (BST). Next Snippet Wednesday 5 May 2021.
* Recordings are available on subscription to Exit Members & PPeH Subscribers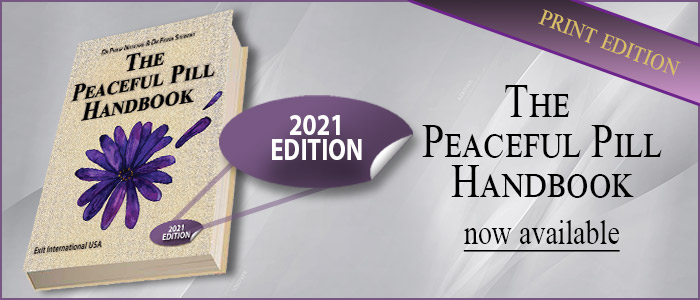 NEW 2021 PRINT PEACEFUL PILL HANDBOOK
Now Available

The 2021 Print Peaceful Pill Handbook edition is now available.


Based on the March 2021 edition of the online Peaceful Pill eHandbook, the new 456-page, Print PPH contains 28 Chapters with all you need to know about practical end of life choices & related issues.


The Print PPH does

not

include


Aus 1300 10 3948 || UK +44 7883 509 765 || US +1 360 961 1333 || NZ +64 09 889 0964 || NL +31 6 23 82 95 82